| | | |
| --- | --- | --- |
| | VeChain | #VET |
---
| | | | | |
| --- | --- | --- | --- | --- |
| VET Price: | $0.023 | | Volume: | $75.3 M |
| All Time High: | $0.27 | | Market Cap: | $1.6 B |
---
---
| | | | | |
| --- | --- | --- | --- | --- |
| Circulating Supply: | 66,760,741,299 | | Exchanges: | 39 |
| Total Supply: | 85,985,041,177 | | Markets: | 101 |
| Max Supply: | 86,712,634,466 | | Pairs: | 57 |
---
---
---
The price of #VET today is $0.023 USD.

The lowest VET price for this period was $0, the highest was $0.023, and the current live price for one VET coin is $0.02339.

The all-time high VET coin price was $0.27.

Use our custom price calculator to see the hypothetical price of VET with market cap of BTC and how the supply of VET affects the price at different market capitalizations.
---
---
The code for VeChain is #VET.

VeChain is 5.1 years old.
---
---
The current market capitalization for VeChain is $1,561,372,454.

VeChain is ranked #39 out of all coins, by market cap (and other factors).
---
---
The trading volume is large today for #VET.

Today's 24-hour trading volume across all exchanges for VeChain is $75,340,367.
---
---
The circulating supply of VET is 66,760,741,299 coins, which is 77% of the maximum coin supply.

Relatively, VeChain has a large supply of coins, 3,035 times larger than Bitcoin's supply, for example.
---
---
VET is the native coin for the Vechain blockchain.

View the full list of Vechain blockchain tokens.
---
---
VET is well integrated with many pairings with other cryptocurrencies and is listed on at least 39 crypto exchanges.

View #VET trading pairs and crypto exchanges that currently support #VET purchase.
---
---
Note that there are multiple coins that share the code #VET, and you can view them on our VET disambiguation page.
---
---
---
---
---
---
Why VeChain Is Attractive At $0.02, Is VET Aiming For A Big Move?


The crypto market successfully bounced from support with major cryptocurrencies recording profits over today's trading session, VeChain (VET) follows the general sentiment. The cryptocurrency has been able to preserve some of its gains from yesterday's session and seems poised for further highs. At the time of writing, VeChain (VET) trades at $0.023 with a 2% profit in the last 24 hours and a 5% profit over the past 7 days. In higher timeframes, the cryptocurrency records significant losses, but in the short term, this trend might be starting to reverse. VET's price shows a positive reaction as the crypto market rebounds on the 4-hour chart. Source: VETUSDT Tradingview VeChain Price About To Breakout? According to analyst Justin Bennett, the price of VeChain has been forming a falling wedge structure. This price pattern has been in the making since August 2022. At that time, VeChain saw an important rally after months of trading sideways between its current levels, and a high of around $0.03. In August, VET's price attempted to break out of this range but was rejected from those levels. This led the price to a massive decline and the formation of the falling wedge. As VeChain moves at the lows of its range, and with the crypto market bouncing from a critical support zone, VET's price might be ready to take off, as seen in the chart below. Per Bennett's analysis, VeChain might grind higher and touch levels north of $0.03. At that time, bulls need to m...
---
VeChain Pulled In Sideways Motion As VET Price Faces Rejection At $0.024...


According to VeChain pricing analysis, VET prices have been moving sideways over the last few days. VET prices moving sideways as seen in the past few days VeChain price fluctuating in the $0.02 and $0.027 range VET price is down by 0.5% Nevertheless, because the prices have been trading above the crucial support level of $0.02412, there has been a minor bullish bias in the prices. At $0.02474, the prices are now being rejected. As of this writing, VET is trading at $$0.02491, down 0.5 percent in the last 24 hours. It turned out that the low volume breakout was a fakeout. As a result, the price of the VET cryptocurrency has started to decline once more. Now, the price seems to be oscillating between $0.02 and $0.027. Since June 2022, this area has served as a superb zone for accumulation. After Jerome Powell, the chairman of the US Federal Reserve, made some hawkish comments, cryptocurrencies are once more on a downward trend. The recent downward price movement of Bitcoin and Ethereum has exacerbated the selling pressure. VET/USD Trades Above 200-Day MA According to CoinMarketCap, the 4-hour price chart for the VET/USD pair demonstrates that it has been moving sideways over the last few days. The range of the prices has been between $0.02412 and $0.02474. The VET/USD is trading above the 200-day moving average, which suggests a minimal bullish bias. The RSI indicator is close to the 70 mark and is now in overbought territory. The RSI line has more room to rise,...
---
VeChain At Risk Of Further Losses? VET Price Drops 30% In Downtrend


The crypto market continues on its downtrend, and VeChain (VET) follows after expiring some relief over the last weekend. Source: VETUSDT Tradingview According to crypto analyst Justin Bennett, VeChain lost a major area of support when it broke below $0.024. As seen below, this area was the last line of resistance for a "neckline" or a trendline that saw VET's price after an increase in previous selling pressure. Not everything is lost for the bulls, the analyst believes, as long as VeChain is capable of holding above $0.021. This area is a "much more significant support for the market". In case of further downside action, VET's price could drop into this support line before seeing some relief. If the price manages to get back above the neckline, it could support a bullish continuation. However, traders should wait for confirmation if VET's price can return to $0.024 and then to $0.026. Beyond that point, $0.028 seems like a very important area of resistance. Bennett believes it seems more possible that VeChain will continue on its downtrend: Resistance for VET is around $0.0237, which is the neckline it broke below yesterday. All in all, the market looks relatively weak. So even if we do see some additional relief, I think a move to at least $0.016 makes the most sense right now. Traders should watch out for a daily close below current levels or $0.022. This could hint at potential losses targeting the levels mentioned by the analyst...
---
VeChain Heads For Consensus Update, Can VET Price Lessen Bearish Pressur...


VeChain follows the general sentiment in the market and has experienced some relief across low timeframes. At the time of writing, VET's price trades at $0.02 with a 2% profit in the last 24 hours and an 11% loss in the last 7 days. VET's price trends to the downside on the 4-hour chart. Source: VETUSDT Tradingview Despite the downside price action for larger cryptocurrencies, VeChain has managed to preserve its value over the past week. This cryptocurrency is on track to deploy a major update to its network which could be providing additional support. The VeChain Foundation announced that the upgrade, dubbed Proof-of-Authority (PoA) 2.0, was successfully deployed on a testnet. The Foundation claims this milestone marks important progress towards a mainnet launch. The update is set to remove the tradeoffs from the Nakamoto Consensus and Byzantine Fault Tolerance (BFT) consensus. The Foundation claims that this upgrade could use a new wave of "mass adoption" as the blockchain VeChainThor will provide its users with data finality and more scalability. Designed to provide companies with a secure blockchain, use-case adaptive, and support corporate use cases. The VeChain community approved this consensus back in 2021, and once it's deployed, will make this network one of the only blockchains running on a hybrid consensus. The Foundation claims that PoA 2.0 will introduce a "finality gadget", an add-on mechanism that will validate blocks twice....
---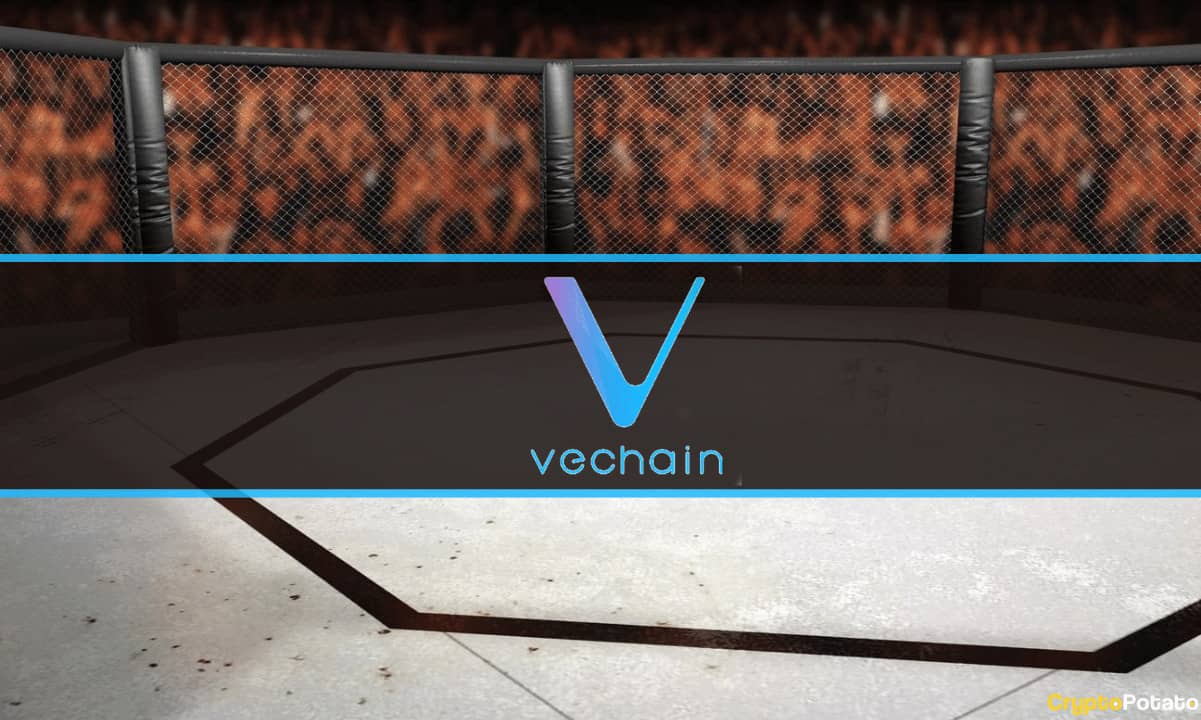 VeChain Becomes UFC's First Layer 1 Blockchain Partner


VeChain - the layer one blockchain focusing on sustainability and logistics - has formed a partnership with the Ultimate Fighting Championship (UFC). The network will be integrated into a series of live events and media channels by the world-renowned mixed martial arts organization. VeChain-branded assets will debut this Saturday, June 11, at the Singapore Indoor Stadium. According to the official announcement, VeChain is the first-ever base blockchain that receives 'unprecedented integration into UFC assets through this extensive collaboration. The project will access a variety of 'meaningful brand visibility' across live broadcasts of UFC's major events. In addition, the two will collaborate on a variety of custom and original content featuring UFC talent and athletes. Under the multi-year agreement, VeChain will own UFC's official fighter rankings titles: 'The integration also provides VeChain with a strong association with one of the most important components of UFC matchmaking — the fighter rankings.' Considering that UFC could potentially reach 900 million audiences from 175 countries, the new partnership was seen by Sunny Lu - the co-founder and CEO of VeChain - as a 'historic moment' for the company. The eye-catching deal is worth nearly $100 million with a minimum five-year agreement, according to a source acquired by Sports Business Journal. UFC Senior VP/Global Partnerships Paul Asencio said that - after one of the MMA circuit's largest sponsorships - the ...
---
How VeChain Landed $100 Million UFC Marketing Deal


The VeChain Foundation and the Ultimate Fighting Championship (UFC) announced a multi-year marketing collaboration. This will include live events, broadcast features, in-arena promotion, and original content reserved for UFC distribution alone. Data provided by the UFC claims there are over 900 million households in 175 countries with exposure to its mixed martial arts events. If only 1% of these numbers decide to enter the VeChain (VET) ecosystem, the network would see a huge spike in adoption levels. Co-Founder and CEO of VeChain, Sunny Lu, said the following about the partnership: It is a historical moment when VeChain, the Layer 1 public Blockchain with the most enterprise adoption, joins forces with the fastest growing sport to raise awareness that blockchain technology is critical in helping deliver major global objectives, such as sustainability. This is just the beginning of a multi-year relationship with UFC, and we really look forward to changing the world together. Paul Asencio, UFC Senior Vice President of Global Partnerships acknowledged VeChain's role in the crypto space and expressed his excitement as they become a major UFC partner. Asencio added: VeChain's expertise in using real-world blockchain applications to help the public and private sector achieve their carbon-neutral goals is an effort we are proud to support. We're looking forward to working with VeChain to leverage UFC's worldwide popularity to promote a positive messag...
---
VeChain Treasury Held $1.2B in Crypto, Q1 Report States


The VeChain Foundation has published its Q1 report, stating that its treasury amassed $1.2 billion in cryptocurrencies by the end of the quarter, a slight drop from $1.38 billion as recorded in Q4 2021. Surprisingly, the foundation behind VeChain only spent roughly 4.1 million during the first three months of 2022 - mainly for business development and operational costs. Expenses Overshadowed by the Treasury Fund According to the report, the Foundation ensured investors that its treasury was in a healthy state, with over $1.2 billion assets in stablecoins, ETH, BTC, and VET - VeChain's native token. Regarding the loss as compared to last quarter, the report said it was caused by 'crypto market fluctuations and other VeChain Foundation outgoings.' Of the $4.1 million outlaid in the first quarter, the Foundation spent $1.8 million on ecosystem business development. These included partnerships, custodians, wallet providers, brokers, community events, and ecosystem project cooperation. This expense accounted for the highest amount spent in the quarter. The next was ecosystem operations which cost around $1.1 million. Despite the impressively well-managed balance sheet, the Foundation did not provide details regarding its income for the quarter. Transaction fees as distributed between validators and other stakeholders should have made up a critical source of its revenue, but no fee-related data was revealed from the report. Business Development As a layer-one blockchain designed to...
---
VeChain Partners Alchemy Pay for Fiat Payment Rails and Crypto on-Ramps


PRESS RELEASE. Palo Alto, USA, March 2022 – Vechain (VET), the leading layer-1 smart contract platform has announced it is adding Alchemy Pay's (ACH) mainstream-friendly fiat payment channels and crypto on-ramps to its network. Alchemy Pay is a specialist in providing practical payment solutions that connect up fiat and crypto economies. Its crypto acceptance payment system for online and offline businesses with 2 million+ merchants in over 70 countries worldwide now supports VeChain's VET token for payments. VeChain's CEO, Sunny Lu, said of the integration, 'With Alchemy Pay's fiat payment channel and crypto on-ramps we are bringing more mainstream accessibility to our network. This has benefits, not only for users, but also for all developers building on the VeChainThor blockchain. The integration of VET into Alchemy Pay's crypto payment system is important in further expanding the real-world use cases for VET as a form of payment. By enabling mainstream payment standards like Visa, Mastercard and Paypal using Alchemy Pay, the mainstream adoption of VET will increase by making direct access possible, bypassing the complications of crypto exchanges that can be a barrier for many new users.' Alchemy Pay has become increasingly important in the blockchain space as a bridging service for the industry. Recent payment integrations with the likes of Elrond, Polygon, Algorand, NEAR, and Avalanche highlight this. Its 300+ fiat payment channels allow crypto services and networ...
---
Why VeChain May Run Out Of Fuel After 90% Rally


VeChain has been able to preserve its current levels as the crypto market loses steam. Source: VETUSDT Tradingview Two weeks ago, NewsBTC reported a potential 40% rally for VeChain. Based on an analysis from Justin Bennett, the cryptocurrency was on the brick of breaking above a trend line which signaled potential appreciation. This trend line marked the beginning of a multi-month downtrend, and its reversal could take VeChain into the $0.10 price point. Therefore, Bennett called this move "significant in terms of the overall context of the market". VeChain is yet to complete its full bullish trajectory into the $0.10 levels and beyond. However, it did manage to score a 90% rally, according to Bennett, destroying the market expectations of further downside: VET is the same project everyone on CT said was dead for months. +97% in 16 days is quite the move for a 'dead' coin. Let that be a lesson for anyone who jumped on the CT bandwagon. Peak pessimism amongst the masses usually means a buying opportunity isn't far away. The $0.080 point will be critical to determine if VeChain can sustain its current momentum. If these levels hold, VET's price could appreciate further and return to its pre-crash levels from $0.10 to $0.14. VET's price breaking above a downside trendline. This suggests more appreciation. Source: Justin Bennett via Twitter Data from Material Indicators (MI) suggest potential resistance at VET's price current levels. There are over $2 mil...
---
Why VeChain (VET) Could Be On The Verge Of A 40% Rally


VeChain has been moving sideways during the past week, with more downside action than larger cryptocurrencies. However, the cryptocurrency could be sitting at crucial levels and poised for major price appreciation. VET trends to the downside on the daily chart. Source: VETUSDT Tradingview Analyst Justin Bennett claims this upcoming VET's price rally could push the cryptocurrency up 40% off its current levels. On the weekly chart, the analyst identified a setup from back in 2020. At that time, VET's price was preparing for what ended up as one of its biggest rallies in subsequent months, according to Bennet. The analyst recommended his audience to "take everything with a grain of salt". In that sense, he showed the price of VET moving sideways in an inverse "head and shoulders" pattern. As seen below, when VeChain managed to break above that trend line, its price was able to resume bullish momentum into uncharted territory. At the time, VET's price recorded over 1,000% gains through 2021. Source: Justin Bennett via YouTube Trending downside from that rally, as the chart shows, VET's price has returned to below its 2018 trendline, to levels last seen before the previously mentioned rally. Bennett said: In order for VET to move significantly higher this year, I'm talking $0.10 and higher, it is going to have to get above this trendline. So, this is what I mean by this trendline it's going to be significant in terms of...
---
Polkadot, Vechain Founders Pledge Over $10 Million In Crypto To Ukraine


More support is pouring out for Ukraine as the country takes to crypto donations to fund its military. It has garnered support from top players in the crypto space like exchange giant Binance and others who have donated almost $20 million to the country. Now, it is attracting the attention of top founders in the space who have pledged significant sums to Ukraine. Crypto Founders Pledge Big Gavin Wood, the founder of leading cryptocurrency Polkadot has come out to express support for Ukraine. The country had posted multiple crypto wallet addresses last week as it solicited funds for the nation which had been invaded by world superpower Russia. The founder told Ukraine that he would personally donate $5 million if a DOT address was put up. If you post a DOT address I'll personally contribute $5m. — Gavin Wood (@gavofyork) February 27, 2022 Wood is not the only crypto founder that has made a significant pledge to the country. Sunny Lu, Founder, and CEO of Vechain has also made a pledge. Also taking to the comment section, Lu made an even higher pledge. He announced that he would donate $8 million to the cause when a VET wallet address is added to the list of official wallet addresses. Setup a VET wallet and leave VET address, I'll donate $8m. Nothing else matters comparing people's life. — Sunny LU, VeChain ? Currently, the country of Ukraine has three official addresses where funds can be donated in crypto. These two addresses are to receive donat...
---
El Salvador's Bitcoin-fueled Vet Hospital Opens This Week


Nayib Bukele's administration announced that the veterinary hospital built by bitcoin profits will open on Saturday (February 26). The President revealed that each treatment will cost $0.25 worth of BTC. Not Just Daydreaming Apart from becoming the first county to embrace bitcoin as legal tender, El Salvador has also purchased the primary cryptocurrency on a macro-economic level. In October 2021, the government disclosed they will use its $4 million profit (at that time) from the investment to create a massive veterinary hospital in San Salvador (the capital). Just four months after the announcement, the facility will open its doors. The exact date is February 24, as the hospital, named Chivo Pets, will stay open 24/7. It will have operating rooms, rehabilitation, hospitalization, quarantine rooms, and other medical features. It is worth noting that the hospital bears the name of the Chivo Bitcoin wallet. The latter is a mobile app allowing people and businesses to facilitate crypto transactions. The bitcoin-loving President Nayib Bukele informed that each hospital procedure will cost $0.25 worth of BTC as customers could apply any wallet. Wanna watch a video about #Bitcoin and pets?@chivopets is the first ever #Bitcoin fully funded animal hospital. Every treatment will cost only $0.25, paid in #BTC, with any wallet. https://t.co/qODeo1eO3M — Nayib Bukele (@nayibbukele) February 25, 2022 Earlier this month, El Salvador introduced its new cryptocurrency educati...
---
VeChain Records 7% Profits And It Could Outperform ETH, Here's Why


VeChain has been trading in the green during the last day as the crypto market shows signs of a potential recovery. Analyst Points Key Levels At the time of writing VET records a 7% profit in the last 24-hours outperforming larger cryptocurrencies, such as Bitcoin (BTC) and Ethereum (ETH) which record a 3.3% and 4.9% profit, respectively, over the same period. VET with minor profits on the 4-hour chart. Source: VETUSDT Tradingview In an official post, the VeChain Foundation revealed its involvement at establishing the "Shanghai Association Standards For Blockchain Service" certification. Created to "expedite" the growth of blockchain based products and services, this certificate became effective in early February 2022. The Foundation partnered with the Shanghai Municipal Administration of Market Supervision and the Shanghai Certification Association to propose the standard. In that sense, VeChain "provided key technical input" based on the project experience, the post claimed. The project Chief Scientist Dr. Peter Zhou in collaboration with other senior blockchain experts also provided guidance to facilitate the creation of this standard. The post added: The most important objective of the standard is to provide a robust and proven assessment structure of present blockchain-enabled enterprise services. The certification has outlined the requirements for entities attempting to provide blockchain as a service products and application includi...
---
VeChain (VET) Sends Bearish Signals? Analyst Points Key Levels


VeChain has followed the general sentiment in the market and it's currently trading in the green. Its 24-hour profits stand at 7.8% with VET's price exchanging hands at $0.053. VET trends to the downside in the weekly chart. Source: VETUSDT Tradingview Related Reading | VeChain Foundation Announces New Stablecoin, Could It Create Fresh Demand For VET? In a recent video posted on his YouTube channel, analyst Justin Bennett looked into VeChain as the sell-off across the crypto market seems to slow down. As seen below, on the weekly timeframe, the analyst believes VET's price is yet to come out of the wood. As the chart shows, VeChain broke an important trendline on the aforementioned timeframe as it failed to hold above the $0.060 level. Given the relentless selling pressure that led to a breakdown in that structure, Bennet believes "the market doesn't look all that great". Source: Justin Bennett As long as VET is unable to break above its current levels and return to its weekly trendline, bears could continue to push the price back to critical support. In order for bulls to have a chance at a climb back to previous highs, VeChain must reclaim the $0.060 level in the short term. Bennett said: It would have to close the day above $0.0650 before it starts to move back to $0.10, $0.12, etcetera. Until that day I think you have to be careful, and you have to realize that the downtrend is still intact. In case of further downside action, the analyst d...
---
More VeChain (

#VET

) News