| | | |
| --- | --- | --- |
| | Squid Game | #SQUID |
---
| | | | | |
| --- | --- | --- | --- | --- |
| SQUID Price: | $0.00626 | | Volume: | $62.5 K |
| All Time High: | $0.82 | | Market Cap: | $4.7 M |
---
---
| | | | | |
| --- | --- | --- | --- | --- |
| Circulating Supply: | 755,423,463 | | Exchanges: | 4+ |
| Total Supply: | 758,871,342 | | Markets: | 6 |
| Max Supply: | 800,000,000 | | Pairs: | 6 |
---
---
---
The price of #SQUID today is $0.00626 USD.

The lowest SQUID price for this period was $0, the highest was $0.00626, and the exact current price of one SQUID crypto coin is $0.00625957.

The all-time high SQUID coin price was $0.82.

Use our custom price calculator to see the hypothetical price of SQUID with market cap of ETH or other crypto coins.
---
---
The code for Squid Game crypto currency is #SQUID.

Squid Game is 1.9 years old.
---
---
The current market capitalization for Squid Game is $4,728,623.

Squid Game is ranked #608 out of all coins, by market cap (and other factors).
---
---
The trading volume is modest during the past 24 hours for #SQUID.

Today's 24-hour trading volume across all exchanges for Squid Game is $62,501.
---
---
The circulating supply of SQUID is 755,423,463 coins, which is 94% of the maximum coin supply.
---
---
---
---
---
---
Note that there are multiple coins that share the code #SQUID, and you can view them on our SQUID disambiguation page.
---
---
---
---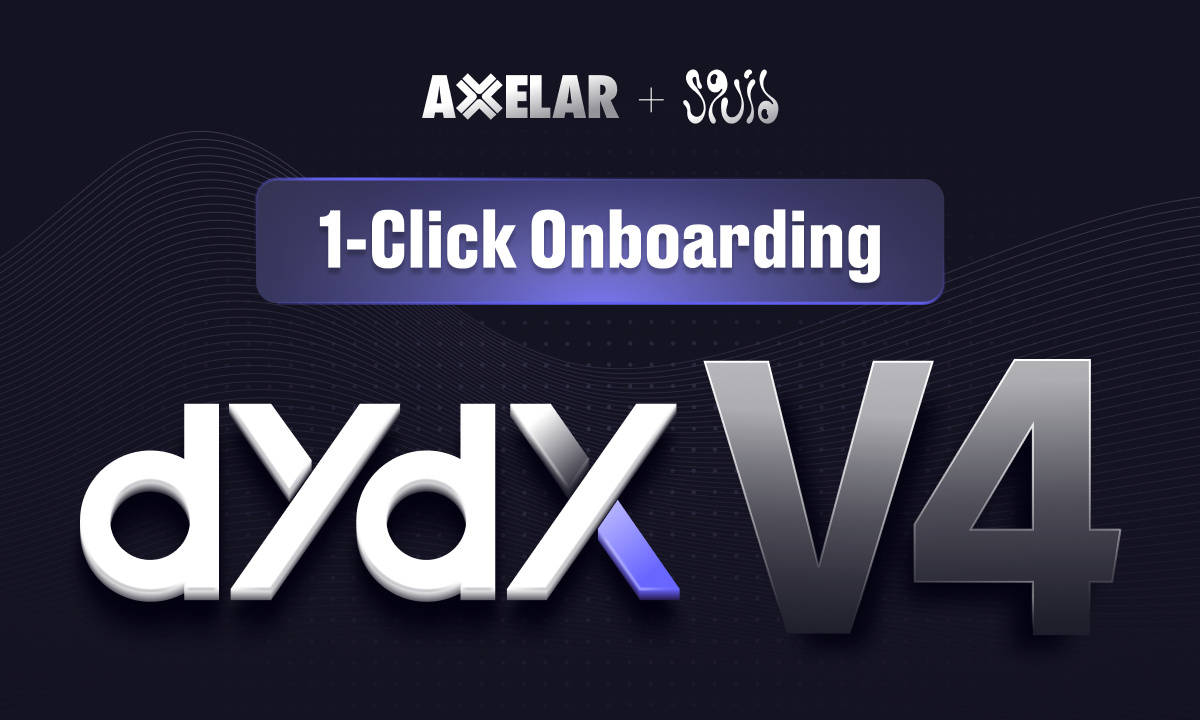 dYdX v4 Enables 1-Click Onboarding With Squid and Axelar


[PRESS RELEASE - New York, USA, September 20th, 2023] As dYdX is adopting a standalone app-chain model, a pioneering interoperability solution enables 1-click onboarding from any blockchain environment Decentralized financial derivatives marketplace dYdX has implemented a solution built on cross-chain infrastructure provided by Axelar, the leading Web3 interoperability platform, to support single-click onboarding and offboarding to dYdX v4. The implementation will utilize Squid, a single-click cross-chain transaction builder that supports cross-chain swaps in under 20 seconds, built on Axelar's decentralized interoperability infrastructure. Join Axelar, dYdX & Squid in a live AMA this Thursday at 4pm UTC to learn more Long a pioneer in adopting next-generation blockchain architectures to support specific product outcomes, dYdX adopted Starkware's rollup technology before L2s were in vogue, and with dYdX V4 they are adopting a standalone app-chain model. Derivatives exchanges are by nature high-leverage and high-risk places of trade, and a maximally decentralized approach to the entire market structure is needed to ensure constant up-time and safety from manipulation. In brief, dYdX has implemented Squid's API to support single-click onboarding and offboarding to their app-chain from any of Squid's supported chains or rollups. Users will also be able to deposit from other exchanges, i.e. centralized exchanges, to directly onboard onto dYdX's chain...
---
Squid Squad OG: At the Forefront of Biggest Crypto Trend GameFi


GameFi has become a popular concept in the blockchain industry. By the end of 2021, we saw a multitude of active GameFi projects, charting an increase of 172% from the previous year as per DappRadar. This momentum has continued in 2022, with the top 10 GameFi projects amassing more than $841 million in transaction volume, spread across 2 million unique active wallets. Play-to-earn games or GameFi projects are combining NFTs, gaming, and finance to disrupt the traditional gaming industry. What Is GameFi, And How Does It Work? GameFi, also commonly referred to as play-to-earn, is often seen as the combination of gaming, NFTs, and finance - all powered by blockchain technology. In traditional games, we saw the 'pay-to-win' model where users had to pay to gain a competitive advantage over other users. For example, players could buy 'skins' for their guns and unique apparel for their in-game characters in games like PubG and Fortnite to stand out from the crowd. GameFi changes this by introducing a new model known as 'play-to-earn' that rewards them for their time and effort instead of making users pay to play the game. Through completing quests in the game or trading digital assets, GameFi gives users an opportunity to earn for their in-game efforts. To understand how GameFi rewards users, it is important to understand how they combine blockchain technology, NFTs, and decentralized Finance, aka DeFi. Built on blockchains, GameFi projects allow users to store their assets on a dis...
---
More Squid Game (

#SQUID

) News