| | | |
| --- | --- | --- |
| | Synthetix | #SNX |
---
| | | | | |
| --- | --- | --- | --- | --- |
| SNX Price: | $2.36 | | Volume: | $41.9 M |
| All Time High: | $28.81 | | Market Cap: | $0.6 B |
---
---
| | | | | |
| --- | --- | --- | --- | --- |
| Circulating Supply: | 239,262,970 | | Exchanges: | 77 |
| Total Supply: | 300,182,014 | | Markets: | 128 |
| Max Supply: | — | | Pairs: | 59 |
---
---
---
The price of #SNX today is $2.36 USD.

The lowest SNX price for this period was $0, the highest was $2.36, and the current live price for one SNX coin is $2.36110.

The all-time high SNX coin price was $28.81.

Use our custom price calculator to see the hypothetical price of SNX with market cap of BTC or other crypto coins.
---
---
The code for Synthetix is #SNX.

Synthetix is 3.8 years old.
---
---
The current market capitalization for Synthetix is $564,922,962.

Synthetix is ranked #68 out of all coins, by market cap (and other factors).
---
---
The trading volume is large today for #SNX.

Today's 24-hour trading volume across all exchanges for Synthetix is $41,934,142.
---
---
The circulating supply of SNX is 239,262,970 coins, which is 80% of the total coin supply.
---
---
---
---
SNX is well integrated with many pairings with other cryptocurrencies and is listed on at least 77 crypto exchanges.

View #SNX trading pairs and crypto exchanges that currently support #SNX purchase.
---
---
---
---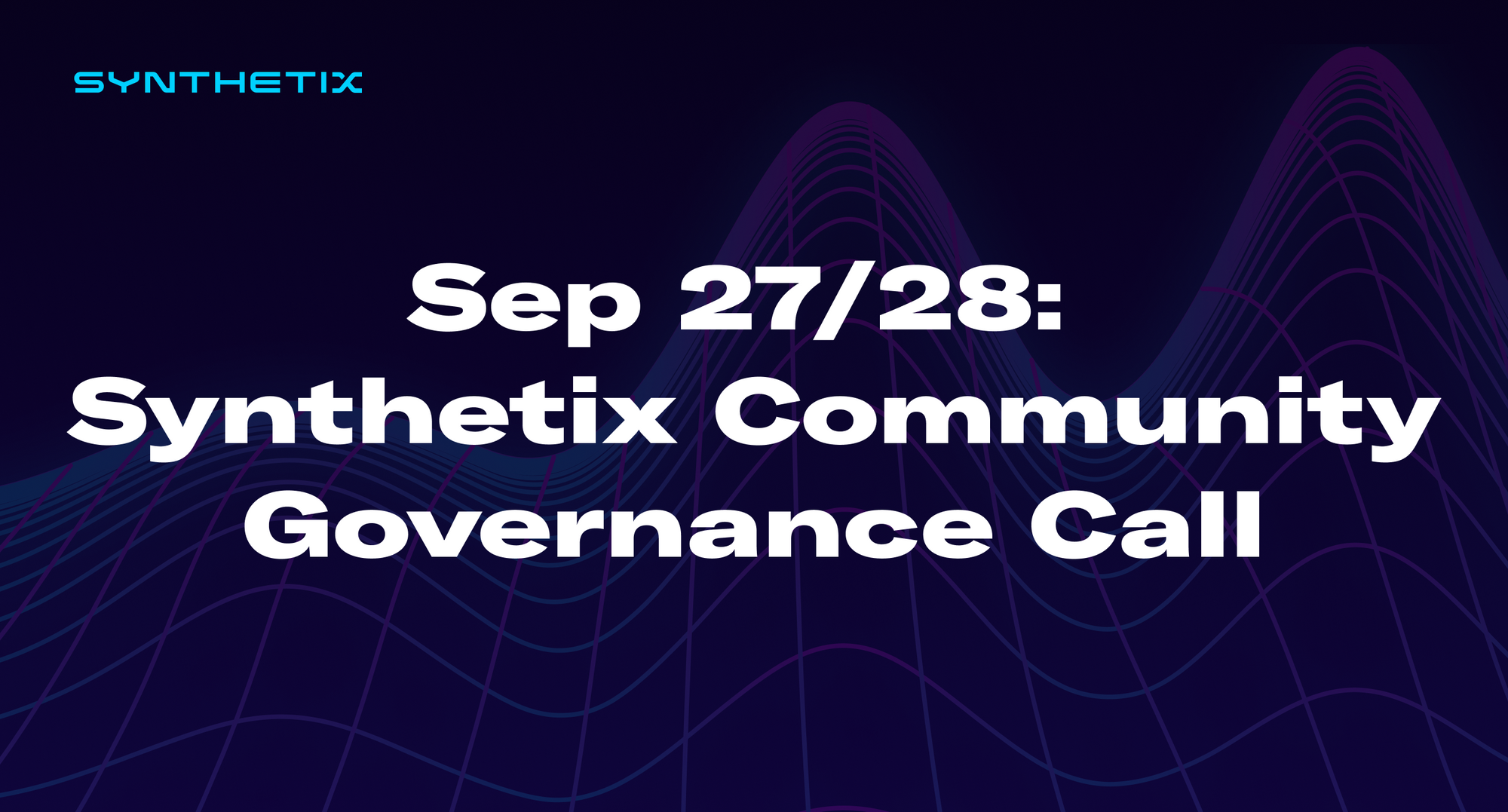 Sep 27/28: Synthetix Community Governance Call


The next Synthetix community governance call is scheduled for Tuesday Sep 27th at 8pm UTC (9/27 afternoon/evening for western hemisphere; 9/28 morning for eastern hemisphere), and we'd love for you to join us! We'll be holding this event on our Discord, RSVP now at discord.com The current agenda for this month's meeting (subject to change) is as follows: Welcome, Spartan Council update, Intro new CC's, Perps V2 , State of atomic swaps , Direct Integration and Curve Integration, Escrow liquidations , Synthetix V3 , Debt Migration , Staking v2 UI , Gauntlet Risk Updates , DAO AND ECOSYSTEM UPDATES Synthetix Council updates, Kwenta updates, Thales updates, Lyra updates , Aelin updates , Polynomial updates, Open questions ,


---

New Synthetix Perp Futures Market: sOP


Synthetix is excited to add Optimism Perpetual markets to join its growing list of supported assets available for leverage trading through Synthetix Perp Futures on Kwenta.New Markets - XMR The Optimism Perpetual market will join the growing list of supported cryptocurrencies available for leverage trading through Synthetix Perpetual Futures. The $OP price will be set via decentralized Chainlink oracles, fees can and will vary depending on the asset, and the newest Futures Fees can be found on the Kwenta Docs.Listing New Synths Synthetix provides decentralized derivatives liquidity for protocols like Kwenta. The selection process for adding new Synths to Synthetix is driven by demand, liquidity, and volatility. Chainlink must support the data feeds necessary for any proposed assets to be considered for inclusion. Are you interested in trading Synthetix Futures? Go to any Synthetix-powered trading frontend such as Kwenta.


---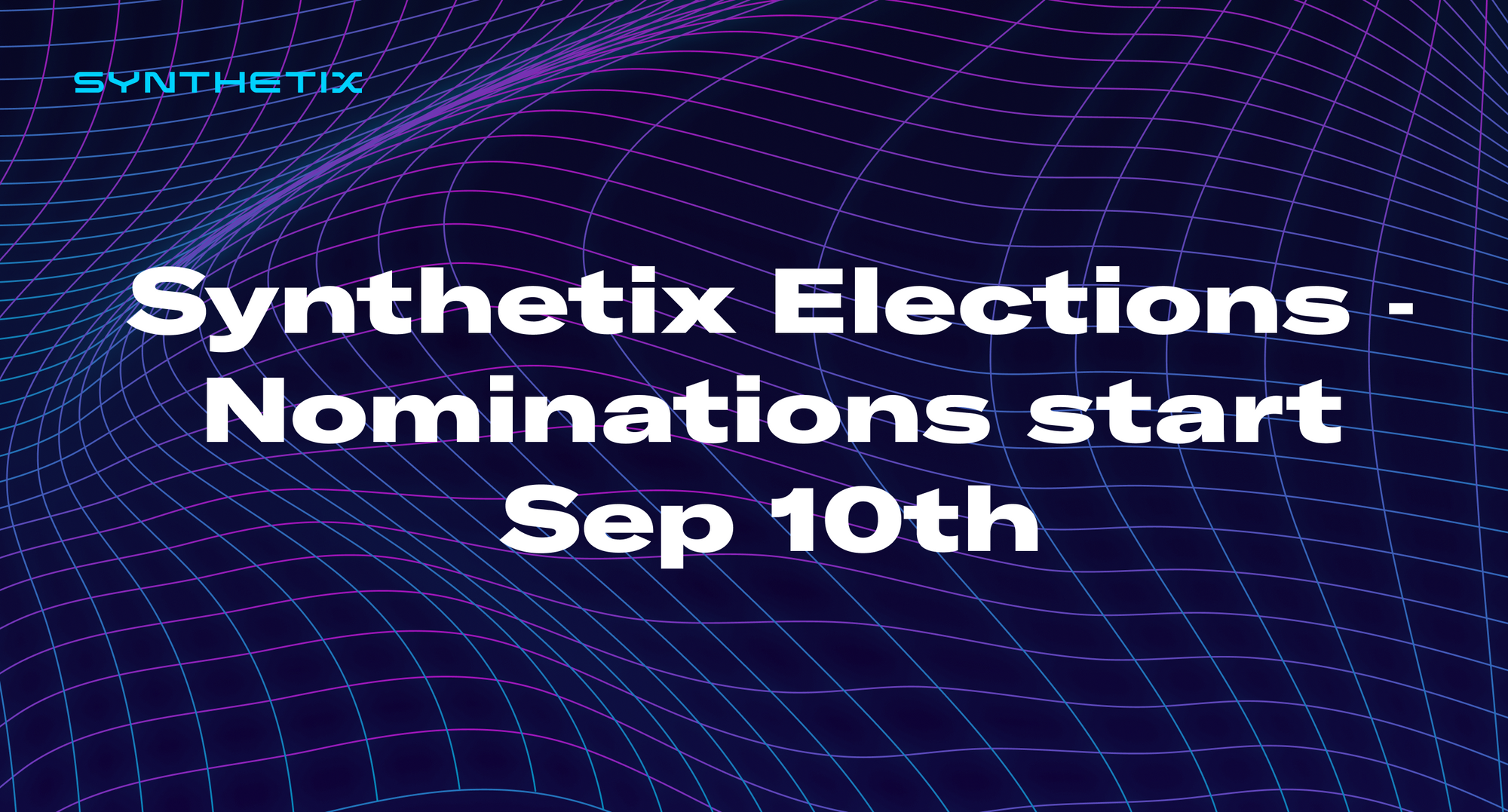 Synthetix Elections - Nominations start Sep 10th


Nominations for the next epoch's Synthetix Councils (Spartan, Grants, Treasury, and Ambassador Council) will open later, Sep 10th at 0:00 UTC! The epoch lasts for 3 months, from Oct 1st to Jan 1st. All elected council members will receive a monthly stipend from the Synthetix Treasury of 2,000 SNX per month. Nominations are closing on September 17th at 0:00 UTC; please ensure to nominate ASAP. Nominations are no longer on the Synthetix Discord; it is now hosted on governance.synthetix.io. Read the tutorial section to learn how to nominate yourself in the new UI.Election Timeline - Sep 10th 0:00 UTC - Council nominations start , Sep 17th 0:00 UTC - Council nominations end, Sep 17th 0:00 UTC - Council voting starts , Oct 1st 0:00 UTC - Council voting ends , Oct 1st 0:00 UTC - New Epoch starts, Synthetix Governance - Election Module - The ElectionModule is a part of the V3GM release; it is the first release of the governance modules. There are FOUR instances of the ElectionModule Proxy - each representing one of the council bodies (spartan council, ambassador council, treasury council, grants council) Synthetix is yet again at the forefront of DeFi decentralization, and we're beyond excited to unveil a feature that will revolutionize DeFi governance as we know it. Here are some quick notes on the new interface and the new election process as a whole: Nominees can connect their wallet and nominate themselves, Wallet profiles are powered by boardroom.io (shout out to them), which helps populate the wallet profiles with off-chain metadata that is stored via signing an off-chain message (their wallet profile can ONLY be edited if they own the wallet); the most important metadata here is that nominees can add their own pitches., Nominees can only nominate for one of the FOUR councils, All the ElectionModules utilize a quadratic voting mechanism EXCEPT treasury council, which is linear, The ElectionModule utilizes a Merkle root tree to help collect a user's L1 voting power (if applicable) and combine it with their L2 voting power, All contract interactions (nominations and voting) are done on L2 Optimism Mainnet, Synthetix Council Details - Each of the councils at Synthetix serves a different and vital role in running the Synthetix protocol. Here are some quick details about each council.Governing BodiesShort DescriptionTreasury Council (4 Members)The Treasury Council manages the Synthetix Treasury and provides funding to the other governance bodies, CC stipend payments, and other discretionary incentives. Spartan Council (8 Members)The Spartan Council (SC) is the central governing body of the Synthetix protocol. The SC votes on overall improvement proposals and parameter changes. Grants Council (5 Members)The Grants Council is a value-based Synthetix elected body whose ultimate goal is to fund beneficial and high-quality public goods projects through grants, initiative bounties, or competition prizes. Ambassador Council (3 Members)The Ambassador Council actively promotes and advocates for the interests of Synthetix in the overall Ethereum (and DeFi) ecosystem. — - Nominating Tutorial and Guidelines - Reminder - You can only nominate yourself for one of the councils. 1) First, go to Governance.Synthetix.io; you'll be greeted with the various governance bodies of Synthetix and the current nominees. Connect your wallet to proceed. 2) Once you've connected your wallet (make sure you're on Optimism), click "Nominate Yourself" for the council you're interested in. Then confirm the on-chain transaction and wait for it to confirm. 3) Once confirmed, you'll be presented with a page of the current nominees for the council you've nominated for. Click the three dots next to "edit nomination," then click "edit profile" and add your pitch and other details you'd like voters to know about yourself.Click the three dots in the above picture, next to "edit nomination," then click "Edit Profile" to add details about your pitch and yourself. 4) Click the "Delegation Pitch" and then fill out your profile with a pitch for yourself.Click the "Delegation Pitch" and then fill out your profile with a pitch for yourself. 5) Fill out the "Edit Profile" section below. Any sections required will be marked as such. Once complete, click "Save Profile," then sign the transaction.Fill out the "Edit Profile" section below. Any sections required will be marked as such. Once complete, click "Save Profile," then sign the transaction. 6) That's it! Your nomination will now feature your name, pitch, and all other important information in one easy-to-read and understand dapp. Say goodbye to Discord nominations; it was a good run, but this election module is the result of years of R&D. Synthetix is excited to be at the forefront of governance decentralization in DeFi.Election Voting Info - Voting will begin on Sep 17th at 12AM UTC and will be conducted in the new election module. There will be a subsequent announcement with detailed instructions on how to vote.Any Questions? - If you have further questions about the Synthetix Council elections, please join us in Discord in the #governance channel.


---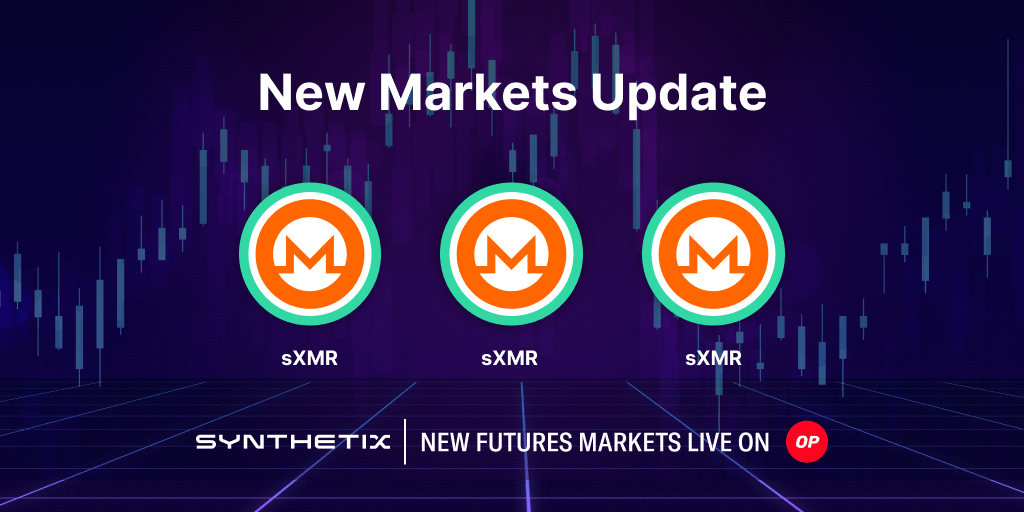 New Synthetix Perp Futures Market: sXMR


Synthetix is excited to add sXMR to join its growing list of supported assets available for leverage trading through Synthetix Perp Futures on Kwenta.New Markets - XMR XMR Perpetual market will join the growing list of supported cryptocurrencies available for leverage trading through Synthetix Perpetual Futures. The $XMR price will be set via decentralized Chainlink oracles, fees can and will vary depending on the asset, and the newest Futures Fees can be found on the Kwenta Docs.Listing New Synths Synthetix provides decentralized derivatives liquidity for protocols like Kwenta. The selection process for adding new Synths to Synthetix is driven by demand, liquidity, and volatility. Chainlink must support the data feeds necessary for any proposed assets to be considered for inclusion. Are you interested in trading Synthetix Futures? Go to any Synthetix-powered trading frontend such as Kwenta.


---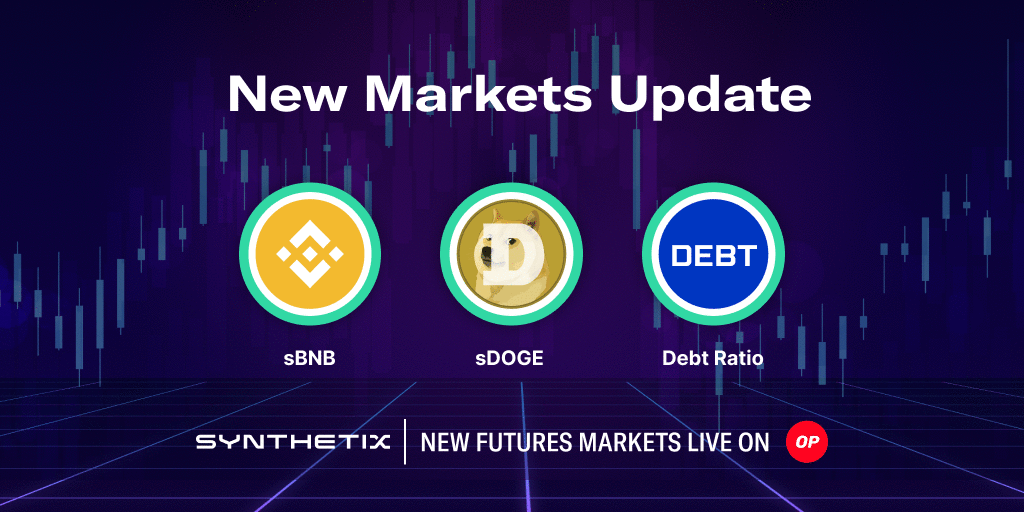 New Synthetix Perp Futures Markets: BNB, DOGE, and DEBT-Ratio


Synthetix is excited to launch three markets to join its growing list of supported assets available for leverage trading through Synthetix Perp Futures on Kwenta.New Markets - BNB, DOGE, DEBT RATIO BNB and DOGE Perpetual markets will join the growing list of supported cryptocurrencies available for leverage trading through Synthetix Perpetual Futures. The DEBT-RATIO market is an entirely different market, one that tracks a simulated SNX stakers debt position, increasing and decreasing at the same rate a stakers debt would change relative to their initial debt. This is accomplished using the existing Chainlink oracle which tracks the SNX debt ratio, using this ratio as the sUSD value of a perps market asset. The benefit of this asset being a futures market is that it is extremely capital efficient, stakers can access up to 10x leverage for this market and then would be able to deploy their debt elsewhere.What is this market used for? - Debt Ratio - Although it is possible to trade this market like any other, the market is primarily a tool for SNX stakers to hedge their debt. As the debt pool fluctuates over time, stakers owe more or less depending on this movement. If you're an SNX staker and want more information on the debt pool and hedging, please begin here or join the Synthetix discord for assistance. Since this tool matches an SNX stakers debt position's fluctuations, a staker opening an equal notional size $DEBT-RATIO position to their SNX debt position will incur no net profit or losses from delta. This ensures that stakers always have access to the necessary sUSD to manage, or close their debt position with Synthetix.Want to learn more about the Debt Ratio market? - Kwenta has prepared a great guide on the Debt Ratio market, including use cases, risks, and other important information. We've used some of their material as a brief portion of this blog post, but please learn more on Kwenta's blog as they've drawn out a comprehensive review of the debt ratio market. Are you interested in trading Synthetix Futures? Go to any Synthetix-powered trading frontend such as Kwenta. Indian Rupees will also join the spot forex markets supported by Synthetix.


---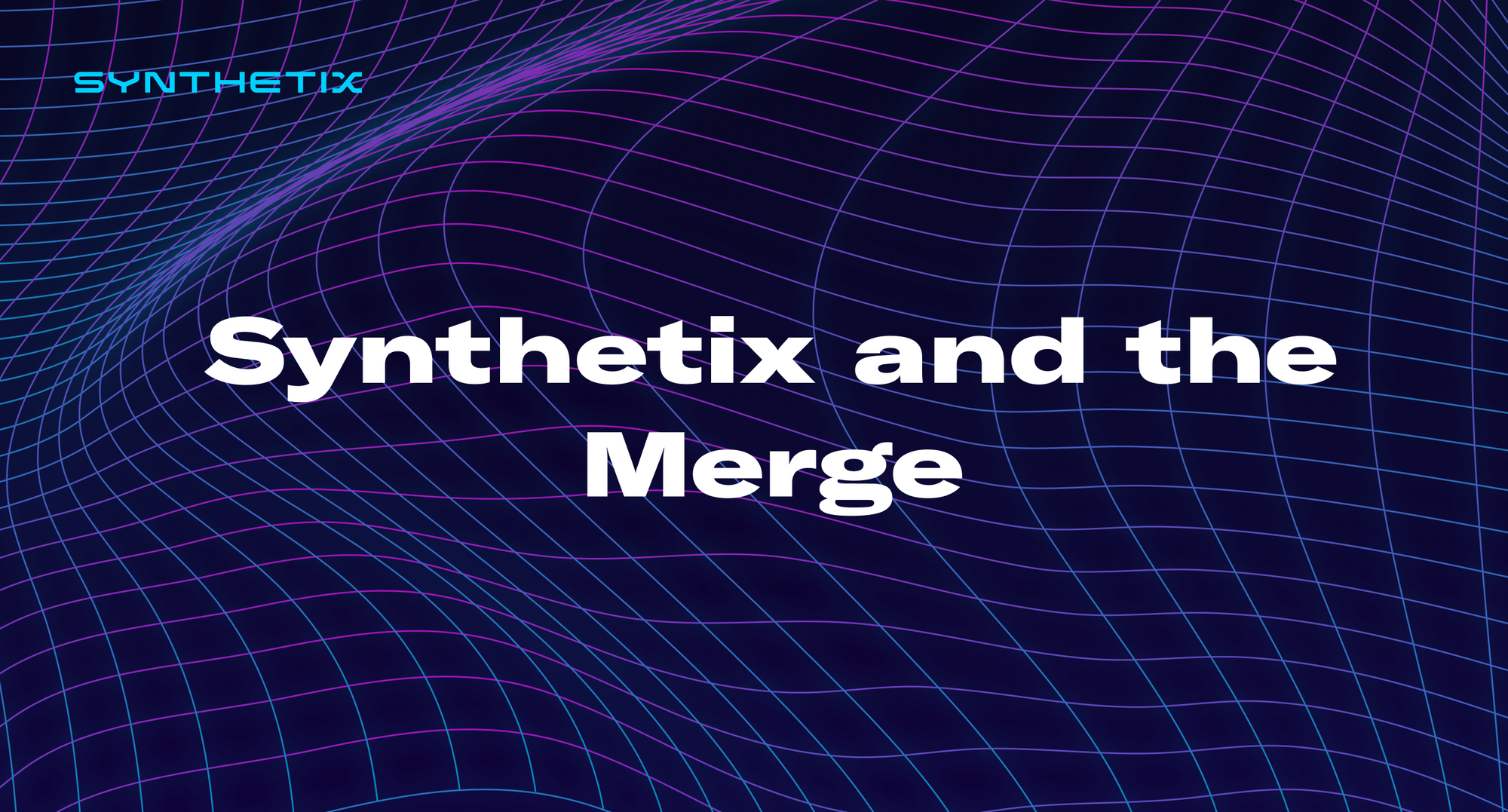 Synthetix and the Merge


In preparation for the Ethereum merge event, expected to take place on the 15-September, Synthetix will suspend all Synthetix contracts on both Ethereum and Optimism, when Total Terminal Difficulty (TTD) crosses 58740000000000000000000, around 3 hours before the expected merge block and resume activities after ensuring that Chainlink feeds and the rest of the protocol are stable. The SNX token will still be transferrable, but all other parts of the protocol, such as synth exchanges, futures, loans, staking (claiming, mint, burn), and bridging will be suspended. Once the suspension is complete, communications will be made on all proper channels, and all protocol partners will be informed.Checks Before un-suspending the Synthetix System - The following checks would be performed on a forked chain (with canon) before unsuspending the system: Minting and burning debt can take place normally, with the debt pool oracle in line with size of debt, Both atomic and non-atomic exchange tests would be performed to ensure that the outputted amounts are reasonable, Test on transfers of synths and SNX to a different wallet, Test on opening new loans with ETH and repaying that loan to release the ETH, Test on opening futures positions, modifying that position and closing that position to release the margin, Test on flagging an account for liquidation and liquidating that account by moving forward in time, ETH and LUSD can be wrapped and released, Due to protocol external dependencies, additional checks would be performed on a forked chain: All Chainlink oracles configured within Synthetix are pushing prices that are within a reasonable margin from centralized exchange prices or off-chain calculated expected prices, LUSD price is close to 1$, renBTC price is close to the price of BTC, OP bridge is operational in both directions, Any questions? - Read SIP-271 for more information regarding the System Wide Suspension If you have any questions or comments, please join the conversation on Discord.


---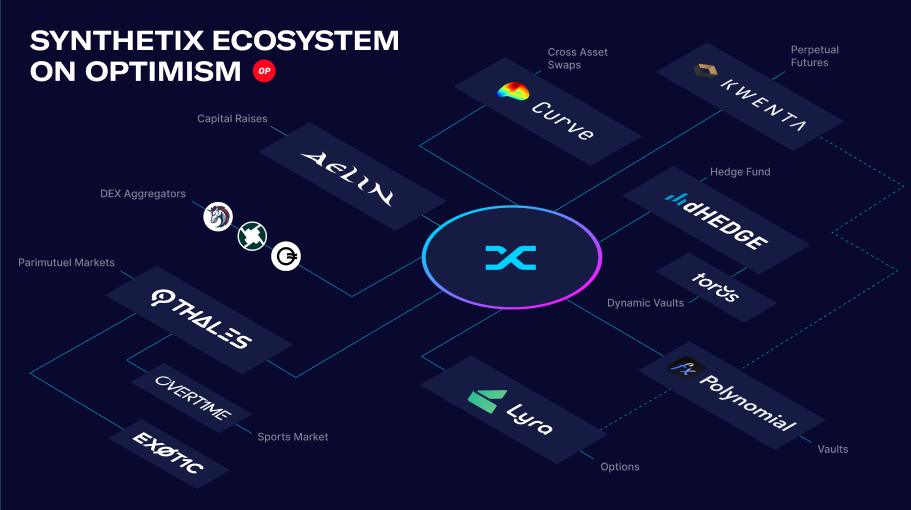 A dive into the Synthetix Ecosystem on Optimism


#x1F4A1;This contribution has been provided by an SNX community member. While Synthetix has reviewed the content for veracity, these views are not necessarily endorsed by Synthetix. - Interested in contributing as a community member? Reach out to Mike or Matt via SNX's Discord. Alright Spartans (and future Spartans) alot has been happening at Synthetix this year. If you want to play catch up then you need to checkout this blog Synthetix recently released:Synthetix 2022 Release Milestones - Halfway Review and Deep DiveWe've reached the year's halfway point, so it's a good time to revisit key milestones for 2022. It's been an exciting six months thus far with several highly anticipated features hitting mainnet and driving $100-200m in daily trading volume through the Synthetix protocol. As Kain mentioned on Twitte…Synthetix BlogMatt Losquadro You now understand that Perps V2 and Synthetix V3 is coming! These new updates are going to kick protocol fee generation into OVERDRIVE while improving the code and user experience! Making Synthetix the GOLD standard for revenue sharing tokens! Lets slow down for a minute, and learn about why Synthetix chose Optimism in the first place. Ethereum's high gas fees make trading synths on Synthetix expensive and compress $SNX staking returns. Creating, redeeming, and trading synths are all complex transactions, so Synthetix is a gas guzzler. This is why Synthetix chose to deploy its staking code on Optimism January 2021.The Optimistic Ethereum TransitionWith the launch of Optimistic Ethereum (OΞ) mainnet in a few days we areentering a new era for the project, OΞ presents an opportunity to scale theprotocol but it also presents a number of challenges. One of the most criticalis how to gracefully transition from L1 toSynthetix BlogKain Warwick The reduction in gas fees on Optimism has created a huge flywheel effect for Synthetix and its stakers. Many articles have been put out for how to stake $SNX, and its benefits to stakers, but this is the best one:Basics of Staking SNX - 2022💡Staking variables change regularly based on governance action. This guide has been updated as of 7/28/22. Current Target C-Ratio: 400% For more updated information, monitor Synthetix governance votes and the SIP/SCCP repo. Synthetix staking is vastly different from other DeFi protocols; it allo…Synthetix BlogMatt Losquadro In Summary if you stake SNX you get two kinds of rewards you can claim each week: sUSD fees generated from traders (fees collected from Kwenta Futures, Lyra, Kwenta Spot, atomic swaps, Polynomial, etc) and SNX inflationary rewards - current APY is 75% With Optimism incentivizing new users to come to the ecosystem, massive onboarding is occurring.  Synthetix and its ecosystem is looking ripe for huge growth and revenue generation! OPtimism recently passed Arbitrum and sits at 1.1 Billion TVL.  In 30 days TVL is up 282%. Follow the money… Current protocols on Optimism are showing huge increases in TVL in the past 30 days. Synthetix is up 77% TVL in one month! Analysts at Messari speculate OP will be a 9 billion marketcap so let that sink in on protocol TVL and revenue. This article can be found here: Checkout this twitter thread to get the TLDR on what Synthetix is up to, and why protocol revenue is going to explode (Perps V2 and V3 baby!) for Synthetix over the coming months:Want to know why $SNX @synthetix_io is surviving this bear market, and will come out stronger than the other #DEFI projects? - They been BUILDING - 🧵👇- Mr. Mojo (@mastermojo83) July 17, 2022 9,000,000 $OP tokens have been sent to Synthetix's Treasury Council. They have just started distributing them out, with current incentives on Curve and Velodrome! The Synthetix Optimism Phase 0 Distribution continues with incentives on @CurveFinance - 10k $OP for sUSD/3CRV 10k $OP for sETH/ETHt.co - Current APY's 👇 pic.twitter.com/aaQpJJUNst- Synthetix ⚔️ (@synthetix_io) August 25, 2022 SIP-242 spells out a rough framework on what they plan to do with all the $OP! Lets explore the current Synthetix ecosystem in Optimism, and a few other protocols that are great to have here: Kwenta: Kwenta is a decentralized derivatives trading platform, live on Optimism, offering real-world and on-chain synthetic assets using the power of the Synthetix protocol. Kwenta has two products it offers; Swaps and Futures (up to x25x leverage). Although Futures will be the flagship offering of Kwenta. Kwenta will support easy swaps of Synthetic assets similar to the likes of 1inch and uniswap. With the passage of KIP-21, Kwenta's Synthswap can enable the exchange of any ERC20 tokens for any synths (and vice versa). Despite being a Beta platform, Kwenta has reached $3.85 billion USD in trading volume through Organic use with no trading incentives.Congratulations to @kwenta_io and @synthetix_io on reaching 3 Billions USD in trading volume on #Kwenta decentralized futures trading platform. - No KYC, no geofencing, fully permissionless. 13 stakers making bank...#SNX #Synthetix #Kwenta pic.twitter.com/JHJHtCDodd- SynthaMan (@SNXified) July 21, 2022 $SNX Stakers have received $13.5 million in trading fees from Kwenta this year; checkout all the latest Futures analytics here:DuneBlockchain ecosystem analytics by and for the community. Explore and share data from Ethereum, xDai, Polygon, Optimism, BSC and Solana for free.Dune What is coming to Kwenta? When Synthetix comes out with Perps V2 here soon it will significantly improve user experience with lower fees and more predictable funding rates, and increase open interest limits and support more markets! This will benefit anyone building ontop of Synthetix Perps - including Kwenta. Kwenta has alot on the roadmap for 2nd half 2022: What alot of traders have been waiting for is Advance Orders (stop loss, limit orders, etc) and Cross Margin! They are on the roadmap and will be delivered soon! Kwenta is receiving 900,000 $OP tokens to onramp new users and incentivize trading. Here is a review of what they plan to do with them:The Kwenta $OP Proposal is now officially live in the @optimismPBC Governance Forum. - The 900k $OP breakdown is as follows: - 🔸 Migration Incentives 66% 🔸 Competition Prizes 14% 🔸 DAO Contributor Incentives 20% - For the full proposal visit: t.co- Kwenta (@kwenta_io) May 25, 2022 Lyra: Lyra is an options automated market maker (AMM) that allows traders to buy and sell options on cryptocurrencies (currently $ETH and $BTC) against a pool of liquidity. The Lyra protocol has two key user groups, liquidity providers and options traders. Liquidity providers (LPs) deposit sUSD (a stablecoin) into one of the asset-specific Lyra Market Maker Vaults (MMVs). This liquidity is used to make two-sided (buy and sell) options markets for the asset that the vault specifies (e.g. ETH Market Maker Vault LPs quote options on ETH). LPs deposit liquidity to the vault to earn the fees paid when options are traded. Traders use Lyra to trade options. They can either buy options from or sell options to the MMV. Traders pay fees (in the form of the market-making spread) to LPs, as compensation for their liquidity. Lyra uses the Synthetix Protocol in three different ways: As a settlement currency (All options are quoted, paid for, and settled with Synthetic USD or sUSD.), As collateral for calls (The AMM collateralizes the calls it sells with the relevant synth. For example, when the AMM sells an sETH call it will purchase 1 sETH from Synthetix. On expiry (or when the option is sold) the AMM will sell the sETH for sUSD and allow the option holder to settle.), For delta hedging (The protocol aims to keep the exposure of liquidity providers close to delta-neutral. It does this either by longing or short selling the underlying asset on Synthetix. For example, if the AMM is long 500 sETH deltas, it may short sell 500 sETH using Synthetix's short-selling functionality. ), Lyra upgraded the protocol recently to Avalon. Traders will now have access to: 100 strike/expiry combinations, Partially collateralized options selling (3-4x improvements in yield), Liquidity providers will: Be able to enter/exit the market maker vaults at any time, Generate more fees thanks to partial collateralization, Collect the lion's share of liquidation fees generated on the protocol, Avalon centers around three big breakthroughs in the protocol: Anytime market-maker vault (MMV) entry/exit (LPs will now be able to deposit and withdraw funds from the market maker vault at any time), Rolling expiries out to 3 months, Partial collateralization for options selling, Since the Avalon upgrade the AMM is performing beautifully even when $Eth was falling or rising. What's to come? Lyra recently received their 3,000,000 $OP and now plans to SUPERCHARGE the protocol and RAMP up growth. Leap-26 was passed recently which spells out the framework on how Lyra plans to do this.LEAP-26: Bridging Tokenomics until xLYRALEAPs Currently you can take your Lyra and single stake it and receive $Lyra and $OP. Staking Lyra will also give you a boosting effect (up to 2x) to Market-Maker Vault rewards. MMV rewards are $Lyra and $OP tokens. For more info:Avalon Incentives are live!After a month of unincentivized activity on the new Avalon release of the Lyra protocol: LPs have generated 2.8% returns on capital deposited on day 1$20m+ notional volume and $1m+ premiums have been tradedMarket-Maker Vault utilization has been consistently maxed out It's time to add some fuelLyra BlogMichael Spain Traders will now be eligible for a rebate on fees paid for opening and closing trades in a blend of both LYRA and OP rewards. The fee rebate percentage will grow logarithmically up to a maximum of 50% based on how much LYRA the trader has staked. For the specifics check out LEAP-26 and if you've been waiting on the sidelines to stake or trade now is the time! Make sure you stay up to date with Lyra with their community ran newsletter:It's time to share our 8th edition of The Short Put. - In this loaded issue we cover post Avalon launch, how @lyrafinance plans to SUPERCHARGE the protocol & RAMP up growth, ecosystem news, & much more ! - Stay up to date 👇t.co- The Lyra Short Put (@lyrashortput) August 1, 2022 Polynomial: Polynomial automates financial derivative strategies to create products that deliver passive yield on various assets, and is built on top of Lyra. Currently, Polynomial has covered calls, put sell strategies on the platform. Through the use of a weekly automated covered call strategy, the vault generates a return on its deposits. In order to effectively compound the returns for depositors over time, the vault reinvests the yield gained back into the strategy. Vaults only accept synthetic assets (sUSD for put/call-selling vaults, sUSD for Gamma vault, and sETH for call selling Eth vault). Polynomial recently upgraded the protocol to V2, where all vaults upgraded to the Lyra Avalon upgrade. This gives Polynomial instant deposits (within 1 hour), multiple strikes will be sold to reduce risk, partially collateralized vault, a short vol vault collateralized by sUSD, a basis trading vault using Synthetix Futures, and a gamma vault.🎉 Today, we're excited to launch the next generation of Earn Vaults on @optimismFND - 💚 Built on top of @lyrafinance and @synthetix_io - 👉 t.co pic.twitter.com/qXRmfjKbzr- Polynomial Protocol (@PolynomialFi) August 10, 2022 Polynomial recently had a community call where they gave an update on their OP token distribution, V2 launch, and updates on Gamma and Basis vault! You can listen to this awesome call here: The Gamma Vault runs a fully on-chain delta neutral strategy combing options and futures powered by Synthetix Futures and Lyra!Today we're excited to announce the Gamma Vault, first of its kind in DeFi. - Gamma Vault runs a fully on-chain delta-neutral strategy combining options and futures powered by @lyrafinance and @synthetix_io. 👇 pic.twitter.com/44CFG3WmRc- Polynomial Protocol (@PolynomialFi) August 19, 2022 Thales: Thales is a decentralized protocol that allows users to take part in peer-to-peer Parimutuel Markets on Optimism and Polygon. The simple but powerful smart contracts at the foundation of Thales Market allow you to participate in markets for different crypto assets. Thales protocol continues to innovate by offering community based games like Thales Royale and more advanced trading products like Ranged Markets. Traders can take part in custom markets and speculate on real-world events (like timing "The flippening") in an uncensorable and fully permissionless way using the Exotic Markets platform. What is unique about the positional tokens (UP, DOWN, IN or OUT) there are no liquidations involved, you can only lose what you risk on each market and no more! If you never used Thales, checkout this awesome market walk through (my favorite market is the $SNX UP): Unlike Synthetix where fees are distributed to stakers, Thales is implementing a buyback and burn feature (every 24 hours)  using a portion of the fees generated from their protocol and products (Overtime and Exotic Markets). This is outlined in TIP-50thales-improvement-proposals/TIP-50.md at main · thales-markets/thales-improvement-proposalsContribute to thales-markets/thales-improvement-proposals development by creating an account on GitHub.GitHubthales-markets Right now Thales is distributing their 900,000 $OP tokens for using their protocol and products. This includes UP and DOWN token buyers, Ranged IN or OUT token buyers, Staking, LPing, using Overtime Markets and Exotic Markets! This tweet sums it upAll you need to know about Thales $OP distribution: - First of all, we are very thankful to receive the initial 900,000 OP by @optimismFND for being an early supporter 🙏 - We believe in the Optimism' vision and we commit to fairly distribute OP tokens t.co - 1/- Thales (@thalesmarket) July 29, 2022 Dune dashboard: DuneBlockchain ecosystem analytics by and for the community. Explore and share data from Ethereum, xDai, Polygon, Optimism, BSC and Solana for free.Dune An incredible writeup about Thales can be found here:[SPONSORED] Thales: Unleashing the power of positional markets - The DefiantThales market is both a protocol and a platform where you can participate in different positional markets with easy to understand derivatives.The DefiantThales Overtime Markets: Overtime is the first fully decentralized sports markets platform! Thales AMM model allows Overtime to create instant liquidity around sports markets. They recently announced a FPL league with 10,000 Thales in prizes. If you are into sports betting then Overtime is your platform to use, who needs draftkings when there is Overtime Markets! Earn $OP while betting on your favorite sports team! Currently Overtime has MLB, MLS, NFL, and the MMA. Many more leagues are to come, including the much anticipated NBA and NHL.Sport Positional Markets built on ThalesSports Markets AMM Exotic Markets: Exotic Markets was built by community members on top of Thales smart contracts, allowing anyone to create custom markets in a decentralized way. Want to bet on current politics, sports, crypto, finance, or popculture ? Then you need to check this out! My favorite market is if Optimism will have more than 1 billion TVL on November 1st, 2022 - all you have to do is choose Yes or No, and wait for the time to pass.Exotic markets built on Thales protocolPermisionless on-chain positional markets built on top of Thales Dhedge/Toros: ​dHEDGE is a platform for managing investment activities on the Ethereum blockchain where you can put your capital to work in different strategies based on a transparent track record. On dHEDGE, managers can trade synthetic crypto, fx, commodities, and even equities - both long and short. dHEDGE leverages the Synthetix protocol and their zero-slippage model. They have risk-adjusted ranking of managers which makes it easy for investors to find really the really good managers. As with most DeFi protocols, dHEDGE is non-custodial in nature, meaning that investors remain in control at all time and choose to enter or exit a pool at any time. The dHEDGE token, $DHT, serves multiple functions: Facilitate decentralized governance, Incentivize investors to pool assets with top-performing managers, Incentivize managers to earn greater return, DHT distributed via staking and performance mining is done by increasing the circulating supply of DHT (inflation). Tokens distributed via the Protocol Treasury are done by liquidating a portion of the fees the protocol captures (protocol revenue).Rewards - dHEDGE DocsBreakdown of rewards distributed to DHT stakersdHEDGE Docs Want to see what Dhedge has this year and what their current roadmap is, then check this out!dHEDGE Q2 2022 UpdateQ2 2022 was unfortunately notable for some hugely significant DeFi catastrophes;such as Terra/Luna imploding, the insolvency of Three Arrows Capital, Celsiuslocking investor funds, increasing FUD around the stability of Tether, andknock-on effects to the rest of the ecosystem caused by any or all…dHEDGEJake Richards Dhedge has been leaking all kinds of Alpha on their twitter. It appears managers may soon be able to use Lyra and Kwenta !Very soon - cc: @lyrafinance pic.twitter.com/EBZdSkzSiu- dHEDGE (@dHedgeOrg) August 24, 2022 Toros Finance is a dHEDGE incubated protocol integrating Aave and 1inch. Toros Finance aims to simplify access to complex derivative strategies, safely, via offering these strategies through a single token. Toros Finance offers a suite of on-chain tokenized derivatives products. Currently Toros is deployed on Polygon and Optimism. Toros volume exploded when they released the Synthetix Debt Hedge token on Optimism.dHEDGE Debt Mirror Index Token - Live on OptimismSynthetix has partnered with dHEDGE to deploy a one-click debt mirror index for SNX stakers on Optimism. Initially, this tool was launched onto mainnet, but it is now live on Optimism. With this tool, each staker can hedge their exposure to the debt pool. Main article points: * dHEDGE & Toros Fi…Synthetix BlogMatt Losquadro Starting soon you can earn $OP while you hedge your debt! This is amazing for any Synthetix Staker who wants to properly manage their debt!Coming soon: Increased capital efficiency on $dSNX - ➡️ accurately hedge your sUSD debt ➡️ earn Stablecoin Yield on the cash component of the debt pool (currently about 85%) - AND earn $OP on top as strategy is entirely deposited in @AaveAave - Why are you not hedging anon? t.co pic.twitter.com/gp7JiPbVwv- Torŏs (@torosfinance) August 8, 2022 Aelin: Most VCs get a bad rep in crypto, and for a good reason. Aelin plans to fix that, as raises on Aelin tend to help the community and give organic growths to protocols. If you didn't know already Aelin is a protocol that enables the decentralization of the fundraising process. Instead of having to rely on a VC to fund your project and potentially not align with your community and goals, you can sell directly to your community and still see your protocol goals comes to fruition. A raise with Aelin can be done in four steps: Create a Pool and present deal terms, Investors deposit capital, Exchange investment tokens for deal tokens, Done!, Currently Aelin received 900,000 $OP tokens and is partnering with Velodrome on Optimism to help distribute these $OP tokens.After feedback from the Aelin Community, Optimism, & others the AELIN $OP Distribution has been altered to utilize these tokens to increase the number of Aelin pools. - 40% to LP Stakers (AELIN/ETH) - 60% to a Pool Incentive Program - Read more 👇t.co- Aelin 👾 (@aelinprotocol) May 26, 2022 Aelin is distributing voting rewards (also called "bribes") in OP in order to maximize the VELO rewards emitted to the AELIN/WETH pool. This means LPs will be earning VELO instead of AELIN. It is important to note that the Velodrome DAO will be matching rewards with Aelin treasury making emissions of VELO larger than the previous token incentive program. As described in AELIP-22, the current distribution of OP will follow the plan below: 40% to LP stakers (AELIN/ETH), or equivalent program to maintain liquidity on the AELIN/ETH pair 60% to a pool incentive program OP tokens will be taken from the 40% kept to reward LPs. A total of $16,000 USD in OP will be taken from this allocation to run this trial. If results are satisfying at the end of the 4 weeks, another AELIP might be presented to extend this program. This is spelled out here:Velodrome Aelin/WETH Pool 2 Incentives - Trial ProgramWith the implementation of AELIP 28 - The Aelin Treasury has just begun incentivizing AELIN/WETH liquidity providers on Velodrome with a trial program of $4,000 USD (paid in Optimism tokens) per week. Please read more if you're interested in earning LP rewards with your Aelin.Trial Program - Aelin News A recent project using Aelin for a raise is Muse Group:We're beyond excited to have @MuseGroupDao backed by @kaiynne raising on Aelin. - Want to learn more about their pool? - Check it out --> t.co t.co- Aelin 👾 (@aelinprotocol) July 23, 2022 That ends the Synthetix ecosystem on Optimism for now, so lets explore some other protocols are becoming symbiotic in the OP ecosystem. Velodrome: Velodrome is a decentralized exchange and liquidity marketplace on  Optimism. Their mission is to be the liquidity base layer of Optimism, allowing users to trade digital assets in a secure way, with very low fees and low slippage. As an AMM adapted from Solidly, Velodrome shares certain features with AMMs like Uniswap, with certain modifications: trading fee of 0.02%, near-zero slippage on uncorrelated or tightly correlated digital assets, route trades through stable and volatile asset pairs, no-upkeep, flashloan-proof, 30 minute time-weighted average price (TWAP) with direct quoting support, It incorporates elements of Curve, Solidly and Votium with ve(3,3) tokenomoics. The project has been described as a combo between leading stable liquidity protocol Curve, Andre Cronje's infamous Solidy, and Votium (a protocol for earning bribes on Curve/Convex). Velodrome liquidity providers earn VELO emissions, veVELO holders vote on which liquidity pools receive these VELO rewards, and pools earn in proportion to the voting power they accrue per epoch, i.e. each week, veVELO holders then earn from the trading fees generated by the pools they voted for in proportion to their voting power, Finally, veVELO holders also earn from the bribes paid out to the pools they voted for, as well as from veVELO rebases which are non-dilutive, meaning veVELO holders receive veVELO from them rather than VELOVelodrome is an AMM designed as the central trading and liquidity marketplace on @optimismPBC. - It is the next evolution of the @solidlyexchange model introduced by Andew Cronje. - Launching on May 31st with 10+ partners, it will kick start #OPSummer. - Need a 101?👇🧵 pic.twitter.com/0xgZUedNMN- Velodrome (🚴,🚴) (@VelodromeFi) May 29, 2022 There are two kinds of pools on Velodrome: 'Variable Pools' for uncorrelated assets, like its SNX/sUSD pair., 'Stable Pools' for correlated assets, like its USDC/sUSD stablecoin pair or its WETH/sETH stable asset pair., Velodrome has a sweet $OP distribution plan to their $veVELO lockers!We've just airdropped a record breaking $90,000 in bribes to $veVELO lockers. - We've also just airdropped over $460,000 in $OP locking incentives to $veVELO lockers. - Thank you to all the lockers making a long term bet on @VelodromeFi and @optimismFND ecosystem! pic.twitter.com/p8lU3CFnJT- Velodrome (🚴,🚴) (@VelodromeFi) July 28, 2022 Checkout their dune dashboard to follow along on stats:DuneBlockchain ecosystem analytics by and for the community. Explore and share data from Ethereum, xDai, Polygon, Optimism, BSC and Solana for free.Dune Aave: Aave V3 needs no introduction, but having them finally on Optimism is a blessing! They recently received 5 million $OP tokens from the OP Foundation.The @OptimismFND Liquidity Mining program is live on Aave V3 - The program will run for 90 days with a distribution of 5M OP to the Aave Protocol's Optimism Market users - Claiming support for rewards will be active soon! - Feeling Optimistic 👻- Aave (@AaveAave) August 4, 2022 Once they kicked on incentives the TVL skyrocketed 5000% in 30 days, and now sits at 552 million on Optimism. Granary: The Granary is a decentralized, user-driven borrowing and lending liquidity market inspired by AAVE V2. What is not listed on Aave gives Granary their niche for lending on Optimism! Currently you can deposit your $OP tokens and earn 3-25%APY, and then borrow $USDC from 1-3% APY Granary plans to Launch sUSD and SNX deposits here soon. The roadmap for Granary can be found here:Roadmap - The GranaryThe Granary Hint: Their token airdrop on Optimism has not happened yet, and will go to protocol users with more geared towards folks who borrow. Pickle Finance: Pickle Finance is a yield aggregator. They aggregate and compound yields from other protocols. It saves you time and money compared to doing it yourself. Yield Aggregators exist for yield farmers (like you) who want to invest money and maximize profits by leveraging different DeFi protocols and strategies for elevated returns. Pickle Finance makes it easy for you to earn great compounding yields on your deposits, when you don't have the time to compound it daily or the gas fee is too high for frequent compounding to be done. They came to Optimism around early February 2022, and recently received 200,000 in $OP tokens to distribute to protocol users!And we're off to the races!🚴🚴 - We have launched 9️⃣ new Jars, auto-compounding @VelodromeFi LP Pairs on @optimismFND - These new Jars will be eligible to receive duel rewards in the coming weeks off the back of our approved Optimism Governance Fund proposal. - Check out the Jars👇 pic.twitter.com/p0JrppCRfm- Pickle Finance (🔄,🥒) (@picklefinance) August 7, 2022 Pool Together: Pooltogether is a crypto-powered savings protocol based on Premium bonds. Save money and have a chance to win every week!PoolTogether on Optimism - PoolTogether User GuideOptimism offers fast transactions, low fees, and leverages the security the Ethereum network provides.PoolTogether User Guide This is a great place to deposit $USDC you want to save on Optimism. Current yields for $USDC are 10% APR (3% for USDC and 7% OP tokens), with a chance to win daily prizes: Pool together received 450,000 $OP tokens to distribute to users. medium.com Pooltogether recently came out with a new feature that allows users to delegate their yield to other wallets. This means you're giving another wallet additional chances to win prizes without losing custody of the underlying deposit. You share your odds with others but keep the funds. This is super powerful and can give DAOs the ability to deposit treasury funds and delegate to their users or token-holders, or an individual could delegate to friends and family to effectively onboard them to Defi! Protocols not mentioned in detail but deserve a HUGE shoutout: Uniswap, 1inch, Curve Without them Synthetix would not be where it is! All good things must come to an end. I hope you gained something from this! Fellow Spartans, this is not financial advice, but I leave you with some highly risky (degen) strategies I have heard mentioned in various discords: Some Spartans are taking their $OP airdrop, and depositing on Granary, then borrowing $USDC to take to Pooltogether, depositing on Velodrome (farm some high APR pools), or depositing on a pool at Pickle finance (farm high APR pools), Some Spartans are taking their $sUSD they claim each week from Synthetix, and then immediately trade on Kwenta (some like to x10 short/long to hedge, and some like to x5 $Eth to keep up with their debt pool), are buying $Eth Puts/Calls on Lyra (September $2,500 buy calls look delicious), or trade the SNX UP market on Thales!, Cheers! — -


---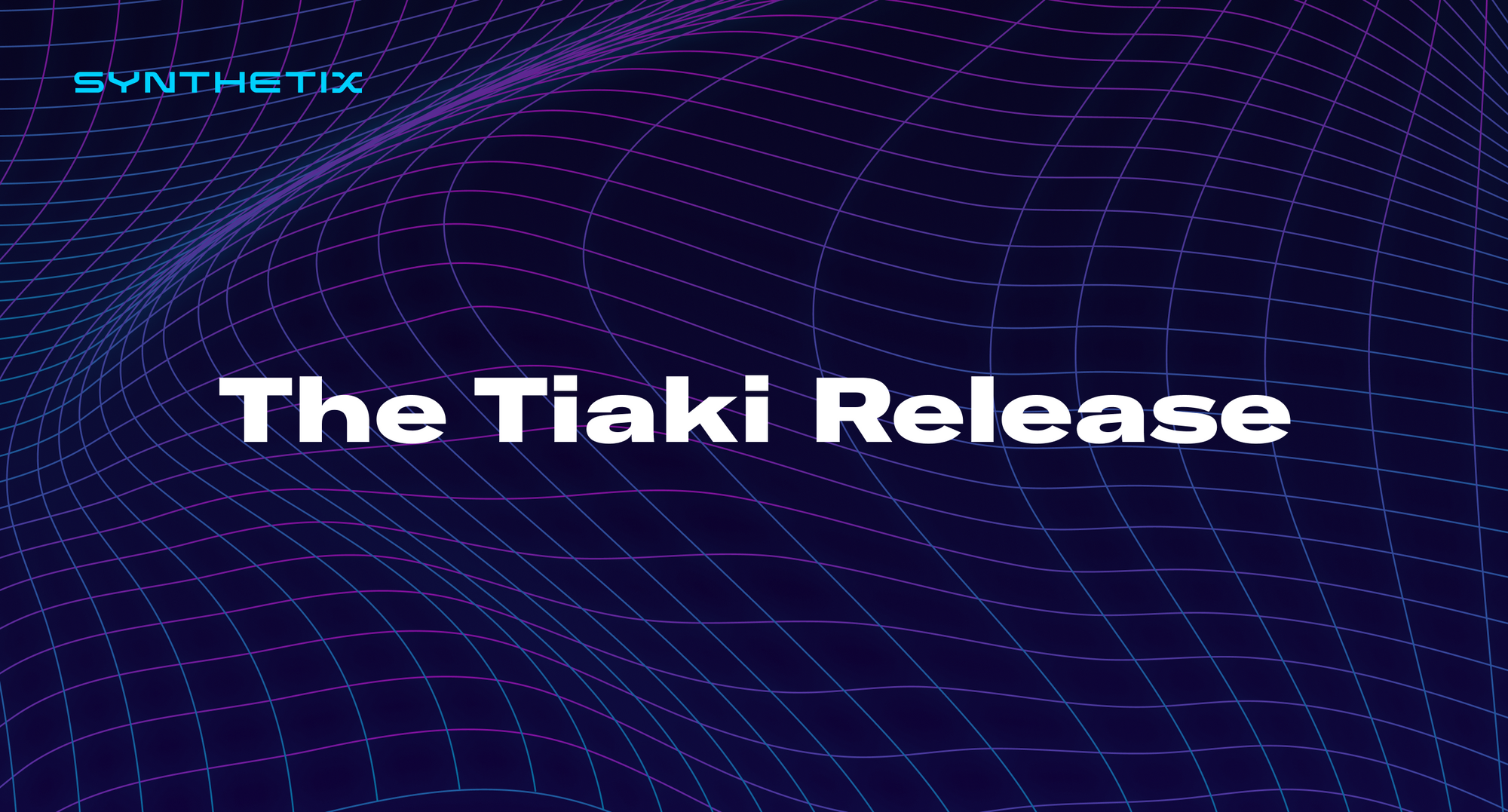 The Tiaki Release - Improved Atomic Swaps


The Tiaki is currently ongoing and will be done within the next few hours; the following SIPs will be implemented: SIP-258: Trade Directionality In Pricing of Atomic Swaps: Improves pricing of Atomic Swaps by integrating directionality into trading, What are Atomic Swaps? (aka: Cross Asset Swaps) Atomic Swaps are a new exchange function allowing users to atomically exchange assets with a reasonable fee by pricing synth exchanges via a combination of Chainlink and DEX oracles (Uniswap V3) This helps to enable seamless trading between synthetic assets like sETH, sUSD, sBTC, etc. A unique property of this is that for large trade sizes, it dramatically reduces the overall cost for traders due to slippage. Why are Atomic Swaps Important? Synthetix's trading volume has vastly increased in recent weeks due to 1inch integrating with Atomic Swaps. 1inch traders gain access to another path of liquidity, with low slippage and fees, and SNX stakers receive trading fees from up to hundreds of millions in trading volume per day. These contracts are processing hundreds of millions in daily volume while also generating up to $1M in daily fees for SNX stakers and Curve LPs. What is SIP-258 changing? Currently, the function used to compute an atomic price for sETHand sBTCis the worse between chainlinkprice and the min(uniswap_twap,uniswap_spot). The intention of the atomic swaps is to offer the worse fill between all 3 price combinations; this protects stakers from frontrunning while still providing a valuable liquidity source for aggregators to tap into. This change would allow the protocol to lower fees to the point where we retain a competitive advantage over other amm exchanges. Further, this change incorporates the directionality of the trade into the execution and allows Synthetix to offer competitive pricing for longer periods. Any Questions? This release is called Tiaki, which like all releases, is named after a star (in order of visual magnitude). If you've got any comments or questions about the release, please join the conversation in Discord.


---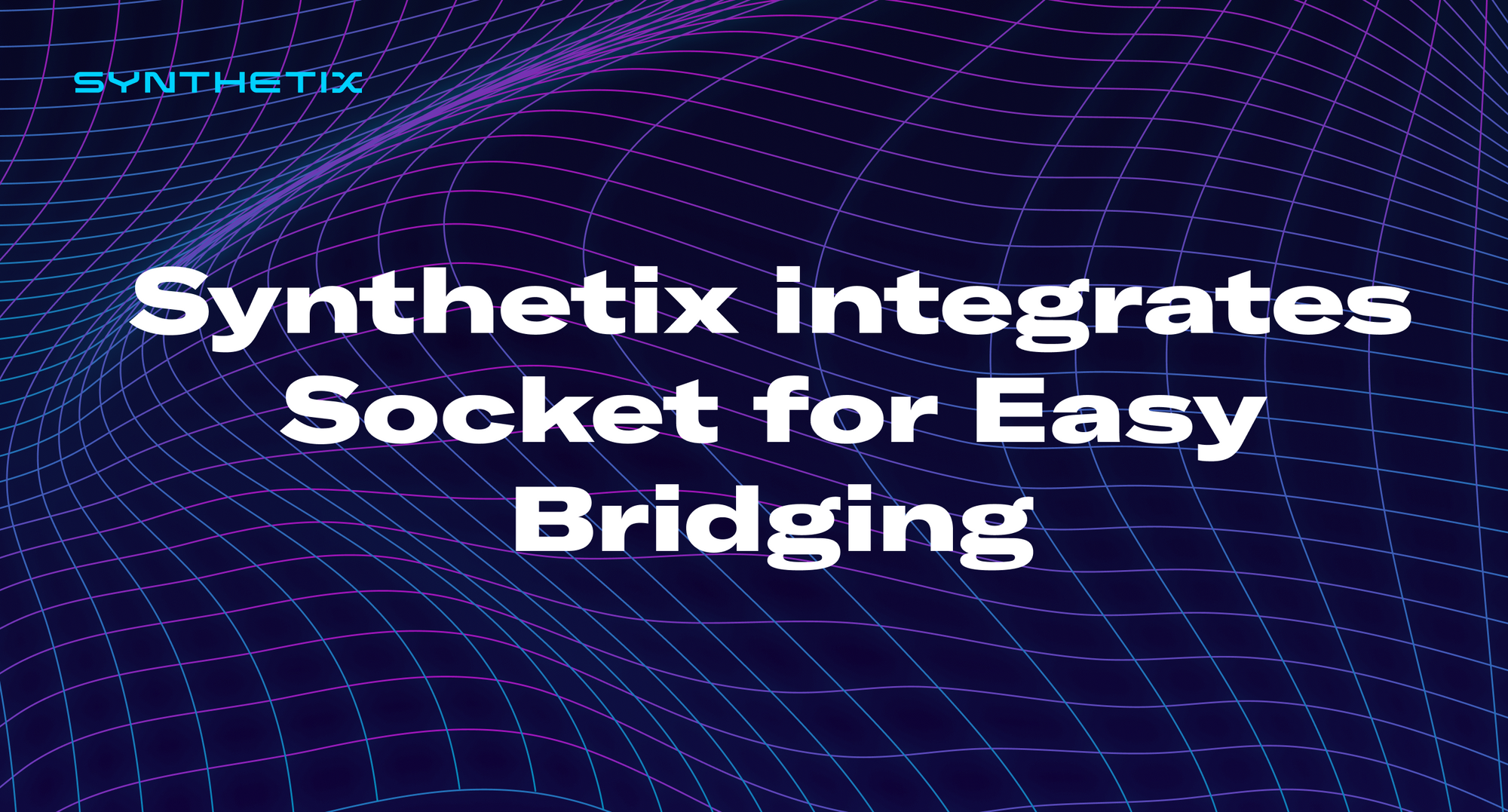 Synthetix Integrates Socket for Easy Bridging


Synthetix is excited to work with Socket Tech / Bungee to allow users to quickly bridge assets to and from Optimistic Ethereum. Not only does this allow users to utilize the sUSD bridge to/from Optimism, but it also allows Synthetix to onboard users more efficiently across all of DeFi. Bridging is now built directly into the Synthetix Staking UI through integrating with Socket Tech/Bungee. Check it out at staking.synthetix.io 👇Benefits of Socket Bridge Socket Tech and Bungee Exchange help to fix the multichain UX problems & enables Synthetix to provide the perfect onboarding experience for users of its protocol: Access across chains:  Synthetix users are spread across Optimism and mainnet. The bridge caters to them all by onboarding them from 8+ chains., Any to Any asset: The new Synthetix bridge is flexible in allowing users to start from any token they hold & directly zap into a synth asset all in one bridging transaction!, Refuel: Gas-less bridging has been a significant problem in the industry and has left many stranded upon arrival on a new chain. Users can now bridge native gas so they can immediately start interacting with the ecosystem., Socket Built-in Bridge Tutorial/FAQ Here is a quick guide for you to understand all the features of the bridge & get you started for the first jump! 1) Begin your bridging journey If you are on the home page, you can navigate to the bridge from the sidebar. Alternatively, you can head directly h...
---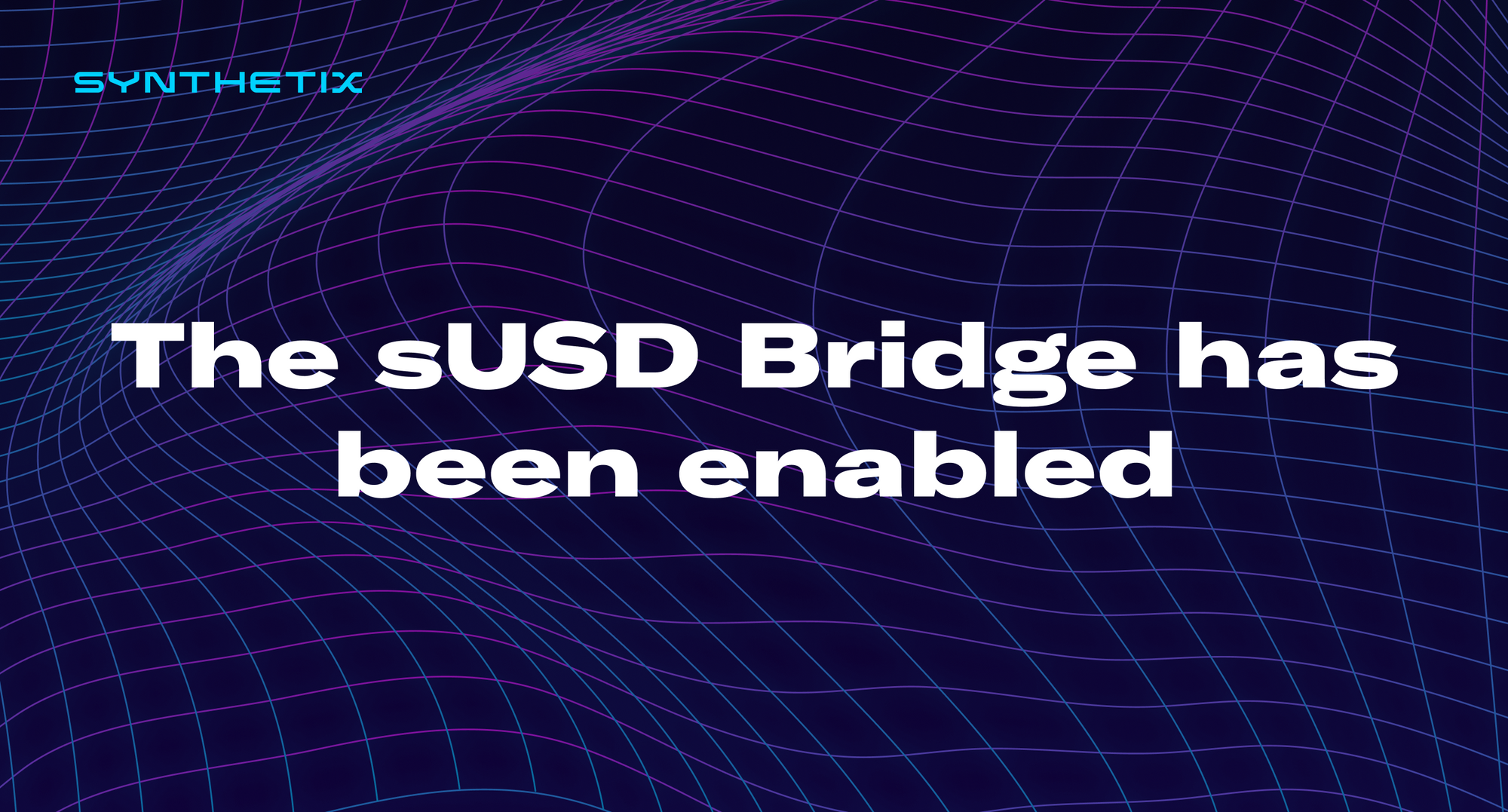 The sUSD Bridge has been enabled


The Bridge to transfer sUSD between mainnet and Optimistic Ethereum is now live. Right now, all transfers of sUSD must be done through direct contract interactions. A guide has been prepared to make it user-friendly to transfer sUSD between chains. Soon, the Optimism Gateway will support sUSD, and it will be even easier to transfer sUSD between chains.How to transfer sUSD from Ethereum Mainnet to Optimstic Ethereum💡Be VERY careful when directly interacting with contracts on etherscan, please verify that you're interacting with the correct contract. Step 1: Approve sUSD to be bridged by the Synthetix Bridge contract on Ethereum Mainnet You only need to approve the amount of sUSD you're currently moving, sUSD on Mainnet Contract - etherscan.io, Example: User plans to bridge 1000 sUSD - Fills in the above contract with the below values Spender -  (Synthetix Bridge Contract L1 -> L2) - 0x39Ea01a0298C315d149a490E34B59Dbf2EC7e48F Value - 1000000000000000000000 Step 2: Write and call '10. initiateSynthTransfer' on the Synthetix Bridge Contract(view below for an example) Contract - etherscan.io, In this example, a user (kain.eth - 0x42f9134e9d3bf7eee1f8a5ac2a4328b059e7468c) is moving 1000 sUSD from mainnet to Optimism Currency Key (bytes 32) - 0x73555344 Destination (address)- 0x42f9134e9d3bf7eee1f8a5ac2a4328b059e7468c Amoun...
---
---
---
Reasons Why Synthetix (SNX) Skyrocketed by Over 100%


The cryptocurrency market is showing signs of a minor relief amidst the bloodbath, but Synthetix (SNX) has emerged as the clear winner today. Synthetix (SNX) Takes the Lead The native utility and governance token of the layer-2 scaling solution Synthetix attempted to reclaim the previous local top formed around the $3-resistance area. SNX briefly witnessed a triple-digit surge of more than 100% in the last 24 hours, climbing to $3.4 before retracing to around $2.6. SNXUSD. Source: TradingView Additionally, SNX's trading volume skyrocketed by an astonishing 1,200%. This massive come-back in trade volume, in turn, spurred the rally for SNX. Subsequently, Synthetix became the third-largest protocol accounting for the most trading fees, just behind Uniswap and Ethereum. Often described as a 'blue chip' DeFi project, Synthetix was one of the first projects to launch on the Ethereum network. But Why the Sudden Traction? The native token got a boost after Synthetix collaborated with liquidity provider Curve Finance. The aim is to develop Curve pools for Synthetic Ether (sETH)/Ether (ETH), Synthetic Bitcoin (sBTC)/Bitcoin (BTC), as well as Synthetic USD (sUSD)/3CRV. This would enable market participants to convert synthetic assets such as sETH to ETH in a significantly cost-effective way. The introduction of the atomic swap function with the SIP-120 proposal is one of the catalysts driving the ongoing traction. Meanwhile, the integration with Curve Finance, and the decentralized exch...
---
Synthetix (SNX) Price, Monday's Biggest Gainer, Balloons By 100% &...


After plunging below $18,000 over the weekend to trade at a price of SNX, the native token of Synthetix decentralized finance (DeFi) platform, has gained more than 100% to usher in the week. SNX has proven to be the stock with the biggest rise on Monday. The token's 24-hour trading volume has increased by more than 1,200% to $322 million, according to data from CoinMarketCap. This indicates that investors are pouring money into the token despite its poor performance last week, as it has been put up for bid. Additionally, this abrupt growth in SNX is supported by the increasing daily network volume as a result of its new function. Suggested Reading | Bitcoin Climbs Back Above $20K, A Bit Of A Relief To The Sinking Crypto Market Synthetix is a Layer-2 scaling solution that provides on-chain exposure to a wide variety of crypto and non-crypto assets. It recently partnered with liquidity provider Curve Finance to create Curve pools for sETH/ETH, sUSD/3CRV, and sBTC/BTC, allowing investors to convert synths such as sETH to Ether (ETH) at more affordable rates. Synthetix Token Climbs By Half In Seven Days The Synthetix token is selling at $3.05 at the time of writing, a 50 percent increase over the past week. The latest price increase has assisted the token in erasing its deficit from the ongoing market meltdown. The price increase of SNX is not only attributable to optimistic perceptions surrounding Bitcoin at the start of the week, but also to investor...
---
More Synthetix (

#SNX

) News