| | | |
| --- | --- | --- |
| | DxSALE | #SALE |
---
| | | | | |
| --- | --- | --- | --- | --- |
| SALE Price: | $0.17 | | Volume: | $1.5 K |
| All Time High: | $2.06 | | Market Cap: | $3.6 M |
---
---
| | | | | |
| --- | --- | --- | --- | --- |
| Circulating Supply: | 20,374,878 | | Exchanges: | 1+ |
| Total Supply: | 89,683,486 | | Markets: | 1+ |
| Max Supply: | — | | Pairs: | 4 |
---
---
---
The price of #SALE today is $0.17 USD.

The lowest SALE price for this period was $0, the highest was $0.175, and the current live price for one SALE coin is $0.17463.

The all-time high SALE coin price was $2.06.

Use our custom price calculator to see the hypothetical price of SALE with market cap of ETH or other crypto coins.
---
---
The code for DxSALE crypto currency is #SALE.

DxSALE is 2.4 years old.
---
---
The current market capitalization for DxSALE is $3,558,112.

DxSALE is ranked #1160 out of all coins, by market cap (and other factors).
---
---
The trading volume is small during the past 24 hours for #SALE.

Today's 24-hour trading volume across all exchanges for DxSALE is $1,543.
---
---
The circulating supply of SALE is 20,374,878 coins, which is 23% of the total coin supply.

Note the limited supply of DxSALE coins which adds to rarity of this cryptocurrency and increases perceived market value.
---
---
SALE has limited pairings with other cryptocurrencies, but has at least 4 pairings and is listed on at least 1 crypto exchange.

View #SALE trading pairs and crypto exchanges that currently support #SALE purchase.
---
---
---
---
Judge Clarifies That Security Injunction in LBRY v. SEC Case Was Only fo...


A New Hampshire district court judge has clarified that a security injunction ruled earlier in the legal battle between the United States Securities and Exchange Commission (SEC) and decentralized content-sharing and publishing platform LBRY applied only to direct sales of the project's tokens. The ruling came during an appeal hearing on January 30, 2023, settling an agelong debate between the SEC and the crypto community. Judge Clarifies Ruling in LBRY v. SEC Case The court initially ruled in favor of the SEC in November 2022, granting the commission's request for a summary judgment filed in May 2021. CryptoPotato reported that the SEC sued LBRY in March 2021, alleging that the platform was selling its native token LBRY Credit (LBC), as an unregistered security. The agency argued that the blockchain platform raised over $11 million in crypto and cash from investors from 2016 to 2021. The regulator found the sale of the LBC tokens as an investment contract and classified it as a security. However, LBRY insisted that LBC was not a security as millions of people were active on the platform before any tokens were issued. The project also noted that it held no initial coin offering (ICO). During the appeal hearing yesterday, the SEC asked the judge to clarify the first ruling, as it looked to prohibit the sale of LBC. Interestingly, the tides changed as the judge explained that the injunction only applied to direct token sales. Notably, the ruling was greatly influenced by the ef...
---
Strike Integrates Lightning With Point of Sale Giant Clover


Bitcoin payment and wallet company Strike has partnered with fintech giant Fiserv to integrate Bitcoin's lightning network with the point-of-sale terminal provider, Clover. This will allow certain Clover merchants to accept lightning payments, expanding Bitcoin's use case as a medium of exchange. Dollars Over Lightning As explained by Strike CEO Jack Mallers over Twitter on Thursday, the integration effectively allows Clover to accept "cash-final" USD over lightning. Strike's service converts Bitcoin payments into a merchant's currency of choice on the back end, letting merchants accept alternative forms of payment – like Bitcoin. "This doesn't integrate Strike. This integrates Lightning," clarified Mallers in his tweet. "Anyone can use any service to checkout at any enabled merchant. If it can make a Lightning payment, you can use it." Strike is a custodial platform offering various features to Bitcoin users, including the ability to receive one's salary in Bitcoin, or interact with the lightning network. However, Strike's efforts allow alternative lightning wallets, including CashApp and Muun wallet, to operate with Clover. That said, not all Clover merchants have been enabled yet. Thursday marked the beginning of a 90-day pilot period, during which Strike will measure the new lightning-based system's cost and settlement speeds compared to other networks, alongside an...
---
CoinDesk Might Be Exploring Sale Options, Reports


First Genesis, now Coindesk. Barry Silbert's empire appears to be in trouble, as it is apparently considering selling part of its subsidiaries to address liquidity issues. On January 18, 2023, Kevin Worth, CEO of CoinDesk, a cryptocurrency-focused news site subsidiary of Digital Currency Group, reported that the company hired investment bankers from Lazard LTD to help them explore options for a partial or complete sale of the company. As reported by The Wall Street Journal, Worth talked about how potential investors were interested in owning the digital media outlet: 'Over the last few months, we have received numerous inbound indications of interest in CoinDesk,' However, until now, everything was kept private —if there has been any intention to sell the company. DCG's Liquidity Issues According to its own site, Coindesk receives over 5 million visitors per month (Similarweb reports over 10 million visitors), organizes the 'Consensus' summit —one of the biggest crypto events in the United States— and has expanded to different products, including a newsletter and a YouTube Channel. Seems successful, but the reasons behind its parent company's liquidity issues don't come from a poorly performing media site but instead are attributed mainly to the FTX contagion and a fight with the Winklevoss twins, founders of the Gemini cryptocurrency exchange after DCG-owned crypto lender Genesis halted withdrawals, messing with Gemini's 'Earn' program. The Winklevii ...
---
FTX Discovers $5.5B in Liquid Assets — Debtors Explore Ways to Max...


On Jan. 17, 2023, FTX Trading Ltd. and affiliated debtors updated the public and detailed that the firm's current administrators have discovered $5.5 billion of liquid assets to date. Top-level executives, including the new FTX CEO and chief restructuring officer, John J. Ray III, met with the bankruptcy case's committee of unsecured creditors to share the news.FTX Uncovers $5.5 Billion in Liquid Assets Through 'Herculean Investigative Effort' FTX has discovered $5.5 billion in liquid assets, according to a press statement released at 2:40 p.m. Eastern Time, Tuesday. The debtors, including FTX CEO John J. Ray III, announced that the team identified the funds through a 'herculean investigative effort.' The company's press release details that the team found $3.5 billion in cryptocurrency assets, $1.7 billion in cash deposits and roughly $3 million in securities. The press release further noted that the FTX team discovered $323 million was lost to unauthorized third-party transfers before the Chapter 11 bankruptcy filing was registered on Nov. 11, 2022. Furthermore, $426 million 'was transferred to cold storage under the control of the Securities Commission of The Bahamas,' the debtors' statement details. FTX debtors disclose that crypto assets currently held by FTX executives and the restructuring teams are also held in cold storage. 'We are making important progress in our efforts to maximize recoveries, and it has taken a Herculean investigative effort from our...
---
Bitsgap Introduces Trading Bot Updates in Time for Christmas Sale


[PRESS RELEASE - Please Read Disclaimer] Bitsgap has completed the major redesign of its three most successful crypto trading bots ahead of the Christmas sale Tallinn, Estonia — Bitsgap, one of the biggest crypto aggregators, has completed the redesign of its main crypto trading bots in time for the holiday season, offering all annual plans at a discounted price. Despite the crypto downturn, the Bitsgap team has had a busy few months, redesigning its most successful bots and preparing for the last major sales promotion this year. 'For us, this time has been full of intense work. We put a lot of effort into adding extra security layers for our clients and developing new fantastic features. When we started to redesign our bots, we had two simple objectives — make them easier to start with and increase their profitability,' says Max Kalmykov, Bitsgap's CEO. 'We're proud and happy to announce that we've achieved these goals! All bots can now start in a few clicks with highly successful preset strategies or be fully customized. Crypto trading is finally becoming more accessible!' Bots that have been redesigned include the DCA, GRID, and BTD (Buy the Dip). All three are indispensable in the falling market as they have preset strategies that allow traders to win in the downturn. The Bitsgap's DCA Bot has especially sustained a significant overhaul. It now has a backtesting feature, which allows traders to predict the bot's performance based on historical data and a...
---
Gemini Customer Data Leak Was Advertised for Sale on Hacker Forums for 3...


On Dec. 14, 2022, the crypto exchange Gemini revealed that some Gemini customers have been the target of phishing attacks that the firm believes stem from a third-party vendor leak. While reports disclosed that Gemini's leak was approximately '5,701,649 lines of information pertaining to Gemini customers,' Gemini did not disclose how many customers were affected by the breach. Moreover, according to Bleeping Computer's cybersecurity author, Ionut Ilascu, data from Gemini's customer info leak has been advertised for sale on hacker forums as early as Sept. 2022. Gemini Customer Data Leak Discovered on Multiple Hacker Forums Three days ago, Bitcoin.com News reported on the crypto exchange Gemini after it was discovered that a database that contains phone numbers and email addresses of 5.7 million Gemini users was leaked. The crypto reporter Zhiyuan Sun detailed that he witnessed documentation that had shown '5,701,649 lines of information pertaining to Gemini customers.' Gemini addressed the issue on Dec. 14, 2022, in a blog post and it explained that the breach likely derived from a third-party vendor. The exchange did not explain how many customer accounts were affected and Gemini did not detail which third-party vendor was responsible for the data breach. The following day, after Gemini's blog post published, Bleeping Computer's cybersecurity author, Ionut Ilascu, published an article that explained Gemini's leaked database has been advertised for sale since Sept. 2022. Ila...
---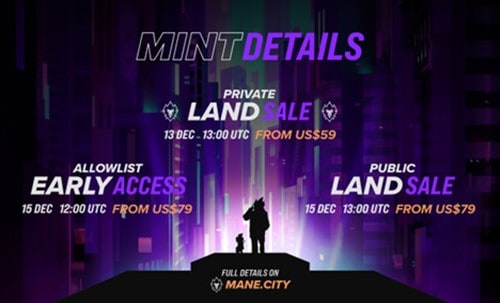 Crypto.com Land – The First Frontier: Announcing Land Sale Details


[PR- Singapore, Singapore, 13th December, 2022, Chainwire] We're one step closer to the first-ever land sale from Crypto.com! For this inaugural collection, there will be three sales periods — Private Land Sale, Early Access, and Public Land Sale. All the information you'll need for the "Crypto.com Land - The First Frontier" collection sale can be found below. Private Land Sale In conjunction with the Loaded Lions's first anniversary and to honour the project that inspired this collection, Mane Netizens will have exclusive access to a private sale on 13 December. Additionally, all Loaded Lions holders will enjoy a special discount when purchasing First Frontier Deed packs. Private Land Sale: 13 December 2022, 13:00 UTC Early Access We're proud to have a number of NFT projects that we have collaborated with and greatly admire on "The First Frontier" allowlist. Each of the following projects will have 150 allowlist spots to hand out to their collectors: AlphaBot Society Ballies Boomer Squad Bull Run Crew Cronos Cruisers Croskull Mad Hare Society Own Every Word PsychoKitties VVS Miner Moles What's more, all "Cyber Cub" NFT holders will also get a spot on the allowlist. The Early Access land sale will begin at 12:00 UTC on 15 December, a full hour before the public sale begins. Early Access Land Sale: 15 December 2022, 12:00 UTC Public Land Sale We will not be reserving any First Frontier Deed p...
---
Bitcoin.com Completes VERSE $50M Token Sale, Launches Token on Verse DEX


Bitcoin.com, a digital ecosystem and secure self-custody platform where users can safely and easily interact with cryptocurrencies and digital assets, announced completion of the pre-sale of its rewards and utility token VERSE, where 16% of the total supply was purchased for $50 million. Bitcoin.com also announced the launch of VERSE trading on its decentralized exchange, the Verse DEX, starting at 00:30 UTC on Dec 8. The initial listing price will be $0.0015 per VERSE. "The success of the Verse token sale despite severe bear market conditions is a testament to the quality of Bitcoin.com's ecosystem token," said Bitcoin.com CEO Dennis Jarvis. "I have no doubt that Verse will supercharge Bitcoin.com's mission to create economic freedom by helping to onboard millions more people to Bitcoin and decentralized finance where they can take advantage of the benefits enabled by self-custody, transparency, and censorship resistance." The VERSE token will provide utility in Bitcoin.com's ecosystem, which includes over 35 million self-custody wallets created in its multi-chain DeFi-ready mobile app, and an award-winning news portal with over 2.5 million monthly readers. Verse will also act as a rewards mechanism to encourage positive actions such as taking self-custody of assets. For example, the Bitcoin.com team launched in November its CEX Education Program that will reward people affected by centralized crypto company insolvencies while encour...
---
NFT Sale Starts on December 17th! NFT Sale Details of Entertainment DAO ...


PRESS RELEASE Financie Inc. pleased to announce that the 'SUPER SAPIENSS NFT' sales conducted by 'SUPER SAPIENSS', an entertainment DAO project active on FiNANCiE. About SUPER SAPIENSS 'SUPER SAPIENSS' is an unprecedented entertainment project that brings together three directors (Yukihiko Tsutsumi, Katsuyuki Motohiro, and Yuichi Sato) who have led the Japanese entertainment and film industry, and producer Takeshi Moriya as board members to create the original story and visualize it. The project is taking on the challenge of an entertainment DAO utilizing FiNANCiE's 'token issuance' and token-based 'co-creation community' in order to usher in a new era of entertainment in Japan. The company has conducted two rounds of token-issuing type funding, and has collected a cumulative total of over 50 million yen in support and approximately 3,000 members in the community. The supporters who hold the tokens do not simply observe the production process of the contents, but are closely involved in the project through various processes conducted by the community, and we are developing our activities with the important element of 'sharing the same excitement and joy' with the three initiators. About SUPER SAPIENSS NFT The creative for SUPER SAPIENSS NFT, which started on September 26, 2022, is based on director Tsutsumi's original character proposal, with original art developed by manga artist Chobi, who also wor...
---
Effective Altruism: Former FTX CEO's Alleged $40M Penthouse Listed for S...


In light of a recently published real estate listing, former FTX CEO Sam Bankman-Fried (SBF) is reportedly selling a 12,000-square-foot penthouse in the Bahamas for $39.9 million. Moreover, reports further detail that FTX Property Holdings spent roughly $74 million on real estate purchases in the surrounding Albany Bahamas oceanside district.Bahama Mansion Called the 'Orchid Building' Listed for Close to $40 Million This past weekend, the web portal seasidebahamas.com published a real estate listing that's reportedly tied to the former FTX CEO Sam Bankman-Fried (SBF). The property dubbed the "Orchid Building," is located on a 600-acre oceanside resort community called Albany Bahamas or Albany Resort. The asking price for the 12,000-square-foot penthouse is roughly $39.9 million, according to the listing, and the so-called effective altruist SBF's maintenance fees for the home are around $21,000. SBF's penthouse listing made waves on Twitter when it was shared by the Twitter account dubbed "Autism Capital." A large portion of the commenters on Autism Capital's thread mentioned SBF's so-called altruistic nature he boasted about on a regular basis. "Effective altruism housing," one person mocked in the Twitter thread. "That mansion screams effective altruism," another person wrote. Report Says FTX Property Holdings Spent $74 Million on Real Estate in the Bahamas, FTX Purchased Real Estate in Tokyo, Miami&...
---
Project XENO's Free Raffle Ticket Giveaway for Hikaru Collaboration NFT ...


PRESS RELEASE. The authentic strategy blockchain game, PROJECT XENO, will host an NFT sale in collaboration with the most popular YouTuber with over 4.86 million followers (as of October 24), Hikaru, from November 23, 2022 to November 30, 2022. Hikaru Collaboration NFT Sale Website: https://project-xeno.com/feature/hikaru-sale Here is a walk through for those who are new to this NFT sale: https://project-xeno.com/feature/begginers-guide In honor of the Hikaru Collaboration NFT Sale, the team will run a campaign giving away a 'Free Raffle Ticket' that can be redeemed for a free NFT. Free Raffle Tickets Distribution Distributed as one of the GXE Partner benefits Distribute to participants of the Free Raffle Ticket campaign held via Twitter Distribute to participants in the 1st NFT Auction (whitelist) In the future, the team plans to add more opportunities. Details regarding the distribution date and participation procedures will be announced on PROJECT XENO's official website and Twitter account. How does the Free Raffle Ticket campaign work? During this campaign, raffle tickets will be distributed for a free drawing to be held in conjunction with the Hikaru Collaboration NFT sale, beginning on November 23. The free raffle ticket consists of a BEP20 token, which will be distributed. To receive BEP20 tokens, winners must have a wallet. Official Website https://project-xeno.com/ Official Twitter(EN) Tweets by PROJECTXENO_GLB Official Twitter (JP) Tweets by PROJECTXENO_J...
---
Biggest Movers: FTT Fire Sale Sends Token Over 70% Lower, SOL Also Falls...


FTX Token plunged by over 70% in today's session, as sentiment surrounding Binance's potential buyout of FTX continued to raise market eyebrows. Following speculation that FTX could be insolvent, Binance's Changpeng 'CZ' Zhao moved to acquire the firm, pending due diligence. Solana is also significantly lower, due to FTX's sister company Alameda currently holding large amounts of SOL.FTX Token (FTT) FTX Token (FTT) continued to sink on Wednesday, as the token lost over 70% of its value in today's session. Following yesterday's high of $19.51, FTT/USD plunged to an intraday low of $3.15 earlier in the day. The move came as markets continued to digest Binance's decision to agree to an acquisition of the firm, pending due diligence (DD). Many believe that the DD could show the true significance of FTX's balance sheet, which some expect could intensify the current sell-off. As of writing, the 14-day relative strength index (RSI) is at 11.98, which is its weakest point on record, eclipsing yesterday's record reading of 23.79. Despite prices already in the depths of bearish territory, there could be more still to come, should 1) an acquisition not be completed, or 2) damning news be revealed about FTX. Solana (SOL) In addition to FTT, solana (SOL) was another notable loser on Wednesday, as the once top 10 cryptocurrency fell by nearly 40%. SOL/USD dropped to a low of $16.47 on Wednesday, less than 24 hours after residing at a ...
---
Get 5x Verse Tokens in Bitcoin.com Games' Exclusive Raffle for Players P...


Participate in the Verse Public sale and opt into the exclusive raffle on Bitcoin.com Games to get up to $25,000 worth of Verse tokens for free. Bitcoin.com is launching Verse, a rewards and utility token that will be used across the full range of Bitcoin.com products including the official non-custodial wallet app where users can buy, sell, trade, earn and use crypto. Stake it or use it as collateral, the VERSE token will give its users exclusive access to Bitcoin.com products and services while being traded on the Verse DEX. Exclusive Raffle on Bitcoin.com Games Bitcoin.com Games, our premium crypto casino, is offering any player old or new, that is a registered member, a chance to multiply the tokens they purchase in the Verse public sale. All Bitcoin.com Games players that participate in the public sale will be entered into a raffle where 3 lucky participants will win from a prize pool of $50,000 worth of Verse tokens. The first lucky draw will win a 5x multiplier on their Verse purchase and get up to $25,000 in Verse tokens. How to Participate Any registered member of the Bitcoin.com Games casino can opt into the promotion before participating in the Verse public sale at getverse.com with any amount of their choice to be eligible for a ticket to the Exclusive Raffle. Players that participate in the VERSE token sale can even get extra entries into the raffle by opting into the promotion and wagering a minimum of $100. Every $100 wagered will also grant an extra ticket for...
---
Bitcoin.com Expands Access to DeFi With Public Sale of Ecosystem Utility...


Whitelisted Individuals for the Sale Will Be Able to Purchase VERSE Tokens Using BTC, BCH, ETH and USDT/USDC. November 1, 2022 – Bitcoin.com, a digital ecosystem and secure self-custody platform where users can safely and easily interact with cryptocurrencies and digital assets, has announced that the public sale of the VERSE utility token is now live. VERSE will reward participants for buying, selling, storing, using, and learning about cryptocurrency, while supporting those who are seeking accessible onboarding into Bitcoin and DeFi. VERSE will fuel the growth and expansion of Bitcoin.com's ecosystem, which includes over 35 million self-custody wallets created in its multi-chain DeFi-ready mobile app, and an award-winning news portal with over 2.5 million monthly readers. VERSE will provide access to exclusive platform services and act as the cornerstone for new initiatives, ultimately expanding access to decentralized technologies and finance. By interacting with the Verse DEX, staking VERSE, receiving cash back in VERSE, and using the VERSE token as collateral in various lending pools, Bitcoin.com's millions of users will be able to take full advantage of their time spent engaging with the platform. 'We are officially entering a new era of Bitcoin.com with the public sale of VERSE. Our team strongly believes in Verse's mission to enhance economic independence through its utility, ecosystem rewards and low-barrier-to-entry features offered on a secure, trustworthy p...
---
Inu and Meme Equivalent to Cleverminu Token Launched With 1T IMO Sale


[PRESS RELEASE - London, UK, 31st October 2022] Cleverminu, a hybrid meme, and Inu token, has shared details of its much-anticipated token sale. The public event has seen 1 trillion CLEVERMINU tokens made available to establish a decentralized economy powered by its users. The token sale began on October 27 at 9:00 UTC, supporting price discovery and distributing CLEVERMINU to a global user base. Part of a decentralized community network, Cleverminu's native token combines the intricacy of Inu coins with the novelty of meme tokens. This results in a passionate and highly engaged community whose interests are centered around a thriving token-powered economy. Within the Cleverminu ecosystem, users have access to new features the moment they are shipped. These include forthcoming NFT functionality and new token releases. The CLEVERMINU token sale began with an initial listing price of $0.0000001. The community bought nearly 13% of the total supply (130000000000 CLEVERMINU) in the first round, adding $13,000(130000000000 x $0.0000001) to the liquidity pool. The community then sent 13% of the tokens to a 'burning wallet' to increase the scarcity of their tokens and bolster the value. Another 10% (10000000000 CLEVERMINU) of the total supply was acquired by the community for $0.000001, adding $100,000 (100000000000 x $0.000001) to the liquidity pool, and 10% of the tokens were delivered to the burning wallet . To date, 46% of the total supply has been transferred to a burning ...
---
Dvision Network Announces 4th LAND Sale Together With Binance NFT and Ga...


PRESS RELEASE. Despite the decrease of NFTs trade volume from all time high, the metaverse development is reaching all time high since more organisations and governments show high interest in this emerging technology. Such as recent Norwegian Government joins metaverse with Interpol is already operating in a virtual world. While most of the virtual assets are still remain undervalued due to the bear market. Meanwhile, one of the veterans in metaverse, Dvision Network has announced the highly anticipated 4th LAND Sale which will occur in collaboration with market leaders Binance NFT and GameFi.org on 28th October at 06:00 PM, KST. The sale will take place on above mentioned marketplaces and Dvision Network' native marketplace simultaneously, making it easier for Dvision LAND collectors to get involved with different chains and platforms. What's there to know? Binance NFT's Twitter account recently revealed an NFT Sneak Peek about the new LAND Sale. According to the tweet: 'The Dvision Network LAND Mystery Box Collection contains LAND lots of 14 different parcel sizes and locations. Also, the luckiest NFT holders shall receive the premium (most luxurious) 3×3 LAND lot in the Amsterdam or Hong Kong Meta-Cities.' Furthermore, as per another tweet by Binance NFT, both the Hong Kong and Amsterdam Meta-City virtual lots can be customized and users can even earn passive income by renting out their virtual real estate or advertising within their respective terrains. As prev...
---
SeaCoast Will Host COAST Token Sale on October 25th


[PRESS RELEASE - Madrid, Spain, 25th October 2022] SeaCoast, the maritime startup using web3 technology to pioneer new ways of exploring the world's waterways, has announced its public token sale. The event will commence on October 25, giving members of the public their first opportunity to purchase $COAST tokens. The $COAST token will sit at the heart of the nautical ecosystem SeaCoast is developing, centered around curated data of waterways and inlets. This will enable explorers to access rich and up-to-date information that enhances their interactions with local touchpoints. SeaCoast has developed a trio of applications to support this goal in the form of ShoreView, PortView, and PaperBoat. Together, the apps unlock new ways of interacting with coastal resources while rewarding human curators for the knowledge they share. ShoreView is a virtual assistant that facilitates coastal navigation through augmented reality and shows the user in real time both what they see and what is invisible to the naked eye. PortView facilitates mooring boats using augmented reality and audio assistance. It is the maritime equivalent to Google Maps' "how to get there" function since 70% of accidents with rented boats occur at the point of mooring. PaperBoat is a mooring reservation manager that serves as the Booking.com of sailing. 'We do not think of tokens as a possibility to capture resources, but as a way from which we can promote some services and boost the recurre...
---
SEC Probes Bored Ape Creator for Potential Unregistered Securities Sale


Yuga Labs – the team behind the popular Bored Ape Yacht Club (BAYC) NFT collection – is now under investigation by the Securities and Exchange Commission (SEC). The commission is examining whether the company violated securities laws by issuing certain NFTs, or through their newly launched crypto token ApeCoin. SEC Versus NFTs A person unfamiliar with the matter told Bloomberg that the SEC seeks to find out whether some of the firm's NFT more closely resemble stocks, and if they should follow the same disclosure rules. For now, Yuga has not been accused of any wrongdoing by the commission, and the probe does not imply an incoming lawsuit. "It's well-known that policymakers and regulators have sought to learn more about the novel world of web3," Yuga told Bloomberg in a statement. "As a leader in the space, Yuga is committed to fully cooperating with any inquiries along the way." Yuga's BAYC collection is one of the most iconic and highly valued NFT collections available. Celebrities including Eminem and Justin Bieber have paid hundreds of thousands of dollars for some of its highly valued apes – which have drawn down substantially in price during the bear market. NFTs gained popularity in 2021 as highly speculative collectible items, but are now evolving to serve other functions in areas like fundraising, gaming, and memberships. This highly versatile nature has left regulators confused about how to...
---
Volare to Kick Start Public Sale of VOLR Token


[PRESS RELEASE - Singapore-Oct 5th, 2022] Volare, the web 3.0 platform for developers and gamers, has announced that the public sale of VOLR token will finally kick off on September 27th.(00:00 UTC September 27th, 2022) Volare Network is the ?rst commercially viable blockchain network, and developers can easily develop and publish games and other entertainment contents by utilizing various tools provided in the Network. It is aiming to bring gaming into the new Play-to-Rank (P2R) / Play-to-Earn (P2E) revolution. Volare ("VOLR") is a token used on Volare Network for the purpose of reserving and measuring the value of the services provided on the network and incentivizing operations of validator nodes. VOLR will be the main currency of the network to be exchanged freely with other service tokens on the DEX, Game Center and Launchpad. With this announcement, anyone who wishes to apply for the subscription of VOLRs must deliver to Foundation Ethers ("ETHs") in the amount corresponding to the value of the VOLRs and thus must have such ETHs in advance of accessing Launchpad. The value of ETHs is determined as the price of Ether published by CoinMarketCap at the time when the transfer of ETHs is confirmed at the Ethereum mainnet (i.e., 10~20 minutes later after remittance of ETHs with Metamask wallet). Please note that delivery of ETHs from Applicants to Foundation must be made through Metamask wallet, not through Whisper MSG. VOLRs will be mainly used for d...
---
Bankrupt Crypto Lender Celsius' Asset Sale Is Scheduled, Sources Say FTX...


According to a filing published by the U.S. Bankruptcy Court for the Southern District of New York, the crypto lending firm Celsius has been given a final bid deadline of October 17, 2022. Following the bankruptcy court's final bid deadline, a sale hearing is scheduled for November 1. A report published last week noted that Sam Bankman-Fried, the CEO and co-founder of FTX, is eyeing Celsius' assets after winning a bid for Voyager Digital's assets last month.Celsius Bankruptcy Sale Hearing Has Been Finalized - Myriad Interested Parties Expected to Attend Crypto Lender's Asset Sale An official court filing stemming from the Celsius Chapter 11 bankruptcy case indicates that the finalized dates for the company's sale proceedings have been scheduled. The now-defunct crypto lender Celsius has been given a final bid deadline which is now set for Monday, October 17. Roughly two weeks later, a sale hearing will take place on November 1, and it's expected that a large number of interested parties will attend. Furthermore, 'a person familiar with his deal-making' told Bloomberg that FTX CEO Sam Bankman-Fried is looking to bid on the company's assets. The report concerning the reported bid by Bankman-Fried follows FTX acquiring Voyager Digital's assets on September 26 for $1.4 billion. Bankman-Fried has told the press in the past that he and FTX were willing to deploy billions on acquisition deals. Moreover, Ripple Labs executives have shown interest in Celsius' assets in August when a s...
---
Texas Regulators Object to Celsius Stablecoin Sale Proposal


Two weeks ago, Celsius filed a motion asking for approval to sell stablecoins currently in its possession. At the time, a preliminary investigation did not find any reasons to deny the request outright – even though the cash generated by the sale would be used to fund Celsius' operations, not pay back creditors. Further deliberation on the matter was scheduled for a hearing on the 6th of October. Texas Regulators Object to the Request's Wording However, Texan regulators have decided to inform the court of their misgivings even ahead of time. On the 29th of September, the Texas State Security Board (SSB), the Texas Department of Banking (DOB), and the Attorney General representing the state in the ongoing bankruptcy case filed an objection to the proposal, citing concerns over the language used in it. According to Texan authorities, Celsius has not seen fit to explain precisely how many stablecoins the company has on hand. Furthermore, 'the Debtors seek to sell and/or exchange any stablecoin, whether currently held or received in the future, on a post-petition basis consistent with prepetition practices.' In other words, Celsius' request would allow the sale of stablecoins using the same business practices used up until now. Considering those prepetition practices seem to have led to meltdown and subsequent bankruptcy filing, it's easy to see why Texan authorities may not see fit to grant Celsius carte blanche in this matter. Stablecoins Are Still Crypto Assets Another o...
---
Kitsumon Launches NFT Land Sale in Partnership With Top NFT and Gaming P...


[PRESS RELEASE - London, United Kingdom, 27th September 2022] After a successful IDO and INO, Kitsumon is pleased to announce details of the highly anticipated NFT land sale in partnership with top gaming and NFT platforms, including: Babylons BalthazarDAO DareNFT ScottyBeam FantomStarter DAOLauncher Liquidifty GameStation Synapse Network Land in the Kitsumon metaverse is a key element for the MMORPG: Professions gameplay due to release in 2023. Professions will allow players to explore a massively multiplayer world where players can use their land to level up their character in 6 different roles, such as farming, cooking, fishing, mining, crafting and alchemy. A full overview of professions can be found here. Become a master of one or a jack of all trades. Be a genius of agriculture and turn your harvest to cash, cook up amazing dishes to supercharge your Kitsus for battle, or relax by the sea to catch some fish. Everything players grow and craft in the Kitsumon world is represented as NFT assets that provide utilities to other gameplay modes such as breeding which was released last week. How it Works Land in the Kitsumon World comes in the form of 13 types of biomes such as forest, oasis, snow or the cursed forbidden forest. Different biomes affect players' professions, mining in the badlands might yield more gemstones, but players can only grow the mythical space mushrooms in the moon-touched biome! Find out more about the variety of biomes here. In total 25,000 plots of...
---
Finblox Announces Upcoming Token Sale and New Product With Crypto Prizes


[PRESS RELEASE - Please Read Disclaimer] Ever catch yourself wishing you didn't have to use separate platforms for buying, swapping, staking, and gaming with your crypto? Are you tired of cross-platform fees, long lists of 2FA codes - and passwords you can't hope to remember? Finblox, a popular Hong Kong-based crypto platform - seeks to tackle this ambitious problem by creating a next-gen superapp that will allow users to game, trade, and earn passive income on their crypto. Currently, their hottest new product is "Pool Party" - a gamified crypto rewards pool that allows users to enter weekly drawings for a chance to win huge crypto prizes. The requirements to join Pool Party are simple: Download the Finblox app Deposit a minimum of $10 in any crypto to use Pool Party Tap "Join Draw" to enter each weekly drawing Prizes are automatically distributed to your Finblox account If you decide to stop using Pool Party, you can simply withdraw your deposit in full at no loss of principal! Chances of winning Pool Party can be boosted by greater deposit sizes, joining earlier, referring friends, and holding Finblox's token. Don't forget that you continually earn passive yields on anything that is deposited to the Finblox platform! Upcoming Token Sale Finblox has declared that they plan on holding their token sale (ICO) sometime in late Q4 of 2022. Some of the features named in the litepaper include: Swap (LIVE) Pool Party (LIVE) Launchp...
---
David Bowie Estate to Drop 'Bowie on the Blockchain' NFTs, Sale Receives...


The David Bowie estate recently announced it is launching a series of non-fungible token (NFT) collectibles called 'Bowie on the Blockchain.' Following the official announcement, however, a number of Bowie's fans chastised the project and called it a pyramid scheme. Bowie's blockchain collectibles will launch on Opensea on September 13, and proceeds from the sale will go to the global anti-poverty nonprofit Care (care.org).'Bowie on the Blockchain' Digital Collectibles to Launch on September 13 via Opensea - Fans Criticize the NFT Drop It seems when it comes to NFTs people either love them or hate them, and the recently announced 'Bowie on the Blockchain' NFT collection has received some backlash. David Bowie is a famous English singer-songwriter and actor who passed away in January 2016. Bowie is considered one of the most influential musicians, well known for his album 'The Rise and Fall of Ziggy Stardust and the Spiders from Mars' and his hit single 'Space Oddity.' The NFT collection will feature artwork that pays tribute to Bowie, and the digital collectibles are backed by the David Bowie estate and a Web3 venture called We Love the Arts. The NFT marketplace Opensea has been teasing the 'Bowie on the Blockchain' NFT collection on Twitter and in one particular tweet Opensea said: 'On September 13th, David Bowie's undying influence will impact yet another new frontier as nine of the world's leading crypto-artists come together to celebrate his legacy and put #BowieOnTheBloc...
---
Emergents TCG Officially Moves To Public Beta With The Exclusive 'Super ...


InterPop, a rising Web 3-based digital entertainment company, celebrated the first anniversary of its Emergents gaming universe by moving the all-new Emergents Trading Card Game (TCG) into the Public Beta phase last week. The digital trading card game is an initiative behind some pro gamers and game developers including Corey Burkhart, Alan Comer, Paulo Vitor Damo da Rosa, Brian David-Marshall, Zvi Mowshowitz, and Drew Nolosco. In further celebration of the Public Beta phase, InterPop announced the launch of its exclusive commemorative card pack, 'Super Booster', flash sale, starting August 18. The Emergents digital trading card game (TCG) aims to provide players with an unmatched player experience via its captivating storylines and expansive universe. Additionally, the game leverages the power of Tezos' proof-of-stake blockchain to offer players digital NFT cards, which are more environmentally friendly collectibles than physical cards. The presence of blockchain means players will be able to own and control their own cards, cosmetics, and other game assets on any wallet that supports the Tezos ecosystem. Simply, the game combines the deep strategy of traditional TCGs, the convenience and fast pace of digital TCGs, and the digital ownership of Web3. The digital trading card game will allow users to build up their card decks by playing the game and collecting cards through the game, similar to Pokemon and Magic: The Gathering. Simply, players collect card pa...
---
Cannumi Project Private Sale Available for Subme HODLers


[PRESS RELEASE - Please Read Disclaimer] The Cannabis industry means regulatory challenges, high stock exchange valuations of companies in the United States, and sometimes spectacular collapses. It is also making its first steps in the Polish market, though the competition here is also significant. Cannumi plans to connect the Blockchain market with Cannabis allowing the financing of daring startup projects from the Cannabis industry. What is Cannumi? Cannumi is the first in the world marketplace and social platform that brings together cannabis enthusiasts and Crypto-Geeks to the same place, where censorship and limitations do not exist. An innovative approach and passion for Cannabis and Blockchain industries are what define it. It will not be easy to narrow the project's description to a few definitions. Most of all, Cannumi is a Social Media platform focused on merging both industries. However, due to the specific character, it brings a broad spectrum of possibilities, including a blockchain-based Cannabis marketplace. Even though Cannabis and Blockchain hold tremendous potential, they keep being stigmatized by common stereotypes. Breakthrough solutions enter the world only when their precursors bid farewell to the erroneous analyses and gain access to the necessary knowledge. Complicated law regulations usually restrict the free flow of information. That is why the Cannumi Society will focus on the free flow of information. The utilities of the platform will create solid...
---
Challenging Tiffany & Co. and What Could be the Most Expensive Public Sa...


Are diamonds an NFT holder's best friend? The answer might be yes for a few hundred CryptoPunks holders, and it could soon be the same for thousands of others. Tiffany & Co., the well-known luxury jeweler and specialty retailer, made a lavish entrance into the NFT space this month, raking in more than $12.5 million from its first NFT collection that sold out less than 30 minutes after launch. Limited to a supply of 250, the exclusive collection is the fruit of a partnership between Tiffany and Chain, a blockchain software development company. Tiffany first announced its unique NFT collection at the start of August. Dubbed NFTiff, each 30 ETH purchase gives buyers a Tiffany pendant of a CryptoPunk in their collection and a digital version that replicates the physical design. The luxury brand said each custom, one-of-a-kind pendant would be made out of 18k rose or yellow gold with at least 30 gemstones. Jewelers will color-match the enamel and gemstones to mimic the Punk's virtual hues. Anyone can buy an NFTiff, but only CryptoPunk holders have the ability to embark on the customized jewelry experience. Tiffany noted renders of the pendants would be ready by October, with the physical jewelry heading to owners by mail in 2023. The unique foray into the NFT world is made possible through CryptoPunk owners "leveraging their IP rights" and does not directly involve CryptoPunks or the Larva Labs parent company. Global Fashion Brands Continue Diving Into The NFT Wo...
---
Volare Network Released Volare Business White Paper 1.0 With Volare Publ...


[PRESS RELEASE - Singapore - August 13, 2022] Volare Project is a project to construct a vast ecosystem based on blockchain network ("Volare Network") that proves the commercial viability of the new Equilibrium technology. Volare Network has released its first white paper 1.0 on August 1, 2022 (please see here). Current blockchain platforms execute transactions at a considerably slower speed than existing commercial-grade server-client platforms. Those blockchain platforms also suffer from low scalability due to structural flaws that cause the overload of a particular service to negatively impact the entire network. Equilibrium, a blockchain engine developed by EQBR Holdings Co., Ltd. (EQBR Holdings) overcame such problems by (i) a new non-competitive consensus algorithm (Equalize) and (ii) an enhanced micro-service architecture (micro-chain architecture, MCA). That is, Equalize profoundly enhanced transaction speeds while MCA overcame limitations created by rapid network expansion. Volare Network can have unlimited number of small independent network corresponding to each independent service domain thereunder (micro chain). Based on Equilibrium, each network operating within Volare Network can provide stable services to users with improved speed and scalability, which is supported by the test operation of Volare Network through millions of mini-VOLRs (i.e., free tokens for airdrop purpose) transactions by a half million Whisper Messenger (i.e., wallet of Volare N...
---
Metaverse Memecoin Tamadoge Raises $1 Million Midway Through Its Beta Sa...


[PRESS RELEASE - London, UK, 10th August 2022] Tamadoge, the P2E metaverse meme coin, has raised $1 million after just 12 days of its beta sale. The beta sale began on July 25 and is scheduled to run until August 31, but will finish before then when the $2 million hard cap is reached. Once the presale has concluded, the TAMA token will be listed on LBank exchange. Unlike most so-called memecoins, Tamadoge has been designed to have real utility. It serves as the native currency of a games platform populated by virtual Tamadoge pets. Owners can mint, breed, and battle Tamadoges to level up. A mobile "battle" beta version of the app is scheduled for release in Q4 2022. Tamadoge ultimately aims to raise $10 million to build out its play-to-earn GameFi ecosystem, with $2 million coming from the ongoing beta sale in which 1 TAMA can be bought for 0.01 USDT. ETH and fiat currency are also accepted for the beta sale. From September, the token price will rise by 25% as the second phase of the public sale commences. The current beta sale is effectively an open private sale, sometimes referred to as a "fair sale" because ordinary investors can take part with a minimum purchase of just $10 and no maximum. Half of the total supply of 2 billion TAMA tokens is available for purchase in the presale. Adding to Tamadoge's fairness credentials, there is no vesting period for presale buyers and there is no private sale. Tamadoge utilizes NFTs, each of which represen...
---
Robert Kiyosaki Says in Cash Position Waiting to Buy Bitcoin — Ass...


The famous author of the best-selling book Rich Dad Poor Dad, Robert Kiyosaki, has advised investors not to miss 'the greatest sale on earth.' He said asset prices are crashing and indicated that he is waiting in cash position to pick up bargains, including bitcoin.Robert Kiyosaki Waiting to Buy Bitcoin The author of Rich Dad Poor Dad, Robert Kiyosaki, reiterated this week that he is waiting to buy bitcoin, emphasizing that 'the Greatest Sale on Earth' is coming as asset prices are crashing. Rich Dad Poor Dad is a 1997 book co-authored by Kiyosaki and Sharon Lechter. It has been on the New York Times Best Seller List for over six years. More than 32 million copies of the book have been sold in over 51 languages across more than 109 countries. Noting that his 'Favorite 4-letter word is SALE,' Kiyosaki tweeted Monday: Asset bubble found a Pin. Asset prices crashing. In cash position waiting to pick up bargains especially in real estate and bitcoin … Do not miss the Greatest Sale on Earth. At the time of writing, the S&P 500 has declined 21% while Nasdaq has slumped 29% so far this year. Moreover, rising interest rates have begun to drive up mortgage costs and cool housing demand. Kiyosaki has warned about asset bubbles and markets crashing many times. He said in March that we are in the 'biggest bubble in world history,' noting there are bubbles in stocks, real estate, commodities, oil, futures, and even bitcoin. In June last year, he said the biggest bubble in world his...
---
More DxSALE (

#SALE

) News