| | | |
| --- | --- | --- |
| | Propy | #PRO |
---
| | | | | |
| --- | --- | --- | --- | --- |
| PRO Price: | $0.32 | | Volume: | $314.2 K |
| All Time High: | $4.53 | | Market Cap: | $30.8 M |
---
---
| | | | | |
| --- | --- | --- | --- | --- |
| Circulating Supply: | 97,722,999 | | Exchanges: | 6 |
| Total Supply: | 100,000,000 | | Markets: | 7 |
| Max Supply: | 100,000,000 | | Pairs: | 9 |
---
---
---
The price of #PRO today is $0.32 USD.

The lowest PRO price for this period was $0, the highest was $0.315, and the current live price for one PRO coin is $0.31533.

The all-time high PRO coin price was $4.53.

Use our custom price calculator to see the hypothetical price of PRO with market cap of ETH or other crypto coins.
---
---
The code for Propy crypto currency is #PRO.

Propy is 5.5 years old.
---
---
The current market capitalization for Propy is $30,814,909.

Propy is ranking upwards to #375 out of all coins, by market cap (and other factors).
---
---
The trading volume is medium today for #PRO.

Today's 24-hour trading volume across all exchanges for Propy is $314,201.
---
---
The circulating supply of PRO is 97,722,999 coins, which is 98% of the maximum coin supply.
---
---
---
---
---
---
Note that there are multiple coins that share the code #PRO, and you can view them on our PRO disambiguation page.
---
---
---
---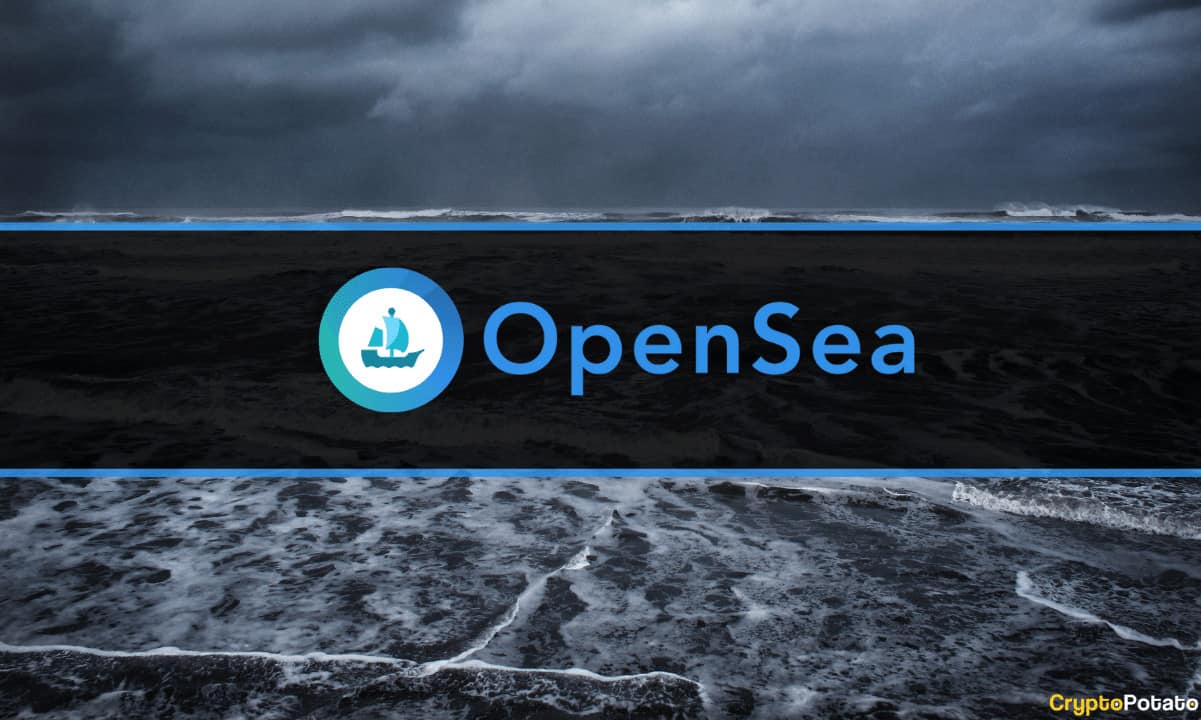 OpenSea Pro Retaliates Blur's Dominance in NFT Market: Data


Blur appears to have lost its title as the world's most popular NFT marketplace. OpenSea Pro was rebranded and unveiled to court active traders from Blur. The latter was eating away at OpenSea's market share since its launch last October. The counteroffensive proved somewhat successful as data suggest that the new 'polished' NFT aggregator has surpassed Blur by daily transaction count. Delphi Digital's analysis indicates that OpenSea Pro has surpassed transactions since rebranding. This essentially means that NFT traders are conducting more transactions on OpenSea Pro than on Blur, despite both platforms offering 0% fees and similar features. The launch of OpenSea Pro, an aggregator geared toward active traders, was highly tactical as it boasted zero fees for a promotional period and advanced order type in the wake of fierce competition from its rival. Hence, one of the main reasons for OpenSea being well-received could be due to the fact that pro traders are looking to benefit from the new NFT rewards in anticipation of higher opportunity costs. A potential airdrop could be another factor catalyzing this trend by enticing new users. Blur's bidding and listing incentives, on the other hand, have become relatively saturated. Delphi Digital stated that it has become difficult to earn points, despite the 2x multiplier incentives that last through May 1. 'As Blur's incentives taper off over time, we may continue to see higher transaction activity on OpenSea Pro.' A major...
---
Coinbase Launches Nationwide Pro Crypto Policy Campaign


America's largest cryptocurrency exchange is pulling out all the stops to ensure U.S. policymakers get things right with how they treat the crypto industry. The company has announced Crypto435 – a grassroots initiative to expand pro-crypto advocacy to citizens across all 435 Congressional Districts. Coinbase's Advocacy Mission As tweeted by Coinbase on Tuesday, the initiative presents an opportunity for lovers of crypto and web 3 to make their opinions known in DC. Coinbase will provide the community with various tips related to local politicians and the crypto landscape – including their contact information, their records on crypto policy, and how best to make sure those with a voice can be heard. "The crypto community has reached an important moment," stated Coinbase. "Decisions being made by legislators and regulators in DC and around the country will impact the future of how we can build, buy, sell, and use crypto." Congressional and regulatory interest in crypto – and more specifically, skepticism of it — has surged in the wake of FTX's calamitous collapse in November. Political discussion surrounding crypto regulation has taken a negative turn in Washington, between expert calls to restrict the industry from the banking system, and the Senate Banking Committee floating an outright ban on it. The exchange claims that Crypto435 will "influence laws and policies," and also "educate e...
---
Pundi X's on-chain payment app for merchants now called Cashier Pro, add...


Pundi X, a blockchain payments startup, recently announced that its 'On-chain payment' function within its XPOS crypto point-of-sale platform is now known as "Cashier Pro' and available for all merchants. Cashier Pro enables merchants to accept crypto payments from 3rd party blockchain wallet users across multiple blockchain networks, including Bitcoin Lightning Network, BNB Chain, Ethereum, and Tron. Among them, Bitcoin Lightning Network and Tron blockchain are two new networks that were requested by XPOS distributors and merchants. "We're constantly looking for ways to improve our XPOS machines and there was no better way to do that than having Cashier Pro support Lightning Network and Tron Network. I have no doubt that XPOS users will be happy to see they can accept payment from not only Pundi X product users but also from many other 3rd party blockchain wallet users." - Pundi X CEO & Co-Founder Zac Cheah This change was initiated with Pundi X's launch of XPOS Web 3.0 with NFC payment capabilities & more. XPOS Web 3.0 includes Cashier Pro and builds off versions of XPOS, which is a point-of-sale machine enabling brick-and-mortar retailers to accept crypto payments and transact on the blockchain. With XPOS Web 3.0, merchants are also able to use Pundi X's p(x)Change dApp powered by Function X technology to connect their blockchain wallets to accept and sell crypto via multiple blockchain networks. The post Pundi X's on-chain payment app fo...
---
Relictum Pro Thrives in Bear Market with Its Token Price Surging 4 Times


PRESS RELEASE. After being listed on LBank Exchange on September 29, 2022, Genesis Token (GTN), the native token of Relictum Pro, has been witnessed by investors with an impressive 4 times price surging, indicating the great potential of the project has been further recognized by global crypto community. The global expansion of Relictum Pro continues with its recent participation in the GITEX GLOBAL exhibition, where famous brands such as Microsoft, AMD, Huawei, Lenovo also showcased their products and development. Being the one of the brightest representatives of decentralized technologies, Relictum Pro was represented at the event by its CEO, Alexander Strigin, along with other well-known companies in the blockchain market. Currently focusing on Asian countries and regions, Relictum Pro has been pushing its marketing with various advertisements, including promotional billboards in areas such as Jalan Imbi, Berjaya Times Square, Kuala Lumpur, Malaysia. By actively participating in global events, being listed on global exchanges such as LBank, and pushing global marketing with promotional billboards worldwide, Relictum Pro follows its strategy, builds new partnerships and presents itself to millions of new users, in order to further expand its global reach and achieve its ultimate vision. Besides, the Relictum Pro team is going to hold joint promotional activities with LBank, including several trading contests and other events. The total prize pool will exceed $200,000. The r...
---
Coinbase Pro Buyers Trigger Spike in Bitcoin Premium


After weeks of treading in the red, the market briefly climbed to the $1 trillion mark. The world's largest cryptocurrency - Bitcoin - as well as some major altcoins, raked in notable gains. Additionally, Coinbase's Bitcoin price premium also seems to be recovering after surging near 0.075. Possible Whale Accumulation According to the data from blockchain analytics company CryptoQuant, the Coinbase Premium Index stepped into positive territory for the second time since April 2022. The index first spiked on June 30 all the way to 0.217, shortly after which it slipped back to the red zone. Coinbase $BTC price premium seems to be recovering.https://t.co/Xkoohe4Ozc https://t.co/ZEorApSlTT pic.twitter.com/SDEIn1IkPz — Ki Young Ju (@ki_young_ju) July 8, 2022 Over the past week, the Bitcoin Coinbase premium gap also appeared to be improving. This suggested that the selling pressure may be drying up. Coinbase Premium - which compares Bitcoin's price on Binance and Coinbase Pro (Coinbase's professional trading platform) against Tether and USD - is a metric used to gauge institutional whale movement. The positive premium essentially indicates that whales are strengthening their accumulation and continuously buying at a higher level. Furthermore, this trend also evidences expanding interest and activeness of investors in Coinbase. While the latest uptick does mean indicate a bull run, it does show that there are institutional buyers in the price range. Breaking the Red Streak In...
---
XRPL Labs Launches Xumm Wallet Pro Beta, While XRP Gains 14%


On June 23, the XRPL Labs team delighted fans of their creations with the long-awaited launch of the Pro Beta version of blockhain's main wallet solution, Xumm. The version is available only by paid subscription, which is purchased in the ecosystem's native token, XRP. However, the full functionality of Xumm Pro will not be available until the end of Beta testing. To start using it, just switch to Pro Beta mode directly in the Xumm Wallet itself and, once the subscription is purchased, the available functionality and interface opens up to the user. Xumm Pro Beta is LIVE! You can now get access to the Xumm Pro Beta. Get early access to Pro features while supporting @XRPLLabs & @XummWallet #getxummproWhat you get right now? You'll receive incoming push notifications for transactions & trades. pic.twitter.com/GSHZoy4l8j— Xumm Wallet (@XummWallet) June 23, 2022 Among the innovations that the developers of Xumm Wallet tease in Pro Beta is the ability to split the wallet's funds into two accounts: for spending and for saving. Also, each user of Xumm Wallet will have the opportunity to claim one free Tangem card, which is a kind of 'cold' device for storing cryptocurrency. Among other pluses, paid subscribers will have access to premium technical support and the ability to buy XRP using Euros, implemented through an on-ramp/off-ramp solution. It is also important to clarify that users of the wallet will have to g...
---
Coinbase Discontinues Coinbase Pro, Puts all Features Under Main Platfor...


Major cryptocurrency exchange Coinbase will transform the user experience on its platforms and will gradually halt the Coinbase Pro service. Separately, the company launched its redesigned Wallet mobile application which makes it easier for users to access and navigate top decentralized apps (dapps) and also enables support for Solana. No More Coinbase Pro The company said it wants to have all of its services under the same hat, which is why it will gradually stop allowing users to access the professional trading platform Coinbase Pro. Thus, customers will be able to stake, borrow, and use the dapp wallet and Coinbase Card from the main platform. The exchange noted that it will add 'Advanced Trade in the Coinbase mobile app along with other improvements to make Advanced Trade an upgrade from Coinbase Pro for every customer' in the following weeks. 'Advanced Trade offers more in-depth technical analysis, advanced real-time order books, and charting powered by TradingView to help customers research and analyze crypto markets before making investment decisions.' - the statement described the Advanced Trade feature. Revamping Wallet The crypto exchange also announced the wallet changes via an official blog post on Wednesday (June 22, 2022). According to Coinbase, the new Wallet mobile app became available on June 22, and more users will access the app in the coming weeks. The redesign comes with a new dapp browser, a default dark mode, and real-time price charts. Users can also e...
---
Derivatives Exchange Injective Pro Launches Bored Ape NFT Floor Price Pe...


During the last year, the Bored Ape Yacht Club (BAYC) non-fungible token (NFT) collection has become one of the most popular NFT projects. After weeks of a continuous rise in value, the current floor price for a single Bored Ape NFT is 130 ether or $382K. Following the floor price rise, the decentralized derivatives exchange Injective Pro has revealed an NFT floor price perpetual market.Injective Pro Lists NFT Floor Price Perpetuals On Thursday, Injective Pro, the decentralized derivatives exchange built on Injective network, announced the launch of a NFT floor price perpetual market. The team believes that offering floor price perpetuals, lowers the barrier to entry in terms of popular and expensive NFT collections such as BAYC. '[Floor price perpetuals enable] retail users to trade based on the floor price of NFT collections, without actually having to hold custody of the NFT itself,' the trading platform explained. Bored Ape Yacht Club (BAYC) is one of the most expensive floor prices today as a single BAYC NFT has a floor value of 130 ether or $382K. The floor value gives the entire Bore Ape collection a market capitalization of around $3.81 billion. Out of 6,401 owners, the BAYC NFT collection has seen $7.99 million in 24-hour trade volume. The platform Injective Pro will allow customers to go long or short on NFT floors for $1 or more. 'The NFT market has now entered the mainstream but the most popular collections such as Bored Ape Yacht Club remain out of reach for most...
---
Pro Trader-Focused NFT Marketplace Blur Secures $11 Million in Seed Roun...


On March 28, the non-fungible token (NFT) marketplace Blur announced the company has raised $11 million in a seed round led by Paradigm. The NFT marketplace Blur says the startup is focused on building an institutional-grade NFT market that's made 'for pro traders.'Blur Raises $11 Million to Craft the Startup's Institutional-Grade Products The NFT marketplace Blur announced the firm has raised $11 million in a seed funding round led by Paradigm. According to Blur, the round also saw participation from Egirl Capital, Keyboard Monkey, Ledgerstatus, 0xmaki, Santiago Santos, Zeneca, Deeze, and Andy (Fractional). Blur explains that the marketplace will be crafted for pro traders and the startup believes that most offerings today are focused on retail traders. 'Current NFT marketplaces prioritize the retail experience, but they neglect the growing needs of pro traders,' Blur's announcement on Monday details. 'Infrastructure has failed to keep up as monthly trading volumes hit billions, and Web2 business models hold the space back with poorly aligned incentives.' The startup's blog post adds: Our mission is to solve these problems and move the NFT space toward becoming institutional-grade while increasing decentralization. At the moment, Blur is building the market in stealth mode the company disclosed and the team will share information on how to get early access in the future. The project has a Twitter account with roughly 2,400 followers and statements from a few investors like D...
---
TNNS Pro NFT Platform Putting Athletes at the Forefront


The world of cryptocurrencies has expanded tremendously over the past couple of years, and it shows no signs of slowing down when it comes to adoption. Interestingly enough, throughout the past few months, we saw major crypto-related companies ink major deals with sports-related avenues. And while sports seem to be a highly targeted area for advertisers, the athletes seem to be left out of the picture. This is where TNNS Pro comes into the picture with high hopes of changing this and putting athletes at the forefront. TNNS Pro and Its Vision TNNS was founded with a very simple goal in mind - to reward athletes for their commitment to the sport. The project's CEO, Tsolak Gevorkian, is a former tennis professional and a competitor for the Armenian Davis Cup team. Our Vision is to develop technology to create a new exciting way to reward tennis players. We believe passionately in the power to help the players perform better, think faster, and live worry-free. TNNS is a company that inspires and rewards the tennis community. We believe passionately in the power of ideas to change the world of tennis. - He said. Along with athletes from tennis, the project also wants to include other sports such as basketball, American football, Paralympics, and much more. In essence, TNNS is building a platform where mixed reality is a core concept. This doesn't mean that it takes place in either the virtual or the physical world but is rather a hybrid of both. The Launch of the TNNS...
---
TNNS Pro Aims to Help Athletes Through Virtual Reality and NFTs (Intervi...


The world is going digital, and there's no denying it. Over the past decade, much of our social interaction has shifted to online social mediums like Facebook, Twitter, Instagram, and whatnot. And just as this was a major paradigm shift, perhaps the next one to follow will be the metaverse. This concept has been thrown around a lot lately, especially as Facebook rebranded to Meta in a massive push towards its adoption. However, it encompasses more than one would imagine, and eSports are likely to be one of the fields that will see massive traction. Just as we're currently having a lot of our interactions online, this medium can also provide a better future for sports and athletes. This is what TNNS Pro is working on, creating a mixed reality domain merging the real and virtual worlds to produce new environments and visualizations. In this domain, digital objects and athletes co-exist and interact in real-time. CryptoPotato interviewed the CEO of TNNS Pro - Tsolak Gevorkian - a former professional tennis player and member of the Armenian Davis Cup team. Can you please tell us a little bit more about yourself and your background? 'I was born in Armenia and started playing tennis at age of 5. When I turned 7, I began traveling to Russia to play in events. I played in tennis tournaments all across Europe and then moved to the United States at the age of 16. I lived with an incredible host family - the Mansourians - who helped with all kinds of things, from assisting wi...
---
More Propy (

#PRO

) News