| | | |
| --- | --- | --- |
| | Metronome | #MET |
---
| | | | | |
| --- | --- | --- | --- | --- |
| MET Price: | $0.15 | | Volume: | $13.6 K |
| All Time High: | $6.89 | | Market Cap: | $2.2 M |
---
---
| | | | | |
| --- | --- | --- | --- | --- |
| Circulating Supply: | 14,507,492 | | Exchanges: | 3+ |
| Total Supply: | 14,507,492 | | Markets: | 3+ |
| Max Supply: | — | | Pairs: | 7 |
---
---
---
The price of #MET today is $0.15 USD.

The lowest MET price for this period was $0, the highest was $0.152, and the current live price for one MET coin is $0.15206.

The all-time high MET coin price was $6.89.

Use our custom price calculator to see the hypothetical price of MET with market cap of SOL or other crypto coins.
---
---
The code for Metronome crypto currency is #MET.

Metronome is 4.3 years old.
---
---
The current market capitalization for Metronome is $2,205,993.

Metronome is ranked #772 out of all coins, by market cap (and other factors).
---
---
There is a modest volume of trading today on #MET.

Today's 24-hour trading volume across all exchanges for Metronome is $13,640.
---
---
The circulating supply of MET is 14,507,492 coins, which is 100% of the total coin supply.

Note the limited supply of Metronome coins which adds to rarity of this cryptocurrency and increases perceived market value.
---
---
---
---
---
---
Note that there are multiple coins that share the code #MET, and you can view them on our MET disambiguation page.
---
---
---
---

Metronome 2.0: Moving Metronome Forward


Overview - Metronome launched in 2018, leading the way for many DeFi projects. The elegant set of smart contracts included one of the first AMM DEXes, as well as a continuous mintage mechanism through its daily auctions. Over the course of four years, Metronome continued to operate as designed, however, its architecture and lack of composability hindered its ability to upgrade and evolve with the rapidly-changing DeFi sector. The Metronome team has closely examined a number of ways to close this gap, and so today is excited to share how Metronome will evolve moving forward. — Coming Soon - On Aug 23, 2022, the Metronome 2.0 (MET 2.0) contract will be launched. This migration will open the door for new development opportunities and new ways for the community to engage. The purpose and goal for MET 2.0 is to (1) add significant features, security enhancements, functionality and DeFi composability, and (2) to create a new MET DAO governed by the Metronome community that will shape the continued development and expansion of the Metronome ecosystem. — Token Migration - The migration process from MET 1.0 to MET 2.0 will be relatively seamless. Prior to launch, a snapshot of MET 1.0 token holder balances will be taken and this will provide the supply distribution for MET 2.0. After the launch of the MET 2.0 contract, MET 1.0 token holders will have the ability to claim an equal amount of MET 2.0. After this migration has...
---

Metronome 2.0: DeFi's First, Better


We announced Metronome in 2017 and launched it in 2018, anticipating much of what would today be considered "DeFi." In 2020, we achieved recognition as a DeFi asset, listing on DeFi Pulse and other sites. Among other innovations, Metronome (MET) delivered the first in-production Autonomous Converter (a concept we now take for granted with the likes of Uniswap, SushiSwap, and others) and the first truly autonomous monetary policy. This has successfully translated to tens of millions in permanently locked liquidity — ranking it at №11 on DeFi Pulse's list of DeFi assets. In this regard, Metronome has been successful in achieving the desired outcome. However, it never quite took hold as the go-to DeFi currency, despite the several years' head start that it held before the space blew up into what we understand it to be today. As the DeFi category expanded, the expectations for DeFi projects' governance grew immensely. For example, the lack of a treasury and distributed governance model has kept MET sidelined and excluded from major DeFi protocols that support lending, yield farming, and otherwise. On the contrary, the expectation was that the core Metronome team, rather than a group of incentivized external volunteers, would fund and execute absolutely all development. This year, the team is poised to reinvent the project via "Metronome 2.0," which is designed to achieve all of the above. And in doing so, ...
---

Metronome on CREAM


On April 22, a vote will commence for CREAM holders to add MET as a supported token on their peer-to-peer lending platform.. — A Little Bit About Metronome Launched in 2018, Metronome is known as the world's first autonomous cryptocurrency. Metronome's autonomous monetary policy has translated to over $50 million in permanently locked liquidity in its proprietary AMM (which predates Uniswap significantly). The token offers additional nuanced features like cross-chain support (chain hops), masspay, and subscriptions. Metronome is designed as a new "smart currency" DeFi primitive.Why Vote "Yes" to MET Due to the nature of its monetary policy and significant value permanently locked as liquidity, Metronome is a safe collateral token. The floor price of MET (meaning, if every single token holder sold 100% of their MET) is about $1.40 (current price = $3.68). (Calculations made using the CORE floor formula.) It is impossible for MET to be liquidated at low collateral ratios. But beyond that, this price floor is an extreme, and more broadly reflects that MET is a highly liquid, quasi-stablecoin that makes sense as a better collateral. Token holders of MET are interested in its future as a DeFi currency and are enthusiastic about utilizing it across third-party DeFi platforms. This is a highly, permanently liquid, safe collateral token held by a community that is highly in tune to DeFi.


---

Help Get Metronome on CREAM Finance!


In 2021, the Metronome team's primary goal is to support MET's next evolutionary phase by further integrating it into the DeFi ecosystem of today. Call it "Metronome 2.0." Launched in 2018, Metronome was effectively "DeFi before DeFi." It is a permissionless protocol that has operated autonomously without fault for nearly three years and holds tens of millions in permanently locked liquidity. But in order for it to be further recognized as a DeFi asset, MET needs to integrate in existing DeFi primitives. Through CREAM Finance, we can enable the use of MET for collateralized lending.First step: CREAM On April 22, we will be submitting a proposal to CREAM Finance for the consideration of MET as supported asset on their lending platform. Voting weight is polled based on a wallet's CREAM balance in the 28 days leading up to the vote. The Metronome community can maximize its collective voting power by holding CREAM (or crCREAM) tokens in their voting wallets for 28 days prior to the vote.What This Means MET on CREAM means users can take out loans on their MET without sacrificing their existing holdings. MET is the ideal collateral token for loans because so much locked liquidity translates to a price floor users can reference to more safely determine an appropriate collateral ratio with. MET on CREAM also puts Metronome on a fast-track for a Vesper pool, enabling users to earn MET yield in the set-and-forget Vesp...
---

Metronome's First Balancer Pool


Metronome (MET) is now available to trade on Balancer. Additionally, we've deployed a permissionless liquidity pool that Metronome holders can contribute to. As of today, users can trade MET and become liquidity providers in the Balancer pool. Additionally, Balancer has whitelisted MET, so liquidity providers can passively earn BAL in addition to revenue generated by trading fees.Understanding Balancer Balancer is a protocol where users can create liquidity pools for different trading pairs, similar to Uniswap or the MET DEX (aka the Autonomous Converter Contract). The difference: Balancer has the added capability of creating pools pegged to different ratios which automatically rebalance as needed. This unique "balancing" component introduces the ability to create "permissionless index funds." The MET pool is set to 80% MET and 20% ETH. And since MET was whitelisted by Balancer, liquidity providers can earn BAL tokens according to their liquidity provided. Lastly, this addition represents an additional market for users to trade and watch. More MET markets translate to a healthier Metronome ecosystem, and we encourage you to promote MET and earn fees by providing liquidity to the Balancer pool. If you're a developer, check out this recent tutorial if you'd like to learn more about setting up your own price feeds to assist trading. Metronome was among the original DeFi projects and we're excited that its shar...
---

Metronome now on DeFi Pulse — July Update


Metronome now on DeFi Pulse — July Update The Metronome team is proud to announce that $MET is now listed on DeFi Pulse in the "Assets" category. DeFi Pulse has become a leading go-to resource and community in the decentralized finance ecosystem, providing users a must-reference dashboard for data relating to the top DeFi projects. Metronome provides an autonomous monetary system and asset that is built for DeFi. Source: Defi Pulse As illustrated above, over the last few months market interest in the DeFi space has gone more mainstream in the crypto industry. With innovative new developments, DeFi has more users and a higher TVL than ever before — yet we are still in the very early days. New Exchange Listing The Metronome team continues to expand the ecosystem this summer. ProBit listed Metronome on July 15, with a MET/USDT trading pair. We are thankful for the community's continued support!


---

MET Now Available on ProBit


Today the Metronome team is proud to announce that MET is available for trading on the ProBit exchange. MET deposits and trading go live today at 10:00PM ET for MET/USDT. The addition of MET to ProBit continues to build on the team's efforts to increase accessibility and usability of MET for the Metronome community. To-date, this has included integrations with Bittrex Global, Kyber, and Gate.io among others.


---

Metronome Update — June 2020


Metronome Update — June 2020 June was a busy month for the Metronome team, as it continued to build out the MET ecosystem and promote MET's role in DeFi. Listings and Integrations On June 11, the Metronome team announced a MET/ETH pair listing on the Bittrex Global exchange, joining the existing MET/BTC pair. To support the news, Managing Director Jordan Kruger and Communications and Marketing Lead Phil Gomes held an AMA in the Bittrex Global Community Telegram channel. (Review the AMA here.) Metronome quickly followed the new Bittrex listing by announcing an integration with CoinPayments, a payment processor that enables merchants and businesses to accept MET. To close out the month, the Metronome team announced a new listing on LAtoken, further broadening the availability of MET. Content from the Community In June, one of our community members, John Marks, posted a Medium article discussing Metronome as a reliable monetary system for DeFi. The article was a thoughtful exploration on the Metronome system focusing on its issuance and the Autonomous Converter. The Metronome team later published its own thoughts on the piece and looks forward to more content from John and the rest of the community. Messari Finally, Jordan Kruger presented Metronome during Messari's Mainnet conference. Jordan gave a brief introduction on Metronome and its smart contracts before diving into Metronome's place as a payment layer in ...
---

Integrate Metronome for Payments with CoinPayments


The Metronome team is proud to announce a new integration with CoinPayments. CoinPayments is a payment processor that will enable businesses and merchants in 182 countries to accept payment in MET. CoinPayments provides an extensive array of merchant and consumer services, including easy-to-use tools for payments, wallet/storage services, and banking integrations with third parties. Founded in 2013, CoinPayments currently supports over 1,800 digital assets. This integration expands the possibilities and opportunities for Metronome users and application developers, and serves as an important milestone in demonstrating Metronome's momentum. Read more on CoinPayments's blog.


---

From the Community: Metronome and Digital Central Banking


One of the members of the Metronome community, John Marks, recently posted an article about Metronome. The piece, which shows he's spent more than just a little time with the Owner's Manual, discusses one of the team's favorite topics: Metronome as an autonomous, reliable central bank for DeFi. A few points that we felt were worth reiterating here, particularly as the team continues to evangelize Metronome's role in DeFi. First is an interesting formulation of the Autonomous Converter Contract concept:Just as modern central banks act as "lenders of last resort" in times of economic turmoil, the Metronome Autonomous Converter Contract acts as MET's "buyer of last resort." … It is a guarantee that your MET can be liquidated at some price, no matter what. In central bank jargon, you can think of this as Metronome performing open market operations. The notion that the Metronome system gives purchasers an on-chain method of exchange serves as a demonstration of the certainty in the system. This might even underscore that certainty to a greater degree than the hard-coded policies that govern the founders' retention or even the Proceeds Contract that ensures all MET stays in the ecosystem. There will always be a market for MET, that's one of the reasons why it's there. Then, there are two points made in the John's post that deserve to be taken together:Unlike other cryptocurrencies, MET are never give...
---
---
---
Why Ethereum Could Trade At $500 If These Conditions Are Met


Ethereum has returned to the red as it was rejected as a major area of resistance. The cryptocurrency is bleeding out and records the second-worst performance in the crypto top 10 by market capitalization with a 10% loss in the last 24 hours. ETH's price could succumb to macroeconomic conditions. Cheung claims the second crypto by market cap is correlated with traditional equities, in particular with the Nasdaq 100 via the Invesco QQQ Exchange Traded Fund (ETF). In that sense, the crypto market has become susceptible to stock price movement making it "a market regime where it is all just one big Macro trade". Source: Daniel Cheung via Twitter The analysis claims that Ethereum could see a 40% drop from its current levels as the Nasdaq 100 has "a lot of room to fall". This index has only experienced a 30% crash, and historically it has dropped by as much as 45%. The potential upcoming crash in the Nasdaq 100 (tech stocks), and in Ethereum as a consequence, will be driven by a poor earnings season, Cheung believes. This is one of the conditions that could force ETH's price to break below $1,000 and into $500 for the first time since 2020. The analysis claims that the traditional market is misreading the U.S. Federal Reserve (Fed). The institution is attempting to slow down inflation, currently at a 40-year-old high as measured by the Consumer Price Index (CPI), by increasing interest rates and unloading its balance sheet into the market. ETH...
---
Grayscale Met With The SEC, Tried To Convince Them To Turn The GBTC Into...


Will GBTC get to become the first US-based spot bitcoin ETF? The euphoria from six months ago turned into Grayscale hinting that it might sue the SEC if its request is denied. Currently, the climate dictates that the answer will probably be negative, but the company is not giving up. accounts, according to Grayscale." For more than a year it has traded at around a 25% discount to BTC's price. According to Grayscale, at the moment that the SEC approves the product's transformation into an ETF, the discount will end and it will unlock "up to $8 billion in value for investors." Take into account that VanEck's, BlockFi's, and other recent applications for a spot bitcoin ETF have been rejected. And that Grayscale has been applying to get one since 2017. This time around, the SEC has until July 6th to approve or deny the GBTC application. What Would Happen If The GBTC Turns Into An ETF To answer this question, Grayscale made "a 24-page presentation" for the SEC. Some graphs from the document are in the CNBC report, although in low resolution. In general, the GBTC's transformation into a spot bitcoin ETF "would open them up to ordinary investors in a familiar wrapper that trades like a stock." The main argument from Grayscale is that a bitcoin futures ETF already exists, and the "SEC is discriminating against issuers" by not letting any company create a spot bitcoin ETF. " Grayscale conte...
---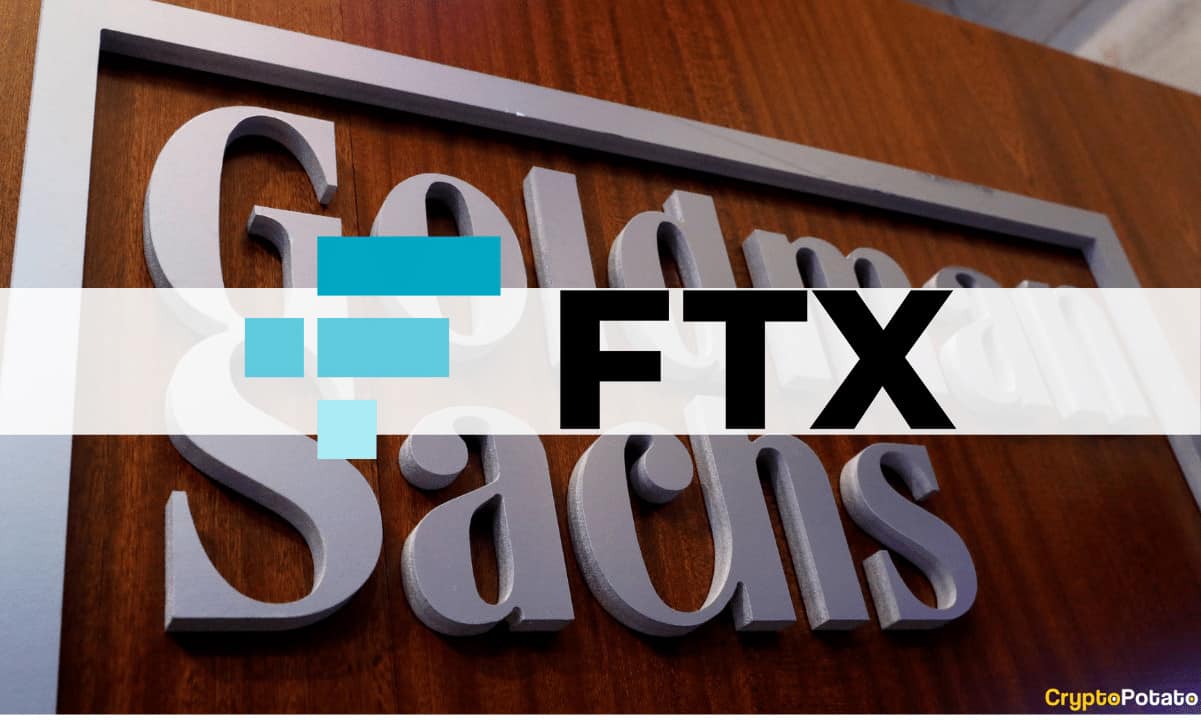 Goldman Sachs, FTX CEOs Met to Discuss Possible Collaborations: Report


After years of bashing the cryptocurrency industry, the Wall Street giant now has an entirely different stance with frequent positive comments and new initiatives. The latest example, according to a Financial Times report, comes in the form of a meeting with FTX to discuss a closer relationship. The FT coverage informed that David Solomon, the bank's chief executive met with FTX Founder and CEO – Sam Bankman-Fried – last month. The idea was to "discuss forging closer ties between the Wall Street bank" and the rapidly-growing cryptocurrency exchange. Citing people familiar with the matter, the report indicated that the two executives were mostly talking about regulations and FTX's recent application with the US derivatives agency – the Commodity Futures Trading Commission. As reported last month, the CFTC extended the deadline for the public comment period for the LedgerX (FTX US) case in which the exchange wanted to receive the green light to offer derivatives products. Goldman also reportedly plans to participate in FTX's future funding rounds. The company has completed several such events in the past year or so, with its total valuation now exceeding $32 billion. Additionally, the Wall Street behemoth offered its services to help FTX if the exchange wanted to follow Coinbase's route and become a publicly-traded company. However, SBF reportedly said his firm is more interested in private funding rounds instead of going p...
---
Crypto Ban Proposed by Bank of Russia Met With Opposition in Parliament,...


The central bank's push for a restrictive policy regarding cryptocurrencies is not gaining support among members of the Russian government, legislature, or law enforcement. A blanket crypto ban, as proposed by the bank, would make a laughingstock of Russia, lawmakers have warned. Bank of Russia's Hardline Stance on Crypto Rejected by Other Russian Institutions The Central Bank of Russia's lobbying for prohibitive legislation on cryptocurrencies has not been met with understanding by other government bodies, Russian media revealed. Last week, the regulator published a consultation paper urging for a wide-ranging ban on crypto activities, including the use, exchange, and mining of digital coins. However, the Russian government, parliament, and even law enforcement departments such as the Ministry of Internal Affairs (MVD) and the Federal Security Service (FSB) are not willing to back the proposals of the monetary authority, Lenta.ru reported, quoting two high-ranking members of the State Duma. A working group at the lower house of parliament is now discussing proposals to fill the regulatory gaps remaining after the law 'On Digital Financial Assets' went into force in January 2021. It comprises representatives of various government institutions and the lawmakers claim that the CBR, with its view on cryptocurrencies, is now in isolation. Anatoly Aksakov, who heads the Financial Market Committee, and Andrey Lugovoy, deputy chairman of the Security and Anti-Corruption Committee, a...
---
More Metronome (

#MET

) News