| | | |
| --- | --- | --- |
| | Lympo | #LYM |
---
| | | | | |
| --- | --- | --- | --- | --- |
| LYM Price: | $0.00185 | | Volume: | $190.5 K |
| All Time High: | $0.14 | | Market Cap: | $1.7 M |
---
---
| | | | | |
| --- | --- | --- | --- | --- |
| Circulating Supply: | 943,486,483 | | Exchanges: | 4+ |
| Total Supply: | 1,000,000,000 | | Markets: | 8 |
| Max Supply: | — | | Pairs: | 9 |
---
---
---
The price of #LYM today is $0.00185 USD.

The lowest LYM price for this period was $0, the highest was $0.00185, and the exact current price of one LYM crypto coin is $0.00185099.

The all-time high LYM coin price was $0.14.

Use our custom price calculator to see the hypothetical price of LYM with market cap of ETH or other crypto coins.
---
---
The code for Lympo crypto currency is #LYM.

Lympo is 5.3 years old.
---
---
The current market capitalization for Lympo is $1,746,387.

Lympo is ranked #767 out of all coins, by market cap (and other factors).
---
---
The trading volume is medium during the past 24 hours for #LYM.

Today's 24-hour trading volume across all exchanges for Lympo is $190,470.
---
---
The circulating supply of LYM is 943,486,483 coins, which is 94% of the total coin supply.
---
---
---
---
---
---
---
---

Lympo migrates from Medium to the official Blog: All that you need to know!


Starting today, Lympo will be publishing its new articles on the Native Lympo Blog Site. With the launch of the NFT minting platform 2.0 and the new Lympo Blog site, we've decided to discontinue our use of the Medium platform. The reason behind this decision is simple. We want to provide our users with a better reading experience and allow them to receive all the latest news about our project without getting distracted.Reminder: Only new content & guides will be uploaded to the official Lympo Blog site. All previous articles will stay accessible here on Medium.About the Lympo Blog The Lympo Blog site was launched on July 14th, the same day Lympo minting platform 2.0 went live. You can access it by visiting the Lympo NFT minting platform or by clicking here. The site already has an ample amount of articles & easy-to-follow guides. This content will help you to gather knowledge about NFTs, explore our ecosystem, and even learn how to make your own NFT collections.Our goal is to assist you as much as possible in finding the secrets of the Metaverse. Lympo Blog site — the tool to achieve it! Additionally, each month we'll be updating the platform & adding even more content to guide you through our latest updates and inform you about upcoming changes in the platform or community events. Don't sit out and start exploring our new Blog site today!Want to know more? Visit the Lympo NFT minting platform. J...
---

Overview of the Lympo Tokens Utility


What are the current Lympo tokens and their utility?. — After releasing the NFT Minting platform, where the SPORT token is used as the primary Lympo utility token, we want to take the time and go over how the Lympo token ecosystem evolved and what you can expect from Lympo moving forward.LYM Token Utility — Released 2018 Originally released in 2018, LYM token was aimed to power a health data marketplace rewarding users for gathering their health data from various data sources like apps and later allowing data buyers to directly access and reward users for their collected data. In March 2021, Lympo has pivoted to become a GameFi company specializing in sports-themed NFTs through acquiring IP rights of famous sports stars and releasing NFT-driven products. LYM token holders were offered to exchange their LYM tokens to a new utility token LMT which was meant to give access to various new Lympo products.The utility of the LYM token has therefore ceased to exist in its original form. Lympo may aims to revive this token by giving its new utilities in its GameFi ecosystem which will be further expanded in the future.LMT Token Utility — Released 2021 Released in 2021, the LMT Token was aimed to power the Lympo product ecosystem. LMT is a utility token used to mint sports digital collectible cards. Moving forward, it will be usable in various content and media activities like sports-related Play-2-Earn (P2E) game...
---

A Message From The CEO of Lympo


Dear Lympo supporters, fans and community members, After 4.5 years at Lympo, I am leaving the company and handing over my CEO responsibilities to Lympo co-founder Tadas Maurukas. This is a well-thought-through personal decision. I will remain involved in Lympo as an advisor and will continue to care for the success of this project deeply. I trust that the company is in excellent hands to implement our ambitious future plans. Ever since I first learned about blockchain in the summer of 2017, I could see this technology's transformational potential. I loved it so much that only 6 months later, I launched Lympo and my first crypto token, LYM. Our dream was to empower people by enabling true data ownership of their health data and motivating an overall healthy lifestyle. We were too enthusiastic and too early at that time. With Ethereum being the only technically feasible solution back then, it soon turned out that handling multiple small low-value transactions on chain is not viable for the time being. Despite this, we have built 300.000 users strong app, which grew in the U.S., South Korea and my home country Lithuania. We have organized sports events, squat competitions, supported sports stars and grew a great team. However, the company did not succeed in reaching its business goals, with the outbreak of COVID making things only worse. I am excited to see that today we have multiple great dApps in this industry, starting wit...
---

Lympo Welcomes the Unstoppable Robert Pires to Our Family!


The newest addition to the Lympo football roster — Robert Pires. The retired French footballer was a long-time Arsenal team member, having been voted by the fans as the 6th greatest player in the club's history. During his career as a professional player, Robert has secured a long list of achievements a footballer can get — he was a FIFA player, FWA Player of the Year, and he was even included in the FIFA 100 by Pelé.Now, he's joining the Lympo family to have his career and achievements immortalized in the blockchain.The Career of Robert Pires Robert's love for football was always coursing through his veins. Being born to a Portuguese father and a Spanish mother, Pires was a fan of both Benfica and Real Madrid, even wearing both football shirts to reflect his divided loyalty. When Robert was a child, his dad was playing for a local team, and Pires would spend every Saturday watching his dad play — thus, his fiery passion for football was set. At the age of 15, he left school and began a two-year sports degree course in Reims. After finishing the sports degree and graduating from FC Metz youth academy, Pires started off his senior career with the FC Metz senior roster. During his six seasons with the club, Robert won the Coupe de la Ligue. In 1998, he signed to play for Olympique de Marseille and stayed there for two years. In 2000, Pires joined the Arsenal roster — the team he would spend mo...
---

Introducing the Portuguese Football Visionary — Deco


Introducing the Portuguese Football Visionary — Deco Let's welcome the newest member of the Lympo Athletes Pool — Anderson Luís de Souza, better known as Deco The now-retired Portuguese footballer is regarded as one of the best players of his generation. He has received several awards and honors during his professional career, including the Ballon D'or Silver Ball in 2004 and the UEFA Club Footballer of the Year award for the 2003–2004 season. Now, he's joining the Lympo Athlete family and looking for new frontiers to conquer in the metaverse. Lympo is entering an exclusive 2-year partnership with Deco. We're honored to have this opportunity to celebrate Deco's admirable career with a collection of Lympo-exclusive Deco NFTs.Deco's Career Anderson's career started off in his home place São Bernardo do Campo, Brazil where he played for Corinthians in the Copa São Paulo de Futebol Júnior. In 1997, he signed on to play for the CSA but in June 1997, Benfica purchased his rights from CSA. Deco was immediately sent on loan to their farm team, Alverca, where he helped the team win promotion to the top tier. In 1998, Anderson left Benfica to play for Salgueiros. He only made a few appearances for the team due to his injuries and in March 1999, Deco was purchased by Porto in time to win the league title. And in his first season, Anderson scored a goal after just 30.08 seconds in a win against Molde. D...
---

SPORT token to power Lympo's GameFi ecosystem, including blockchain chess game and treasury…


SPORT token to power Lympo's GameFi ecosystem, including blockchain chess game and treasury governance 31 May 2022 — Tallinn, Estonia — Lympo, a subsidiary of Animoca Brands, is pleased to announce the launch of the SPORT token, a new ERC-20 token to replace the old Lympo utility token LMT following a security incident earlier this year, and to reflect the extensive overhaul and enrichment of Lympo's GameFi ecosystem, including SPORT token integration into the upcoming basketball manager and spell chess games in cooperation with Magnus Carlsen — the best chess player in the world — and his team. The SPORT token will also enable participation in Lympo's treasury management governed by the principles of a decentralized autonomous organization (DAO). Lympo is building a GameFi product suite based on officially licensed athletes' non-fungible tokens (NFTs). Lympo's ecosystem is built around its guiding principle that NFTs should have a clear utility and value proposition for their holders. The existing Lympo products, Lympo NFT Minting, and Lympo NFT Staking Platforms will allow SPORT holders to earn credits, mint NFTs, and stake NFTs together with tokens in order to receive more Lympo ecosystem and partner tokens in return. Later this year, Lympo aims to launch its first game, a basketball manager game, including a dedicated generative art NFT collection of fantasy and real basketball players as...
---

SPORT Token Claiming Stage 1: Review Your Holding Reports!


Starting today, you can visit lympo.io to review your LMT holding reports and prepare for the SPORT token distribution.About the SPORT Token The SPORT token will be replacing the functionality of LMT. Once the SPORT token is implemented into the Lympo NFT ecosystem, all SPORT holders will be eligible to participate in Lympo NFT minting pools and NFT Staking events to receive additional SPORT tokens You can read more about the SPORT token here — Lympo LightpaperHow To Review Your LMT Holdings Report https://medium.com/media/5c0809e81ef0f368e1ccd3a3ffb20dac/hrefVisit lympo.io and connect your walletYou will be presented with the information we've gathered about your LMT holdings through all available networks for the wallet you have connected.You have 72 hours to review the information to make sure it's correct.If you believe the information to be correct, confirm your LMT holdings and wait for Stage 2 to begin. If you believe that the information gathered is incorrect, you can submit a request for a manual review. After manual re-calculation review, your LMT holding report can show more, less or the same amount of LMT. During the 72-hour period, you can email the Lympo team with questions about Stage 1. We'll provide all the assistance we can!How Were The LMT Holding Reports Generated? These past few months we have been working hard to scrape and collect all the data about the LMT holders affected by this in...
---

Weekly Roundup — May 9th, 2022


Weekly Roundup — May 9th, 2022 Dear community, Last week has been one of the most thrilling weeks for Lympo so far — especially, with the introduction of the $SPORT Token. Let's rewind all the major events of last week.The $SPORT Token Let's start with the most important news of last week — the introduction of the $SPORT token. The $SPORT token will be the main cryptocurrency powering the Lympo ecosystem — replacing the functionality of the $LMT token. The $SPORT token will be utilized in Lympo NFT minting pools and NFT Staking events.All users that were previously holding $LMT tokens will be able to claim the $SPORT tokens as an additional benefit and incentive. The new token distribution for $LMT holders will happen in 3 stages with the first stage being the review of the data on all $LMT holdings. For more information on the $SPORT token distribution check out our article. https://medium.com/media/2e8b1890524e96b368e70a62e8a1b51e/hrefLympo Lightpaper Updated With these major changes happening here at Lympo, we have also updated our lightpaper. The new version of the Lympo lightpaper features information regarding the $SPORT token and any updates related to it. Check out the improved version of the Lympo lightpaper. — Fincor x Lympo Special Giveaway. — Together with our partner Fincor, a brand new revolutionary blockchain technology, we're hosting a special giveaway with the...
---

Welcoming The SPORT Token — Everything You Need to Know


Welcoming The SPORT Token — Everything You Need to Know Lympo will be issuing a token called SPORT. This token will act as the main currency powering the Lympo NFT ecosystem, allowing token holders to enjoy everything Lympo has to offer. In this article, you'll find everything you need to know about the SPORT token and its implementation.About the SPORT Token The SPORT token will be replacing the functionality of LMT. Once the SPORT token is implemented into the Lympo NFT ecosystem, all SPORT holders will be eligible to participate in Lympo NFT minting pools and NFT Staking events to receive additional rewards. Network — Polygon Contract Address — PolygonScan Link Decimals — 18 Total Supply — 1,250,000,000 Following the launch, SPORT tokens will be added to decentralized exchanges at the same price as LMT tokens before the security breach. The SPORT tokens will operate on three separate chains (Ethereum, Polygon, and Binance Smart Chain).The contract addresses of SPORT on different chains are to be released and announced via official Lympo channels.The SPORT Token Distribution To make the SPORT token distribution seamless, we've updated the main Lympo website to act as an information hub — Lympo.io. Users will be able to reach the distribution page by connecting their wallets, reviewing holding reports and claiming a portion of the SPORT tokens.Keep in mind that you're not exchangi...
---

Weekly Roundup — April 19th, 2022


Weekly Roundup — April 19th, 2022 Dear community, We're coming back with another Weekly Roundup. Reviewing the events of last week — expanding the Metaverse with new partnerships and a bundle of new athletes coming to Lympo. Let's dive in!Last Week's Recap — Lympo x Vanquish Partnership. — One of the most exciting events of last week — our partnership with Vanquish. We have entered into a partnership with Vanquish and together we'll work on building stronger connections between athletes and their fans. Vanquish — a sports and entertainment agency and a business developer is working on connecting top-class athletes with partnership and business opportunities. This is an exciting partnership because we and Vanquish aim for the same — allowing sports fans from all around the world to connect with their favorite athletes.With this partnership, we'll introduce numerous world-famous sports athletes to our platform — starting with 11 brilliant female football stars. More on the partnership here. — The "Navigating the Metaverse" Podcast. — In other news, our CEO, Ada Jonuse, has been invited on the "Navigating the Metaverse" podcast where she shared her thoughts on Women in Web3 and The Next Gen Fans. You can listen to the podcast here. — The Sandbox Partners with Design Egg. — We weren't the only ones with an exciting week. The Sandbox...
---
---
---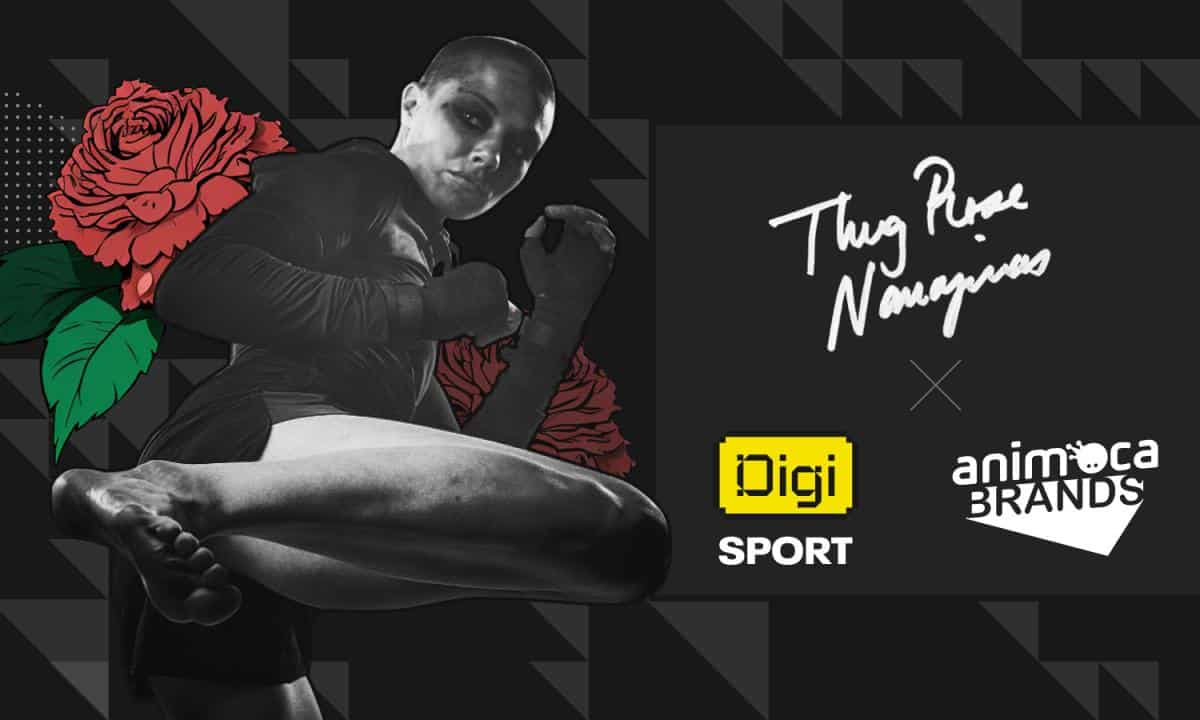 Animoca Brands and Lympo Partner UFC Champ Rose Namajunas on Digital Spo...


[PRESS RELEASE - Vilnius, Lithuania, April 25th, 2023] Animoca Brands, the company advancing digital property rights for gaming and the metaverse, and its subsidiary Lympo, a leading global sports NFT ecosystem, announced today a partnership with the Ultimate Fighting Championship (UFC) champion Rose Namajunas to provide a digital memorabilia collecting challenge called "Build Your Own Fighter with Thug Rose." The collector's challenge "Build Your Own Fighter with Thug Rose' is a Digisport collectible NFT project that offers an engaging collect-and-earn experience for sports fans. It features unique and limited-edition digital items that users can buy and trade. The project targets Rose's fans and the Web3 community, allowing them to own unique digital items and participate in a new era of combat sports engagement. The limited-time experience will be available from 26 May to 18 June 2023 at http://rose.digisport.xyz. Rose Namajunas is an American female mixed martial artist signed with the UFC. Namajunas competes in the women's strawweight division and has held the UFC Women's Strawweight Championship twice. Namajunas holds the second position in the current UFC Strawweight Rankings for 2023. The collector's challenge invites Rose Namajunas' fans and sports enthusiasts of all kinds to participate by collecting digital sticker NFTs obtained from limited-edition NFT mystery boxes. Once users have collected enough digital stickers, participants can claim reward...
---
Animoca Brands and Lympo Partner With Play Magnus Group on Chess Blockch...


[PRESS RELEASE - Tallinn, Estonia, 15th August 2022] Animoca Brands and its subsidiary Lympo, a leading global sports NFT ecosystem, announced today that they are developing Anichess in partnership with Play Magnus Group (PMG), a global leader in the chess industry that offers entertainment and e-learning services via its chess market brands. Anichess is a blockchain-based chess game with a play-and-earn ecosystem, and when it launches in 2023 it will merge the worlds of chess and GameFi to create superior gaming experiences. Play Magnus Group, founded by Magnus Carlsen in 2013, the same year he became a World Chess Champion, is focused on delivering the best online services and experiences to grow the number of chess players globally. With more than 60,000 monthly paying users, Play Magnus Group serves users worldwide and covers key areas of chess, including learning, playing, competing, coaching, and watching. Lympo, a seasoned expert in GameFi and Sports NFTs, will lead the development and launch of Anichess, a chess-inspired blockchain-based game. The partnership with Play Magnus Group enables Lympo to access over 30 chess grandmasters, including Magnus Carlsen, Jan-Krzysztof Duda, Liem Le, and others, to advise, monitor, and test Anichess as an immersive gaming experience for experienced and casual chess players, fans, and strategy game enthusiasts. The unique partnership will bring chess players to blockchain gaming and vice versa. Play Magnus Group will invite top ches...
---
Sports NFT Marketplace Lympo Suffers An $18.7 Million Hack


The latest in the industry is the hacking of Lympo, a sports NFT platform and a subsidiary of Animoca Brands. Through hot wallet hacking, the platform just lost about 165.2 million LMT tokens, equivalent to $18.7 million during the time of this hack. Cryptocurrency hacking, though not frequently experienced, remains of the risks that some protocols have to suffer. An update through Medium from the Lympo team confirms the recent hacking from the platform on Jan 10. According to the report, the hackers accessed the protocol's operational hot wallet and looted about 165.2 million LMT tokens. Related article | Is Norton 360 Mining Ethereum In Your Computer? If It Is, They'll Take a 15% Cut Furthermore, the post revealed that the cybersecurity attack led to the compromise of 10 different project wallets. Also, the majority of the hacked tokens were moved to one single address from where they were swapped on both Sushiswap and Uniswap for Ether (ETH) and were later transferred somewhere else. With this looting of the LMT from its hot wallets, the price of the token plummeted by 92% to $0.0093. Lympo Team To Fix Grudges Subsequently, the protocol's team released a tweet stating that they are striving to stabilize the circumstance as well as to return their operations to normal. Additionally, the team mentioned its removal of liquidity LMT from liquidity pools. According to them, this will help in reducing the crypto price disruption. Moreover, the team by...
---
More Lympo (

#LYM

) News