| | | |
| --- | --- | --- |
| | UniLayer | #LAYER |
---
| | | | | |
| --- | --- | --- | --- | --- |
| LAYER Price: | $0.08 | | Volume: | $61.5 K |
| All Time High: | $4.08 | | Market Cap: | $2.1 M |
---
---
| | | | | |
| --- | --- | --- | --- | --- |
| Circulating Supply: | 25,740,321 | | Exchanges: | 4+ |
| Total Supply: | 40,000,000 | | Markets: | 5 |
| Max Supply: | — | | Pairs: | 14 |
---
---
---
The price of #LAYER today is $0.08 USD.

The lowest LAYER price for this period was $0, the highest was $0.081, and the current live price for one LAYER coin is $0.08092.

The all-time high LAYER coin price was $4.08.

Use our custom price calculator to see the hypothetical price of LAYER with market cap of ETH or other crypto coins.
---
---
The code for UniLayer crypto currency is #LAYER.

UniLayer is 2.5 years old.
---
---
The current market capitalization for UniLayer is $2,082,862.

UniLayer is ranking upwards to #780 out of all coins, by market cap (and other factors).
---
---
The trading volume is modest during the past 24 hours for #LAYER.

Today's 24-hour trading volume across all exchanges for UniLayer is $61,535.
---
---
The circulating supply of LAYER is 25,740,321 coins, which is 64% of the total coin supply.
---
---
---
---
---
---
---
---
Web3 Privacy Layer Aztec Raises $100 Million in Series B Funding Round t...


Aztec, a Web3 privacy layer, has raised $100 million in a Series B funding round led by the Andreessen Horowitz subsidiary a16z crypto. The organization, which already offers privacy-based services for a slew of Ethereum-based apps, will now focus on constructing an encrypted version of Ethereum, allowing individuals and organizations to transact privately. Aztec Raises $100 Million to Create Interoperable and Encrypted Blockchains Web3 privacy-focused layer Aztec raised $100 million on Dec. 15 as part of its Series B funding round. The resources raised during this round, which was led by a16z crypto with the participation of A Capital, King River, Variant, SV Angel, Hash Key, Fenbushi, and AVG, will be used on building a high-level encrypted version of Ethereum. For Aztec, while today's focus on interoperable public chains has its virtues, there is also the need for private and confidential transactions that preserve the identity and the data of the ones involved. Joe Andrews, one of the founders of Aztec, told Techcrunch about how he believes privacy is a necessity. He stated: The world isn't nice to live in without encryption. Doing things without privacy would be a pretty scary world and not one we want. Aztec contemplates ramping up its hiring processes to accelerate the construction of its privacy-centric network, and it hopes to double its number of employees to 80 in the near future. Current Services and Noir The organization is already providing pr...
---
a16z Leads $100M Funding Round For Web3 Privacy Layer Aztec Network


The company plans to hire more engineers despite the intense bear market. Aztec Network - a privacy layer 2 chain for Web3 - announced raising $100 million in a Series B financing led by VC giant Andreessen Horowitz (a16z). The funding round also saw participation from A Capital, King River, Variant, SV Angel, Hash Key, Fenbushi, and AVG.5. Its partnership with a16z will fund the development of a 'next-generation encrypted architecture' that would enable users to verify that blockchain rules were followed correctly without revealing any underlying information. The main focus of these encrypted blockchains is to allow privacy and anonymity with respect to transaction execution. Following the development, Aztec CEO Zac Williamson stated, 'What we're building is a revolutionary piece of technology that transforms how we interact with each other online, in which the end user is the customer, rather than the product. End-to-end encrypted blockchains protect individuals, obviating the need for centralized financial systems.' Aztec Network rolled out Aztec Connect, which happens to be an ecosystem that integrates with Ethereum decentralized finance (DeFi) protocols such as Aave, Lido, and Element Finance, last summer. Going forward, the company plans on integrating with Compound and five other DeFi protocols. Aztec is also planning to deploy a new Ethereum-secured public-private execution layer that will facilitate the seamless interplay of encrypted and unencrypted applica...
---
What is a Layer 2? Everything You Need to Know


Layer 2 (L2) is a common term among crypto natives, but the concept can be confusing for many people, especially those who have just joined the industry. It is a generic name used to describe solutions built on a base network, popularly called layer 1 (L1) or the main network (Mainnet). This means that L2 cannot exist without the base layer, which makes it essential to first have a basic knowledge of L1 before learning about L2. Layer 1 Explained So what is layer 1? It is the base network and underlying infrastructure of a blockchain platform. The main network is responsible for validating and finalizing all on-chain transactions without depending on another network. This means the base layer defines the rule of the ecosystem. L1 protocols also have native tokens used for transaction fees or gas fees. Every base network has its own mechanism for nodes to reach a consensus, such as proof-of-work (PoW) and proof-of-stake (PoS). However, there's a very common concept in the industry known as the blockchain trilemma, where a network can achieve two of the three main goals - security, scalability, and decentralization - but not all three together. This was popularized by Ethereum's co-founder, Vitalik Buterin. Layer 1 blockchains such as Bitcoin and Ethereum focus on decentralization and security while sacrificing scalability - the ability to handle many transactions. This is where layer 2 protocols come in. Developers build L2 solutions on L1 to solve scalabili...
---
Massa: New Layer 1 Designed to Cater to All Web3 Needs


Despite the fact that blockchain-based technology has been around for decades, it only caught up to speed with the rise of Bitcoin. The idea of a decentralized network brought forward in Bitcoin's Whitepaper 14 years ago by Satoshi Nakamoto was a direct response to the financial crisis of 2008. It delivered a viable alternative to the centralized banking system. This technology has been growing, and it has also been redefining itself ever since, with multiple iterations and different networks competing for the spotlight. All of them are trying to provide the most innovative platform and provide users with the perfect balance between decentralization, scalability, and security. Presently, most of the larger layer-one networks struggle with solving the blockchain trilemma, and even networks like Ethereum suffer from scalability issues. This is what Massa attempts to solve. What is Massa? Massa is a newly-developed layer-one blockchain that attempts to combine the ever-elusive trifecta of scalability, security, and decentralization. Its main focus is on solving the blockchain trilemma, and it aims to do so by combining state-of-the-art innovations in its technology stack. These include, but are not limited to, sharding of transactions, autonomous smart contracts, and blockclique architecture. In 2020, Massa published its technical lite paper called Blockclique: Scaling Blockchains through Transaction Sharding in a Multithreaded Block Graph. The Need for a New Layer 1...
---
Zksync Devs Plan to Launch Layer 3 Scaling Solution Called 'Opportunity'...


Matter Labs, the team behind the Ethereum layer two (L2) scaling protocol Zksync, revealed the developers plan to launch a layer three (L3) proof of concept called 'Opportunity' in the first quarter of 2023. The team says that the prototype of L3 will be built on top of L2 and developers and Zksync users can 'research and experiment with it.'Matter Labs Discusses Roadmap's Baby Alpha Milestone and L3 Proof of Concept On Oct. 28, Shazia from the Matter Labs team announced that the Zksync developers have reached the roadmap's Baby Alpha Milestone. Developers note that the team has begun the march to Fair Onboarding Alpha and Full Launch Alpha. Zksync is an Ethereum L2 scaling solution similar to the project's competitors Optimism, Arbitrum, Polygon Hermez, and Loopring. The Baby Alpha Milestone marks the 'deployment of the end-to-end system to mainnet,' Shazia detailed. With the Baby Alpha Milestone, Zksync devs plan to stress-test the infrastructure with various use cases and run security audits. The team will also run contests and bug bounty programs alongside improving 'the technical documentation for Zksync 2.0.' In addition to the Baby Alpha Milestone, Shazia mentioned the L3 proof-of-concept called 'Opportunity.' Matter Labs disclosed that it would be creating an L3 scaling solution during the second week of October and it was originally called 'Pathfinder.' The L3 proof-of-concept is set to launch in Q1 2023. 'Layer 2 is the first step toward scalability, developer exp...
---
Ethereum Staking Platform Lido Taps Layer 2 Networks Arbitrum, Optimism


Crypto staking service provider, Lido, launched on Ethereum layer 2 networks Arbitrum Bridge and Optimism. Lido first revealed its plans to expand stETH across the growing layer 2 decentralized finance ecosystem in July this year. The move is expected to further improve Ethereum staking accessibility. According to the official tweet, the expansion of wstETH, which is essentially a 'wrapped' version of the staking coin stETH, will allow traders to stake tokens directly on the layer 2 networks. In an earlier proposal, Lido said that the rebasing nature of stETH, bridging it to other networks is difficult and hence, the wrapped version of stETH, namely wstETH was chosen. 'wstETH is the wrapped, non-rebasing version of Lido's stETH. For our initial deployment to L2, we have made the decision to support only wstETH. This is due to a number of reasons, including simplified bridge contracts and ease of integration, both with bridges and general DeFi space.' The announcement also revealed that Lido is allocating 150,000 Lido DAO (LDO) tokens in rewards per month from October 7 for wstETH bridged across each network, beginning with liquidity mining incentives on various DeFi partners including Balancer, Curve, and Kyber Network. Lido noted that Arbitrum and Optimism were picked after considering several parameters, including DeFi activity, the TVL, the technological difficulty of bridging assets, network security track records, and the presence of the liquid staking protocol'...
---
Human Protocol Develops New Layer Featuring Voting, Proof-of-Balance, Li...


HUMAN Protocol is an infrastructure to reshape how humans work, by supporting distributed job markets in which any job, of any size or type, can be securely tokenized, published, and completed. The HUMAN team is now developing a new blockchain coordination layer to empower communities for positive contributions. Providing an Incentives Framework Featuring Staking and Additional Reward Mechanisms Human Protocol has developed a new layer – the Routing Protocol (RP), that features things like Voting, Proof-of-Balance, Liquidity, and Slashing. The new RP sits as a layer on top of the HUMAN Protocol to streamline coordination for the HUMAN community. To understand better, if the core Protocol is the layer that executes the interactions of contributors, the Routing Protocol is the layer that coordinates these interactions. This enhances optimal execution, decentralization, and agent reputation on the network. But WHAT exactly will the new Routing Protocol do? First, it will provide a framework to incentivise third parties to contribute to the network by providing a blueprint to coordinate third-party agents that contribute to the Protocol. Through the Routing Protocol, businesses and tool vendors can commit HMT to access the network. The Routing Protocol operates on a Proof of Balance model. Someone who wishes to participate in the network must put up a sum of HMT, much like a security deposit, to encourage good behavior. This staked amount can be slashed if the user behave...
---
Crypto Meltdown Calls for a Decentralized Compliance Layer to Protect Us...


Over the last few weeks, the cryptocurrency market has been rocked by extreme volatility. There has been a steep decline in the price of digital assets. Such has been the meltdown in that the entire market cap has fallen under $1 trillion, which surpassed the $3 trillion mark at the peak of the bull cycle. Being a nascent market means high volatility is a common phenomenon at this stage of growth. That said, this volatility has made crypto so attractive to investors and speculators. However, volatility doesn't always mean just a significant upside but also a remarkable downside. And that's what we are seeing in this fourth crypto cycle, so all this carnage is not unprecedented. In fact, a 70% to 80% drop in Bitcoin and Ether prices from their all-time highs can be seen as a golden 'buy the blood' opportunity to plan for the future with a focus on research and only investing what you can afford to lose. However, we also witnessed this time that the significant drawdown in the crypto prices was exacerbated by the lack of proper risk management practices adopted by some of the biggest names in the industry. Extreme Market Conditions One of the biggest centralized lenders in the crypto space, Celsius Network, was among this torrent of bad news as it abruptly froze customer withdrawals, swaps, and transfers between accounts due to what it said were 'extreme market conditions.' This pause in withdrawals resulted in more volatility and raised concerns about Celsius' solvency. It was...
---
ADI Whitelist: A Universal Identity Layer by Accumulate


[PRESS RELEASE - Miami, USA / FL, 20th June 2022] Accumulate is announcing a whitelist for 10,000 Web3 enthusiasts to join in order to gain early access to claim a unique Accumulate Digital Identifier or ADI, which users will be able to use once the Accumulate Mainnet launches. What are ADIs ADIs refer to a system for assigning unique digital identities to assets, individuals, or entities on the blockchain. Traditional blockchains are organized based on randomly generated public and private key pairs which are used to store funds and record transactions on a distributed ledger. Current blockchain key management systems lack simplicity for the average user. The common approach of using the first and last characters of an address can leave users exposed to what is called the 'man-in-the-middle attack', which is a form of cyber attack where a bad actor could intercept or manipulate a transaction by injecting wrong information or changing the recipient's address to their own. This is made easier due to the complex nature of randomly generated addresses. Additionally, due to these addresses being randomly generated, public & private key management systems make it difficult to store ordered data sets or assign different levels of permissions to specific keys. Accumulate Digital Identifiers (ADIs) are human-readable addresses similar to website URLs chosen by individuals or organizations to represent their presence on the blockchain. ADIs enable more flexibility an...
---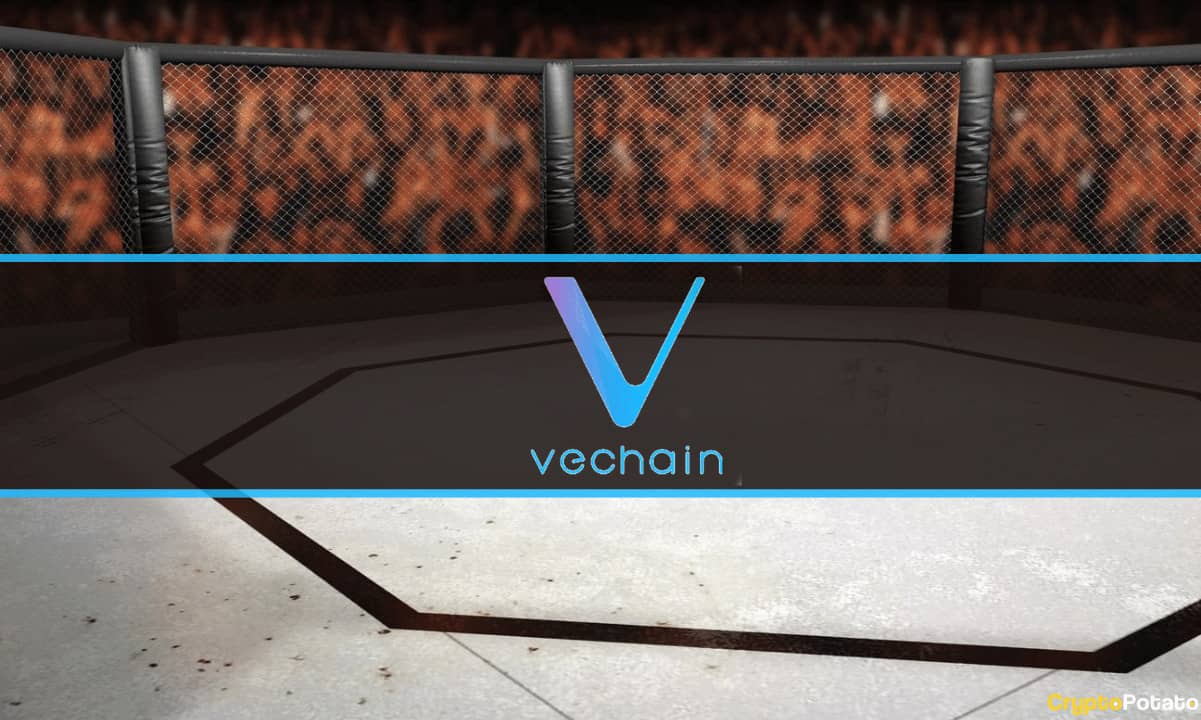 VeChain Becomes UFC's First Layer 1 Blockchain Partner


VeChain - the layer one blockchain focusing on sustainability and logistics - has formed a partnership with the Ultimate Fighting Championship (UFC). The network will be integrated into a series of live events and media channels by the world-renowned mixed martial arts organization. VeChain-branded assets will debut this Saturday, June 11, at the Singapore Indoor Stadium. According to the official announcement, VeChain is the first-ever base blockchain that receives 'unprecedented integration into UFC assets through this extensive collaboration. The project will access a variety of 'meaningful brand visibility' across live broadcasts of UFC's major events. In addition, the two will collaborate on a variety of custom and original content featuring UFC talent and athletes. Under the multi-year agreement, VeChain will own UFC's official fighter rankings titles: 'The integration also provides VeChain with a strong association with one of the most important components of UFC matchmaking — the fighter rankings.' Considering that UFC could potentially reach 900 million audiences from 175 countries, the new partnership was seen by Sunny Lu - the co-founder and CEO of VeChain - as a 'historic moment' for the company. The eye-catching deal is worth nearly $100 million with a minimum five-year agreement, according to a source acquired by Sports Business Journal. UFC Senior VP/Global Partnerships Paul Asencio said that - after one of the MMA circuit's largest sponsorships - the ...
---
Optimism Introduces Bedrock as Layer 2 Upgrade


Ethereum layer-two (L2) scaling solution Optimism announced an upgrade called Bedrock on its network, with the benefits of lower fees and faster speed for transactions completed through the Optimistic Rollup. The new feature is designed to be the first EVM-based rollup with Ethereum's level of security and a much cheaper cost for transactions. Bedrock Arrives Optimism's official blog post indicates that with Bedrock being adopted, Optimism aims to be the 'Ethereum Virtual Machine (EVM) equivalence,' making it easier for Ethereum-based protocols to transfer their applications onto Optimism. 'After Bedrock, EVM Equivalence doesn't cut it anymore. By using all of Ethereum's code, infrastructure, and design patterns, Optimism is aiming for something even bigger: Ethereum Equivalence.' The dev team called the latest transition 'seamless,' highlighting four major upgraded features: transaction fees will be the cheapest among all the rollups, Optimism nodes will sync up to 50x faster, deposits and withdrawals are now highly optimized, and throughput is improved as well. However, the L2 network did not specify how much cheaper the transactions would become after the upgrade. As of now, transactions completed on Optimism currently cost about $0.29. Besides, Optimism will launch the alpha for its fault-proof system, Cannon, to safeguard blockchains against accidents like unsynchronized node operators. It claims that Bedrock and Cannon is 'the only rollup architecture capable of ea...
---
Ethereum Layer 2 Optimism Raises $150 Million in Series B Funding


Ethereum scaling solution, Optimism has raised $150 million in Series B funding, co-led by Andreessen Horowitz and Paradigm. In the latest blog post, the blockchain startup revealed that it is currently valued at $1.65 billion. The fresh round of funding will be directed towards expanding its team. Optimism's Solving Ethereum's Scalability Woes Ethereum has established itself as an extremely popular computing platform rich with DeFi and NFT applications. The dramatic increase in developer and user demand, though, resulted in equally dramatic gas fees. Optimism, on the other hand, uses optimistic rollups to achieve significantly lower costs, latency, and far greater throughput versus Ethereum Layer 1 alone, without compromising the security features of the underlying blockchain. After the recent fundraise, Optimism CEO Jinglan Wang was quoted saying, 'We made a commitment to the public that we would not take profit from operating centralized parts of the system, so we wanted to remove the financial incentive for ourselves to remain centralized.' While confirming the investment in Optimism, Chris Dixon, a general partner at Andreessen Horowitz, stated that scaling Ethereum is a crucial near-term challenge and added that it will 'dramatically expand the design space for Web3 applications.' Milestones The blog post revealed that Optimism users have reportedly saved $1 billion in gas over the last year on mainnet, during which thousands of codes were deployed, and three forks went...
---
COTI Releases 2022 Roadmap: Plans to Focus on Becoming a Robust Payments...


The open-source payment infrastructure program COTI has released its roadmap for 2022 as it aims to position itself as a go-to Layer 1 for payments. COTI's 2022 Roadmap In a press release shared with CryptoPotato, COTI revealed that it is building a Layer 1 with its DAG-based Trustchain. It also plans to build the necessary tools required for mass adoption by providing wallets, banking solutions, processing tools, etc. With the help of the MultiDAG 2.0 layer, COTI intends to issue more tokens on top of its Trustchain enabling developers, merchants, and enterprises to issue tokens with features such as scalability, high throughput, cost-effectiveness for payments like COTI Pay Business. Expanding COTI from a one coin network to a Layer 1 with multiple tokens on top of it to be leveraged by consumers and merchants around the world remains the main goal behind the move. Development of MultiDAG 2.0 is currently underway and will be launched on mainnet in Q3. In the following quarter, COTI seeks to offer its enterprise clients to use of the MultiDAG technology for the purpose of stablecoins and other digital currencies issuance issue stablecoins. COTI and Cardano COTI also revealed that it will launch Cardano's first-ever stablecoin Djed on testnet in Q1. After an external security audit is performed and the results are received, it will be deployed to the mainnet, which is slated for Q2. The focus will then be shifted to managing Djed's liquidity bootstrap...
---
SCRT Labs Launches $400 Million Fund to Bolster Privacy Network's ...


On Wednesday, the Secret Network announced the launch of a $400 million fund in order to expand the application layer and provide grants to ecosystem participants that accelerate user adoption. The market capitalization for the network's native token SCRT is the third-largest privacy-centric crypto asset market today with a $1.4 billion market cap. SCRT Labs Launches $400 Million Fund, SCRT Jumps Over 47% During the Last Week At the time of writing, there is over $11 billion worth of privacy-centric crypto assets today, according to coingecko.com's 'top privacy coins by market capitalization' list. Monero (XMR) and zcash (ZEC) command the top two positions, in terms of privacy coin valuations, on January 19, 2022. The cryptocurrency secret (SCRT) is the third-largest with a $1.4 billion valuation, which represents the 87th position out of more than 12,000 crypto assets today. Secret Network is a privacy coin that features smart contract capabilities as well. Secret (SCRT) is up 644% year-to-date, and over the last 30 days, SCRT jumped 112% against the U.S. dollar. Weekly statistics indicate that secret has increased by 47.9% over the last seven days. However, out of the $2 trillion crypto-economy on Wednesday, secret (SCRT) is only 0.07% of the entire valuation. During the last 24 hours, there's been $84.6 million in SCRT trade volume, and its 24-hour price range has been between $8.54 to $9.82 per unit. At press time, Osmosis is currently the most active SCRT exchange, acco...
---
More UniLayer (

#LAYER

) News