| | | |
| --- | --- | --- |
| | Keep Network | #KEEP |
---
| | | | | |
| --- | --- | --- | --- | --- |
| KEEP Price: | $0.23 | | Volume: | $854.3 K |
| All Time High: | $2.38 | | Market Cap: | $0.2 B |
---
---
| | | | | |
| --- | --- | --- | --- | --- |
| Circulating Supply: | 937,909,887 | | Exchanges: | 6 |
| Total Supply: | 999,848,780 | | Markets: | 11 |
| Max Supply: | — | | Pairs: | 10 |
---
---
---
The price of #KEEP today is $0.23 USD.

The lowest KEEP price for this period was $0, the highest was $0.232, and the current live price for one KEEP coin is $0.23203.

The all-time high KEEP coin price was $2.38.

Use our custom price calculator to see the hypothetical price of KEEP with market cap of ETH or other crypto coins.
---
---
The code for Keep Network is #KEEP.

Keep Network is 2.7 years old.
---
---
The current market capitalization for Keep Network is $217,626,319.

Keep Network is ranked #156, by market cap (and other factors).
---
---
The trading volume is medium today for #KEEP.

Today's 24-hour trading volume across all exchanges for Keep Network is $854,273.
---
---
The circulating supply of KEEP is 937,909,887 coins, which is 94% of the total coin supply.
---
---
---
---
---
---
---
---

A Provisional Timeline for the Threshold Merger


We shared some important updates on the latest Threshold Wide Community Call; not only the new Threshold branding and visual identity, the formation of Threshold Community Guilds to be formed by community members committed to providing contributions in a variety of areas, but also the hotly anticipated provisional merge timeline for the upcoming Threshold launch. Key milestones are already underway, including security audits and completed community snapshots for the Reward Mechanism. ChainSecurity and Certik, who are reviewing our smart contracts, are some of the leading auditors in the space.Threshold Provisional Merger Timeline Our next steps are all about the DAO and Multi-sig Council. From mid-November to December, we will be doing everything from holding Council Elections to allocating rewards to apps. We will also be implementing NuCypher and Threshold DAO proposals such as halting NU inflation and minting the First Reward Batch. These are the result of our community-directed approach to this process. At the same time, the team will be taking care of important technical developments such as deploying and activating the smart contracts that will complete the merger. These include the Governance Contract, Vending Machine Contract, and the Staking Contract. Once these are live, we will be ready for the Staking Rewards and funding of Threshold-only Coverage Pools that will complete the process by the end of December. Get ...
---

The mStable Community Votes for tBTC v2


We're excited to announce that the mStable community has voted 100% "yes" to support tBTC v2. Users on the decentralized, community driven ecosystem will get to participate in the construction of a truly trustless and scalable BTC bridge. The integration will include the creation of a new tBTC v2 Feeder Pool with incentives from the tBTC v1 Feeder Pool switching over to the new one. Likewise, the Threshold community will explore adding extra incentives to the pool. When the DAO launches, it will hold 10% of the total supply in its treasury which can be used at the discretion of the community. This process has been an excellent example of a DAO based community-to-community collaboration: First, Will Rhodes and Eastban from the Threshold community worked with dimsome, derc and 0xPenguin0x from mStable to create a temperature check post on the mStable forum. The post received enough positive support from the community to be moved to a ProtocolDAO ratification vote. Then, a second proposal was created. The ProtocolDAO voted in favor of the proposal at which point dimsome was invited to speak about mStable and the potential of this integration at the Threshold community call. Finally, the proposal was put up to a mStable community snapshot where it passed with overwhelming support. This completed an organic, community-driven integration process that showcased the possibilities opened by a collaboration between two DAOs . Bo...
---

Announcing Lower C-ratios tBTC


Good news! We'll be lowering tBTC Collateral Ratios and turning on Risk Manager in Coverage Pools. The decision was made after important input from the community and an arrival at the following consensus: 150% — mint 105% — courtesy call 101% — liquidation In the design of tBTC v1, the notifier of the courtesy call receives half of the left over ETH bonds. For this reason we want the liquidation starting point to be as low as possible. As the auction runs for 24hrs and starts by auctioning off two thirds of the bond, there is a risk that the auction will never be profitable to take. The coverage pool then acts as a buyer of last resort for the auctions. For this reason the Coverage Pool is also being turned on in conjunction with the changes in C-ratio levels.History When tBTC v1 launched the initial collateralization ratios were: 150% — mint 125% — courtesy call 110% — liquidation These were adjusted to reduce the number of liquidations from the ETH / BTC volatility and to reduce the level of active monitoring and costs of redeeming keeps that was required by node operators. Community members Naxsun and Corollari did some modelling and proposed a voting methodology in the forums on how to approach this. The topic was then discussed in Discord and voted on in two votes by node operators: One vote to change the starting collateralization ratio and a second vote to change the courtesy ca...
---

tBTC v2: a Censorship-resistant BTC Bridge at 100x Scale


A closer look at tBTC v2, what it means for the bitcoin community, and the roadmap for release.. — In a Nutshell: tBTC v2tBTC v2 will be able to scale 100x from today's v1, from 1,000 BTC to 100,000 BTC (1% of total supply).tBTC v2 enables scale by more effectively deploying capital for securing BTC.The tBTC v2 token is live, and can be minted by anyone holding tBTC v1. LP incentives are live now for v2 holders.The tBTC v2 Bridge is estimated to go live near the end of this year, which will unlock direct minting of v2, deploy Coverage Pools as insurance, and launch an API to deliver truly decentralized BTC to Ethereum financial applications. tBTC v2 has a singular purpose: to extend the censorship resistant properties of Bitcoin onto every network that can interoperate with Ethereum.Vision of tBTC The vision for tBTC is to facilitate an interoperable Web3 future by solving the most untapped liquidity and yield opportunity in DeFi: BTC. BTC holders can be wary of Ethereum's DeFi ecosystem, preferring to keep their assets secure on Bitcoin's censorship-resistant network. Bridges expose BTC holders to considerable risks, asking them to commit their funds to an intermediary that does not mirror the same censorship-resistance of Bitcoin. tBTC has been built with security and decentralization at the forefront, offering BTC holders the only truly trustless Ethereum bridge solution that eliminates intermediary risk. ...
---

Real Decentralization = Math


The First Rule of DeFi. — Don't accept centralized solutions to decentralized problems. That's the first rule of DeFi. We know DEXs are better than CEXs. That more nodes are better than less. And that liquidity is populist game. It's counterintuitive and counterproductive to engage with cryptocurrency and decentralized networks through centralized platforms. It's more than an abstract philosophy. The imperative for decentralization has foundational tangible impact. Hardware can be hacked. People make mistakes, go rogue, and their incentives trend towards misalignment. So when it comes to crypto bridges — bringing Bitcoin into DeFi, connecting the emerging world of digital assets — why are we putting up with platforms saddled with centralized baggage? A quick tour of the centralized crypto bridge landscape: Ren uses specialized, proprietary hardware to produce RenBTC. The Ren apparatus is managed by a centralized group of decision makers that can decide to make any number of unilateral decisions. For example, selling the company to venture capital firms like FTX or Alameda — which is exactly what has happened. A platform beholden to the profit models of venture capital will very easily find its incentives misaligned from its users. WBTC is an organization run by people who mint and unmint BTC. Everything passes through this organization of people. People are fallible, they can be corrupted or i...
---

Exploring the Relationship Between Thesis and Keep


Just as Keep Network has been evolving in recent months with its progression to v2, the community-driven KEANU merge with NuCypher, and the forthcoming launch of the T Network, Thesis is always pushing to create new products that fit our mission of decentralization, sovereignty, privacy, and freedom. Thesis is a venture studio — we ship a lot of products. That's part of the mission. Before Keep, we shipped Fold, and then Saddle. Now we're working on Tally, an open source, community-governed Web3 wallet. It will present a huge compliment to Threshold. Even as Thesis grows, Keep represents the largest and primary project in terms of focus, head count, and expenditure in the Thesis portfolio. With the KEANU merge with NuCypher and the ensuing launch of the Threshold Network, this fact will undoubtedly remain. Thesis has a rising tide, and Keep is one of our biggest boats. In regards to alignment, the entire Keep dev team have been compensated in KEEP, that's locked up at minimum until May 2022 — and much longer for many of us. Thesis' largest asset holding is KEEP, and the entire Thesis mission is aligned behind the success of the platform and its evolution. Interested in what we're building at Keep? Drop in and join our community on Discord at chat.keep.network. Exploring the Relationship Between Thesis and Keep was originally published in Keep Network on Medium, where people are continuing the conversati...
---

Keep Proposal Overview: Shifting Incentives towards Coverage Pools and TBTC v2


A proposal titled "Shifting incentives towards TBTC v2 and Coverage Pools' was recently introduced by Keep Network community member Ben Longstaff. The proposal addressed a need to adapt the current incentives in Keep Coverage Pools to provide greater adoption to TBTC 2 through the bridge transition between TBTC v1 and TBTC v2. This is to ensure that incentives are aligned with the launches and needs of the protocol as it transitions to TBTC v2. After community discussion and calls, a second version of the proposal with one amendment in regards to the allocation of liquidity to the pool of TBTC/ETH was then introduced by Evandro Saturnino and voted on successfully by the Keep community. Now, the community has voted to move incentives toward tBTC v2 and coverage pools. This means that rewards allocations are changing, and the update represents a major community-driven step towards Keep Network v2. The proposal's main intentions:Launch a v2 TBTC token so we can begin working on integrations with major networksAllow for a graceful unwinding of the tBTC v1 bridge when the tBTC v2 bridge is launchedChange liquidity incentives so we can reward behavior that we need for the new network and bridgeTransition the v1 tBTC bridge to be secured by our KEEP-only Coverage Pool. Below is an excerpt of the first proposal "Shifting incentives towards tBTC v2 and Coverage Pools" about how the bridge will work and what the next ste...
---

Keep Network 2021 Roadmap


Threshold Network, Keep v2, and the New tBTC. — Keep Network is currently in a period of fundamental growth, development, and change. Our mission is to provide secure and equitable access to censorship-resistant assets across all major blockchains. With our upgraded protocol, v2 tBTC, we'll become the most trusted network for bridging non-custodial Bitcoin into lending, borrowing, and saving services and platforms across the Ethereum DeFi ecosystem. Through all of this, Keep retains an unwavering focus to creating uncompromising decentralized solutions driven by our incredible community first and foremost. The roadmap for achieving this in 2021 hinges upon a number of concurrent development streams. First, the KEANU hard merge will bring together the Keep Network and NuCypher platforms and communities into what will be called Threshold Network. The process of bringing this unprecedented union to fruition has been a revelation, not only for our respective communities and teams, but for the whole blockchain industry. The KEANU process and the resulting Threshold Network are proving that cooperation and decentralization are possible in a competitive market, and the resulting merged product will strengthen the utility and resiliency of both platforms, while creating an anchor in the sector of private, cross-chain value bridges supported by threshold cryptography. After months of community collaboration and development, th...
---

Announcing Keep's Refreshed Website


Updating our website to better serve our mission of transparency. The Keep platform and community have evolved. It's time for a new home on the web to match the progression of the Keep protocol and our community. Because one of our core principles is transparency, we updated the website so it's easier to learn about and get involved with Keep. We listened to your input and structured the new website to be a more helpful resource for both our current users and new ones.The one-stop resource for all things Keep We learned from our community reviewers that a user insight was: "I don't know where to find documentation!" Yep, we fixed that. Now, you'll find important resources and guides compiled on the website. If you want to learn more about staking, head to the Stake section. If you want to learn more about the community, head to the Join section.The new Home and Join pages on the Keep website Want to build with Keep styles? Now you can find links to the Keep community design system on the website. It's a Figma file built by the community for design consistency across community-built tools. Another user stated, "I think it's important to know 'who is the team?' and 'who invested in this project?'" Also curious about the #BigBrains behind Keep? We now have a section dedicated entirely to the team.The new Team and FAQ pages on the Keep website Another user request was, "How many audits has the ...
---

KEEP is Now Available to Trade on Coinbase and Binance


As of June 17th, KEEP is available for trading on Coinbase and Binance.. — The Keep network is a decentralized threshold cryptography platform. KEEP stakers run the network, operating trust-minimized bridges like tBTC. Exposure to a wider market of potential stakers via Coinbase and Binance will only serve to further Keep's mission of decentralized private computation across the crypto ecosystem. As of June 17th, KEEP is available for trading on Coinbase and Binance. Via Coinbase: "Starting today, Keep Network (KEEP) is available on Coinbase.com and in the Coinbase Android and iOS apps. Coinbase customers can now trade, send, receive, or store KEEP in most Coinbase-supported regions. Trading for KEEP is also supported on Coinbase Pro. Via Binance: "Binance will list Keep Network (KEEP) and open trading for KEEP/BTC, KEEP/BNB, KEEP/BUSD and KEEP/USDT" Join our Discord if you'd like to learn more or get involved in Keep Network governance discussions. KEEP is Now Available to Trade on Coinbase and Binance was originally published in Keep Network on Medium, where people are continuing the conversation by highlighting and responding to this story.


---
---
---
Bitcoin Soars to $21,500 On 'Hated Rally,' Is There Fuel To Keep Rising?


The Bitcoin rally continues as the cryptocurrency smashes all resistance levels and seems ready to reclaim more ground. The number one crypto by market capitalization has seen a double-digit gain over the previous week leading the top performers in the sector. As of this writing, Bitcoin traded at $21,400 with sideways movement in the last 24 hours. The BTC price records a 23% rally in the previous seven days. Other cryptocurrencies in the top 10 record similar price action with Ethereum (19%) and Polygon (18%). The crypto has seen some losses but could recover during today's trading session. Bitcoin Shorts Are Wipeout, Bear Market Over? Any "good" price rally must be a "hated" rally; Bitcoin follows this rule. As the cryptocurrency trended to the upside from its yearly lows, crypto traders began shorting it with overleverage positions. When Bitcoin was about to breach $17,500, the price action went sideways, allowing overleverage shorts to take positions; these traders were expecting BTC to fail the re-test of this resistance level. Their positions provided liquidity to the upside and the fuel to send Bitcoin to its current levels. According to a report from Bitfinex, $450 million were recorded in short liquidations as BTC began its ascend. This data represents the most significant short squeeze since July 2021 across the crypto market, as seen in the chart below. The BTC price action is displaying a similar behavior; it's moving sideways as...
---
What Matters In Crypto This Week: Will Bitcoin Keep Pumping?


Even though the next FOMC meeting of the U.S. Federal Reserve is still more than two weeks away, there are significant macroeconomic as well as crypto and Bitcoin-intrinsic events this week that investors should keep an eye on. As in previous weeks and months, it is very likely that the macro environments will steer the sentiment in the crypto market. After the December 2022 CPI was released last Thursday at 6.5%, the crypto market turned strongly bullish. Bitcoin rallied more than 18% after the publication and stopped just short of the $21,450 level. The entire crypto is about to recapture the $1 trillion dollar market cap in the wake of this recovery. What Marcoevents Will Guide Bitcoin This Week? This week, China will announce the economic data for 2022, which probably won't have that big of an impact unless there is a big surprise that affects the U.S. dollar. Still, it's worth keeping an eye on China this Monday when the GDP growth rate year-over-year (YoY) is announced at 9:00 pm EST. Also, the Bank of Japan's (BoJ) interest rate decision could only become relevant if there is a surprise like last time. On Tuesday at 10:00 pm EST, the BoJ will announce its interest rate decision. The expectation here is that it will leave interest rates unchanged. When the Japanese central bank surprisingly decided to raise the benchmark interest rate from 0.25% to 0.5% on December 20, BTC experienced a green daily candle. In the U.S., the Producer Price Index (PPI) is likely to be the...
---
The Fed Will Keep Focusing on Crypto — Fed Governor Says 'We Do No...


Federal Reserve Governor Michelle Bowman says while 'cryptocurrency activities can pose significant risks,' the Fed does not want to 'hinder innovation.' She added: 'By inhibiting innovation, we could be pushing growth in this space into the non-bank sector, leading to much less transparency and potential financial stability risk.'Fed Governor on Crypto, US Economy, and Inflation Michelle Bowman, a member of the Board of Governors of the Federal Reserve System, talked about cryptocurrency, the U.S. economy, and the Fed's effort to lower inflation Tuesday at a Florida Bankers Association Leadership event in Miami. Commenting on the collapse of crypto exchange FTX and other recent events in the crypto space, the Fed governor said: 'These events have made it clear that cryptocurrency activities can pose significant risks to consumers, businesses, and potentially the larger financial system.' Noting that she expects some banks to continue exploring 'how to engage in crypto-related activities,' Bowman emphasized: The Fed and other banking agencies will continue to focus in this area, in light of the significant risks these activities may pose. But the bottom line is that we do not want to hinder innovation. 'As regulators, we should support innovation and recognize that the banking industry must evolve to meet consumer demand,' the Fed governor continued. 'By inhibiting innovation, we could be pushing growth in this space into the non-bank sector, leading to much less transparency...
---
Vital Levels To Keep Eye On As Cardano Price Begins To Retreat


The Cardano price has rallied significantly over the past week and secured more than a 24% gain. Over the last 24 hours, the coin slipped 2%, indicating that it could not sustain its weekly gains. Following a significant price increase, the technical outlook indicates that the altcoin's price will trend lower. This correction might continue over the subsequent trading sessions; however, the ADA daily chart has pointed towards a bullish pattern. This translates to the reading that ADA could attempt to rise on its chart after a brief retracement. As Bitcoin continues to post appreciation in the last 24 hours, many altcoins are attempting to rise on their charts, but some altcoins are also struggling under their crucial resistance levels. The accumulation of Cardano took a dip on the daily chart, indicating a fall in demand for the altcoin. This fall in demand is a result of the Cardano price correcting itself. Despite a fall in demand, buyers continued to have the upper hand. The market capitalization of Cardano increased, indicating that the bulls were still around. For Cardano to stop its downward movement, the coin has to sustain itself above the $0.28 price line. Cardano Price Analysis: One-Day Chart ADA was trading at $0.30 at press time. The coin recently fell from the $0.31 mark due to the daily loss on its chart. Overhead resistance for the Cardano price was at $0.33; a move above will help ADA recover significantly. On the other hand, ADA has to remain above the imme...
---
SBF Wants to Keep Control of $450 Million Worth of Robinhood Shares


Sam Bankman-Fried has asked the court to allow him to retain control over the 56 million shares that he owns in Robinhood. The stock is currently worth around $450 million. SBF's lawyers argued that the shares were bought legitimately with funds that Wang and SBF borrowed from Alameda Research and that said loan has been properly documented. It is improper for the FTX Debtors to ask the Court to simply assume that everything Mr. Bankman-Fried ever touched is presumptively fraudulent. - reads the filing. The document also outlines that the shares are owned by Emergent - an entity that's not implicated in the FTX bankruptcy case, and its independent acquisition of the shares has been 'clearly set forth in an SEC filing' made by FTX General Counsel. CryptoPotato reported on January 5th that the US Department of Justice wants to seize the shares, 90% of which are owned by SBF and 10% by Gary Wang. The post SBF Wants to Keep Control of $450 Million Worth of Robinhood Shares appeared first on CryptoPotato.
---
Bahamas Seized $3.5 Billion From FTX to Keep Them From Vanishing


While Sam Bankman-Fried awaits his January 3rd arraignment within the confines of his parent's home, the Securities Commission of the Bahamas (SCB) has revealed that it seized $3.5 billion worth of digital assets from FTX Digital Markets, the Bahamian subdivision of the defunct crypto exchange. Steps Taken Right After Bankruptcy Filing The assets were seized on the 12th of November, a day after the former crypto behemoth filed for Chapter 11 bankruptcy, according to Bloomberg. The Bahamian regulator took control of $3.5 billion worth of digital assets at FTX Digital Markets shortly after it filed for bankruptcy, based on information provided by Sam Bankman-Fried https://t.co/39YcYilPww — Bloomberg Markets (@markets) December 30, 2022 Interestingly enough, the confiscation of said digital assets was carried out due to advice from SBF, according to the Bahamian authorities. The former CEO of FTX reportedly warned the SCB of the "imminent dissipation" of customer funds that would take place if actions were not taken. As $372 million worth of tokens were stolen mere hours after the bankruptcy was declared. Over half of the sum of $700 million was reported to have been withdrawn from FTX – the prudent decision taken by the SCB has probably stopped quite a lot of mischief from being carried out. Funds to Be Returned to Investors at Court's Discretion The funds currently held in a digital wallet belonging to the SCB will be returned to their res...
---
Dogecoin Among Most Searched Cryptos Of The Year, Will It Keep Its Spot ...


The price of Dogecoin (DOGE) follows the general trend in the crypto market and only records sideways activity. Due to the holiday season, the trading volume across global markets decreased, leading to stagnation in the nascent sector. As of this writing, Dogecoin trades at $0.074 with a 1% loss in the last 24 hours. In the previous seven days, DOGE has seen some small profits with a 5% gain. Other cryptocurrencies in the top ten by market cap are similarly performing. Dogecoin Shares Spot With Bitcoin And Shiba Inu As Most Popular Cryptocurrencies Per a report from DollarGeek, cryptocurrencies remain some of the most searched digital financial assets of 2022. According to data from Google, cryptocurrencies total over 7 million monthly searches in the United States and over 40 million global searches. Despite the persistent downside trend in its prices and unfavorable macroeconomic conditions, the digital asset class remained popular. The report claims. Bitcoin preserved its spot as the most popular cryptocurrency. Over the past two years, several new sectors emerged from the crypto industry. However, people are still attracted to Bitcoin due to its decentralized nature. 2022 has been a year of declining trust in a central authority. In this environment, people take more interest in alternatives, such as Bitcoin and other cryptocurrencies. The benchmark crypto recorded about 4,500,000 monthly searches in the U.S. and 28,400,000 global searches....
---
Top 5 Cryptocurrencies To Keep An Eye On This Week – Post-Christma...


It has been a roller coaster ride for crypto investors this 2022. This month, total crypto market capitalization fell from around $2.2 trillion at the start of the year to approximately $850 billion. Several high-profile bankruptcies this year exacerbated the precipitous decline in valuation. The market for cryptocurrencies is still consolidating, with the majority of assets unable to make large gains. Despite the current crypto winter, cryptocurrencies remain by far the most profitable asset class for investment, with the ability to recover losses and hit record highs in the long run. Currently, investors anticipate that the cryptocurrency market will strive to end the large sell-offs in 2023. A lengthy crypto winter tends to test the patience of investors, but it is one of the finest opportunities to purchase good cryptocurrencies at a discount. Meanwhile, there is continued curiosity in how particular crypto assets will end 2022, as their price movement will provide insight into what to expect in the following year. Here are five cryptocurrencies to keep an eye on for the week of December 26. Bitcoin (BTC) The year has not been kind to the cryptocurrency with the largest market capitalization. Since the start of 2022, bitcoin has lost more than 60 percent of its value. Because of this, over 50% of BTC investors are currently losing money, causing the market to crash. Nevertheless, a number of evidence imply that bitcoin will make a strong...
---
Shiba Inu Welcomes 10,000 New Holders, Can SHIB Keep Up The Momentum?


Despite the market downturn, Shiba Inu (SHIB) is still seeing growth in terms of its holder base. The meme coin maintains its position as one of the most popular cryptocurrencies as its total holder count has now crossed 1.26 million. 10,000 New Shiba Inu Holders Added In a time when cryptocurrencies across the space are marking a decline in support, Shiba Inu has added over 10,000 new holders in the span of two weeks. This saw the total SHIB holders cross into the 1.26 million territory, marking more growth for the meme coin. In the last 24 hours alone, the number is up by 0.033%, according to data from Etherscan. The meme coin also recently marked another milestone after it crossed more than 1.8 million watchlists on Coinmarketcap. The growth comes even as the price of the digital asset suffers multiple setbacks, drastically dragging down the profit margins for investors. Binance, the largest crypto exchange in the world by trading volume, recently released the data for the most-watched cryptocurrencies on the platform, and Shiba Inu emerged in the top three; alongside market leaders Bitcoin and Ethereum. Will SHIB Price Remain Stagnant? SHIB's price has been quite unresponsive to all of the new milestones being hit. The holder base had been consistently climbing over the last two months but the price of SHIB has not reacted positively in any way. Instead, developments on Shiba Inu seem to be disconnected from the price performance of the native token. With no mea...
---
Ethereum Tries To Keep Luster As ETH Moves To Narrower Trading Range


Ethereum, the world's second biggest cryptocurrency, has continued its downward trajectory, passing through the $1,200 level. To date, the exchange rate has reached $1,170.49. Data from CoinGecko shows that the coin has been trading at a loss on a weekly basis. Here's a quick glance at how ETH has been performing: The price of ether is currently below the $1.2k range Investors are preparing to sell, as shown by the high exchange netflows If the bears manage to push beyond the $1,152 support level, the next important support is located at the $906 level After initially plunging as rumors of an impending FTX collapse hit the market, the price eventually settled into a sideways trend and has remained there since. However, the trading range for this sideways movement is beginning to contract. The formation of a relief rally is being jeopardized by the current trading range. More losses are on the way for the Ethereum market, therefore would-be buyers and sellers of ETH should proceed with caution. Ethereum Relief Rally In The Offing? As the Bollinger band constricts around the $1,199 price range, the chance of a relief rally increases. ETH has been trading between $1,306 and $1,092.85 as of this writing. As the Bollinger band shrank, so would this. In addition, CryptoQuant observes a high exchange netflow, which indicates an increase in exchange reserves. This signifies that traders and dealers are preparing to sell their ETH. The RSI statistics provide support for t...
---
Bitcoin Price Recovery; Vital Levels To Keep An Eye On


Bitcoin price bounced off the $15,400 price level and staged a recovery over the past day. In the last 24 hours, BTC has been moving sideways after claiming the $16,000 price mark. Since the coin is trading sideways at the moment after the recovery, Bitcoin awaits a breakout. The coin will have to move above the $16,600 mark in order for the bears to be invalidated. Now that Bitcoin is closer to the aforementioned price resistance mark, there could be a chance for BTC to move to the $17,000 price zone. Buyers need to step up in order for the coin to move above the $16,600 price mark. The coin's technical outlook confirms that it is trending upward on its chart. The buying strength has, however, remained low despite an uptick on the one-day chart. Bitcoin Price Analysis: One-Day Chart Bitcoin was priced at $16,500 on the one-day chart | Source: BTCUSD on TradingView BTC was trading at $16,500 at the time of writing. After Bitcoin broke past the $15,400 price level, the coin registered positive buying action. This has contributed to the coin's price rising above the $16,000 mark. The crucial price zone remains at $16,500, and a move above it will be a point of bullish momentum for Bitcoin. BTC's overhead resistance was at $17,000, and a move above that could halt bulls at $17,600. BTC will reach a psychological level of $18,000 if it rises above $17,600. The amount of BTC traded in the previous session was green, indicating accumulation. Technical Analysis Bitcoin displayed up...
---
Litecoin Sharks Push Price Over $75, LTC Likely to Keep On Rising


Litecoin has experienced a significant price surge on low timeframes and hints at a possible bullish continuation. The cryptocurrency is moving higher than more significant assets in the space, and it's making its way to the top 10 by market capitalization. The current market landscape and on-chain activity support a bullish thesis. As of this writing, Litecoin already overtook Solana (SOL) and Shiba Inu (SHIB) in this ranking. LTC's price is trading at $78 with 15% and 35% profits in the last 24 hours and the previous week, respectively. LTC's price rallying on the daily chart. Source: LTCUSDT Tradingview Litecoin On Track For Further Gains? Data from research firm Santiment indicates that prominent players have accumulated Litecoin over the previous two weeks. These players anticipated the current bullish momentum. The firm noted that addresses holding from 1,000 to 100,000 Litecoin accumulated over $40 million in the cryptocurrency over this period. Santiment pointed out the following while sharing the chart below: Litecoin's price surge may have shocked some of you, but the large address accumulation has been the key to watch. In the past 2 weeks, addresses holding 1k to 100k $LTC accumulated $43.4M in coins en route to the first price jump above $80 since May. Source: Santiment As the chart shows, the Litecoin accumulation trend has lost strength. Large LTC holders might take some profits at current levels before resuming their accumulation pattern.&nb...
---
US Senator Says Crypto Needs 'More Aggressive Enforcement'— 'I'm G...


U.S. Senator Elizabeth Warren says the implosion of crypto exchange FTX shows that the crypto industry needs 'more aggressive enforcement.' She stressed: 'I'm going to keep pushing SEC to enforce the law to protect consumers and financial stability.' However, many people pointed out that the Securities and Exchange Commission (SEC) has failed to provide clear crypto regulation, leading to U.S. investors using offshore exchanges like FTX.Senator Elizabeth Warren Wants Tougher Crypto Regulation Following the crisis at cryptocurrency exchange FTX, U.S. Senator Elizabeth Warren (D-MA) stressed that the crypto industry needs more aggressive regulation. She tweeted Wednesday: The collapse of one of the largest crypto platforms shows how much of the industry appears to be smoke and mirrors. We need more aggressive enforcement and I'm going to keep pushing SEC to enforce the law to protect consumers and financial stability. Many people on Twitter disagreed with the senator from Massachusetts. The CEO of the Nasdaq-listed cryptocurrency exchange Coinbase, Brian Armstrong, replied to Warren: FTX.com was an offshore exchange not regulated by the SEC. The problem is that the SEC failed to create regulatory clarity here in the U.S., so many American investors (and 95% of trading activity) went offshore. Punishing U.S. companies for this makes no sense. Several other Coinbase executives concurred with Armstrong. Coinbase's chief policy officer, Faryar Shirzad, tweeted: 'Attacking American ...
---
Lebanese Mint, Keep, Spend Crypto Amid Crisis, Report Unveils


Living in the chaos of a deep crisis, people in Lebanon have been turning to cryptocurrency, a new media report has confirmed. From earning much needed income through mining and work, to storing wealth and paying in stores, bitcoin, tether and other cryptos have started to push aside the hyperinflated Lebanese pound and the hard-to-get-hold-of U.S. dollar.Cryptocurrency Becomes Lifeline for Some Lebanese Who Try to Make Ends Meet in Meltdown With its capital Beirut once called the 'Paris of the Middle East,' before the civil war broke out in 1975, and known as an offshore banking destination rivaling Switzerland, after the conflict ended in 1990, in the past few years, Lebanon has been struggling to cope with a looming economic and financial crisis - among the planet's worst, according to the World Bank. The country plunged into the crisis in 2019 and its government defaulted on its sovereign debt in early 2020, just as the Covid pandemic was spreading around the globe. With losses of up to $70 billion at local banks, according to Goldman Sachs, inflation expected to reach 178% this year, as projected by Fitch, and close to 80% of the population living below the poverty line, estimated by the UN, cryptocurrency has started to sound like a source of salvation for some, CNBC notes in a report. The broadcaster reached out to a number of locals for whom decentralized digital cryptocurrencies have become a lifeline for survival. While crypto adoption took different forms in each c...
---
Silver Rallies 7% Rising Past $20 per Ounce, US Mint Says Fabricators Ar...


On Friday, as the global cryptocurrency market cap jumped 5.4% higher against the greenback, U.S. stocks rallied toward the end of the day with the top four major stock indexes gathering gains. Precious metals also soared as the New York spot price of gold per troy ounce increased by 3.20%, and silver's price value skyrocketed by 7.14% against the U.S. dollar. Four days ago, a blog post published on Peter Schiff's website schiffgold.com stressed that silver typically outperforms gold and if people are bullish on gold, they "should be even more bullish on silver."Silver Jumps 7% Higher, Schiff Gold Report Says People Should Be 'Even More Bullish on Silver,' Investors Talk Silver Squeeze Silver has been performing better than it did at the end of the summer, back when the price per troy ounce of fine silver reached $17.97 per unit on Aug. 31, 2022. At more than $20 per ounce of silver today, the precious metal has increased more than 15% against the U.S. dollar since Aug. 31. However, silver's spot market price per ounce is over 21% lower than it was during 2022's silver price high at $26.37 per ounce. After the New York spot price of silver jumped 7.14% on Friday, Nov. 4, 2022, the hashtagged term "#silversqueeze" started to trend on Twitter around 6 p.m. (ET). One Twitter account said the silver rally on Friday was crafted by "the banksters" and further insisted an ostensible silver price suppression would end soon....
---
Bitcoin Price Retakes $21,000 And May Keep Rising Due To These Factors


The Bitcoin price is regaining bullish momentum over today's trading session, retracing the losses seen early in the week. Once again, the cryptocurrency is under the influence of macroeconomic forces working in its favor for the first time in months. At the time of writing, the Bitcoin price trades at $21,000 with a 4% profit in the last 24 hours and seven days, respectively. Other cryptocurrencies in the crypto top 10 are displaying similar strength, with Binance Coin (BNB) and Dogecoin (DOGE) leading the altcoin rally. BTC's price trends to the upside on the daily chart. Source: BTCUSDT Tradingview Bitcoin Price Barrels Through Resistance Levels Data from Material Indicators show a spike in buying pressure from investors with orders of about $100,000. These Bitcoin whales are positively reacting to today's U.S. economic data, which signals a slowdown in this country's job market. An analyst at Material Indicator said: Unemployment came in at 3.7% which is 0.2% higher than forecasted and BTC whales see it as a sign that FED rate hikes may be working. Note, that one month's report doesn't make a trend, but right or wrong, this market reacts to every data point. As reported by NewsBTC, the U.S. Federal Reserve (Fed) is trying to mitigate inflation in the dollar. The financial institution is implementing a monetary tightening program by hiking interest rates and reducing its balance sheet. For the first time in months, the Fed plans seem to be working, or a...
---
Apple Unveils Stricter App Store Rules for Crypto and NFTs — Criti...


According to Apple's latest guidelines for developers seeking to have their apps included in the App Store, crypto exchange applications should only facilitate the transfer of crypto funds to approved exchanges. Where payments are needed to unlock features or functionality, Apple says apps may only 'use in-app purchase currencies.'Only In-App Purchase Currencies May Be Used In its updated guidelines for apps in the Apple App Store unveiled on October 24, Apple Inc. said crypto exchange apps 'may facilitate transactions or transmissions of cryptocurrency on an approved exchange.' In addition, such transactions can only be offered 'in countries or regions where the app has appropriate licensing and permissions to provide a cryptocurrency exchange.' The technology company also clarified that crypto wallet apps 'may facilitate virtual currency storage, provided they are offered by developers enrolled as an organization." However, according to the new guidelines, apps are prohibited from mining crypto and offering 'currency for completing tasks, such as downloading other apps.' The only exception to the crypto-mining prohibition is when 'the processing is performed off [the] device.' Besides limiting the use of the crypto-transferring apps, the latest guidelines state that developer apps 'may not use their own mechanisms to unlock content or functionality, such as license keys, augmented reality markers, QR codes, cryptocurrencies and cryptocurrency wallets.' Similarly affec...
---
Elon Musk Says Spacex Will Keep Funding Ukraine for Free Even Though Sta...


Spacex CEO Elon Musk says that his company will 'keep funding' the government of Ukraine for free even though Starlink is losing money, noting that it has cost Spacex $80 million so far to provide internet terminals and services to Ukraine. 'We've also had to defend against cyberattacks and jamming, which are getting harder,' Musk stressed.We'll Keep Funding Ukraine for Free, Says Musk Spacex has been sending Starlink internet terminals and providing services to Ukraine since the onset of the Russia-Ukraine war. At the request of the government of Ukraine, Musk began supplying the country with Starlink internet terminals in February. However, Spacex's director of government sales reportedly sent a letter to the Pentagon in September, stating that the company is not 'in a position to further donate terminals to Ukraine, or fund the existing terminals for an indefinite period of time.' The Pentagon reportedly confirmed they received correspondence from Spacex about the funding of the Starlink satellite communications product in Ukraine. Musk tweeted on Oct. 7 explaining that 'only a small percentage' of the Starlink terminals and services in Ukraine were paid for. The Spacex chief revealed: This operation has cost Spacex $80M & will exceed $100M by end of year. Replying to a question on Twitter about how much Spacex is spending 'for maintaining Starlink in Ukraine,' Musk detailed: 'In addition to terminals, we have to create, launch, maintain & replenish satellites & ground sta...
---
Stellar Soars 6% In Last 30 Days – Can XLM Keep On Shining This We...


Since the beginning of this month, Stellar (XLM) has increased by 6%, continuing its remarkable monthly performance. Coingecko reports a 4-day performance for XLM of 5.3%, while charts show an impressive 31.50% rise over the previous 30 days. This price change is even more unexpected when considered in light of this. Santiment recently took to Twitter to reveal a rather unsettling image for the cryptocurrency community. "There has been quite a lot of #bloodinthestreets. Unless your portfolio mainly consists of $BNB, $XLM, $QNT, $MKR, $HT, or other scarce positive #altcoins the past 30 days, you're down. This reflects in the shrinking group of individuals still interested in #cryptocurrency,' Santiment tweeted. There has been quite a lot of #bloodinthestreets. Unless your portfolio mainly consists of $BNB, $XLM, $QNT, $MKR, $HT, or other scarce positive #altcoins the past 30 days, you're down. This reflects in the shrinking group of individuals still interested in #cryptocurrency. pic.twitter.com/4t0GQXj9oG — Santiment (@santimentfeed) October 10, 2022 The question of whether or not XLM can sustain its recent gains is intriguing. In spite of this, a rise of this magnitude is usually followed by a severe reversal as investors' fears replace their excitement. Stellar: What The Indicators Suggest There are a number of signs to keep an eye on. And by 'indicators,' it means the CMF, momentum, and bull-bear power. These metrics reveal the direction of the ma...
---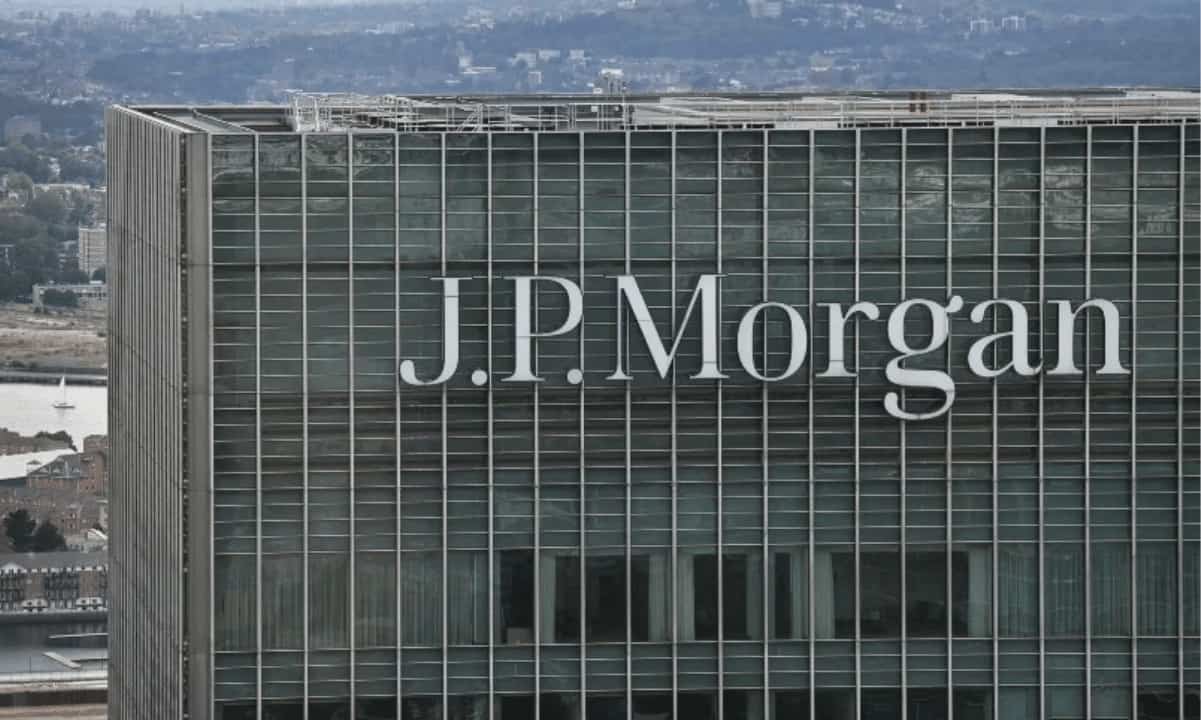 Despite the Bear Market, JPMorgan Will Keep Providing Crypto Services


The leading financial services company - JPMorgan Chase & Co. - revealed that its clients have drastically dropped their interest in using cryptocurrencies as a payment method in the past few months. However, the organization assured that it will still support consumers who want to employ digital assets as a means of payment. Not so Popular any More The ongoing crypto winter seems to have affected people's interest in the asset class. In a recent interview for Bloomberg, Takis Georgakopoulos - Global Head of Payments at JPMorgan - said clients were much more inclined to use cryptocurrencies as a payment tool six months ago: 'We saw a lot of demand for our clients, let's say, up until six months ago. We see very little right now.' It is worth noting that back then, Bitcoin's price was hovering around $40,000, while Ether and many other altcoins were also performing much better than now. By the middle of 2022, though, the global macroeconomic environment changed drastically, and that might have vaporized some of the interest in cryptocurrencies. Such negative events were the military conflict in Ukraine, the 40-year record inflation rate in the USA, the energy crisis in the European Union, and many more. In spite of the diminishing excitement, Georgakopoulos assured that JPMorgan will still provide clients with cryptocurrency services. The Wall Street giant believes such tokens could find a place in the future monetary system. In addition, they have become increasingly popular ...
---
62% Of Addresses Keep Their Bitcoin Holdings For Over A Year In Bear


The year 2022 has proved to be unfavorable for the crypto market. The industry has been facing a long lasted bear trend, with the flagship coin, Bitcoin, nearly down 70% then its ATH of November 2021. Still, the market fear has not ruined the investors' interest in Bitcoin. Data shows that more than half of investors continue to keep their BTC holdings even in the crypto winter. According to the stats viewed by the blockchain analytic firm TipRank, 62% of BTC addresses have not sold their collection of BTC for a year or more. A recent report by blockchain research from glassnode noted that BTC deposits at exchanges in terms of seven-day average moving have reduced to the 2-year low at 1,921 BTCs. Notably, this crypto winter has surpassed the bloodbaths of 2017 and 2019 in declining cryptos prices. Although the previous downtrends occurred due to a bubble burst, the current bearish trend has been caused by macro factors. TerraLuna collapse and 22% Nasdaq sell-off generally disrupted the market sentiment. Then, the U.S. Federal Reserve appeared to control inflation with its hawkish approach and has been increasing the rates since then. And as the Fed raises rates, the market experience further sell-offs, pulling back the prices further. Bitcoin Price Analysis In the current market climate, Bitcoin is struggling to hold its position at over $20,000. Fed's remarks still remain a major concern stopping the BTC prices from jumping. At the time of writing, BT...
---
TA: Bitcoin Bears Keep Pushing, Why BTC Is At Make-or-Break Levels


Bitcoin is still consolidating near the $20,000 zone against the US Dollar. BTC must clear the $20,550 resistance zone to start a steady increase. Bitcoin is still struggling to gain pace above the $20,550 resistance. The price is now trading near the $20,000 level and the 100 hourly simple moving average. There is a key bearish trend line forming with resistance near $20,330 on the hourly chart of the BTC/USD pair (data feed from Kraken). The pair must clear the $20,350 zone and $20,550 to start a fresh increase. Bitcoin Price Faces Hurdles Bitcoin price remained well supported above the $19,550 zone. BTC formed a base and started a fresh upward move above the $20,000 resistance zone. There was a push above the $20,200 level and the 100 hourly simple moving average. The price even cleared the 61.8% Fib retracement level of the downward move from the $20,576 swing high to $19,555 low. However, the price stayed below the $20,550 resistance zone. Bitcoin price is now trading near the $20,000 level and the 100 hourly simple moving average. On the upside, an immediate resistance is near the $20,350 level. There is also a key bearish trend line forming with resistance near $20,330 on the hourly chart of the BTC/USD pair. The trend line is near the 76.4% Fib retracement level of the downward move from the $20,576 swing high to $19,555 low. Source: BTCUSD on TradingView.com The next major resistance sits near the $20,550 and $20,575 levels. A clear move above the $20,575 resistanc...
---
Antpool Reveals Plans to Drop Ethereum Ethash Support, Plans to Keep Min...


Antpool, the bitcoin mining pool affiliated with Bitmain, has announced the crypto mining operation will not manage ethereum accounts after The Merge is implemented. The mining pool is asking participating Antpool miners to add their ethereum withdrawal addresses by September 3, in order to receive the accumulated ether collected by Antpool.Antpool to Stop Supporting Ethereum Following The Merge On Saturday, August 27, the cryptocurrency mining pool Antpool told customers that it will no longer maintain ETH assets after The Merge. Customers have until September 3 to give an ETH address in order to collect the remaining ether mined by Antpool's ethereum mining operation. Statistics show there is just over 1,000 terahash per second (TH/s) of hashpower dedicated to the ETH blockchain and Antpool is the tenth largest ETH mining pool in terms of hashrate. The largest ETH mining pool in terms of hashrate is Ethermine, a pool that commands 263 terahash of hashpower compared to Antpool's 17.9 terahash. Ethermine also announced it would stop supporting ETH assets and would not mine a new PoW version of ETH. Antpool declared that The Merge comes with some censorship risk, and the pool will distribute the remaining ETH Antpool mined next month. 'As ETH 2.0 (The Merge) comes along with the risk of censorship among different countries, Antpool, for the sake of clients' asset security, will not be able to maintain the user's ETH assets on the PoS chain,' the mining pool operation detailed ...
---
Bitcoin Price Watch: BTC Facing Renewed Challenge To Keep Price Above $2...


Bitcoin price recently completed a two-month surge that resulted in a price increase to over $25,000; consequently, investors are now concentrating on the cryptocurrency's next target price. Bitcoin price spikes to over $25,000 following a two-month surge Bitcoin now looking bearish; struggling to keep its price above $20,000 BTC down by 0.12%; currently trading at $21,498.36 Bitcoin (BTC), the leading cryptocurrency, is now displaying negative sentiment after first exhibiting bullish indicators. The flagship coin is now fighting once more to keep its price above $20,000. By the end of September 2022, the cryptocurrency community on CoinMarketCap forecasts that Bitcoin price will climb by 36.75% from its current value, trading at an average price of $29,346. Roughly 20,683 community members cast their votes to determine the pricing target. BTC Unable To Surpass $25,000 Due To Macroeconomic Conditions The price of bitcoin fluctuates by about $21,000. Even though Bitcoin's recent rally tried to lift the asset out of a prolonged bear market, the community's forecast is still optimistic. The crypto market reacted poorly to the Federal Reserve's decision to raise interest rates amid the rising inflation, but BTC's failure to surpass $25,000 has emerged as macroeconomic concerns continue to take center stage. At the time of publication, Bitcoin was significantly down 10% over the previous week. Bitcoin price stabilizes above $21,000 as a major shift is soon to come. Char...
---
Solana Glints With 14% 3-Day Rally – Will SOL Keep On Beaming?


Over the past 24-four hours, Solana (SOL) maintained a strong position above the $35.00 support level and displayed a reversal pattern indicating a rebound. As of this writing, SOL is trading at $36.86, up 13% in the last seven days, data from Coingecko show. SOL currently has a trading volume of $1,177,991,581, down 24% in the last 24 hours. The support zone for SOL is between $20 and $30. SOL was in a sideways market for 24 days after it plummeted to the support zone, and ultimately the cryptocurrency began to make a modest reversal. Solana 3-Day Ascent: Bulls Take Charge The price of Solana has began a commendable reversal after a disastrous decline in recent weeks. Since the upper low at $31 was written on the final day of June, the bulls have constructed a 14 percent three-day rally starting July 5. A golden cross of the 8- and 21-day simple moving averages (SMAs) provided the Bulls with a valid entry signal on July 6. At $35, there was a brief liquidity hunt to shake out weak positions. Suggested Reading | Bitcoin Drills Into $22,000 Level – But Not All BTC Investors Are Jubilating Traders are currently observing 'FOMO' traders who set their original trade's invalidation level below the SMAs enter the market. On the daily price chart, the price of Solana is attempting to hold near the ascending trendline. Immediately after departing the ascending curve, SOL has been consolidating within the horizontal range-bound area. However, the cryptocurrency can return to the...
---
Solana Broke Its Nearest Support, Vital Trading Levels To Keep An Eye On


Solana has fallen on its chart over the last 24 hours by 2%. Over the last 24 hours, there has been strong bearish influence on SOL's price. Currently the coin has found support on the $34 level. The market also has been taken over by the bears, Bitcoin has been hovering around the $20,000 mark for the last 24 hours. Other market movers have also retraced in their respective charts. Technical outlook of the coin continues to point towards negative price action suggesting that price of Solana can fall further. Selling pressure in the market has started to mount indicating that price of SOL could again take a dip. The global cryptocurrency market cap today is $977 Billion with a fall of 0.2% over the last 24 hours. Since, Solana has now fallen beneath the $40 mark, SOL could now be prone to further fall. Solana Price Analysis: One Day Chart Solana was priced at $36 on the one day chart | Source: SOLUSD on TradingView SOL was trading at $36 on the 24 hour chart. Further retrace from the current price level will push the coin to $34. Overhead resistance for the coin stood at $38, if buying strength returns then SOL could attempt to revisit the $38 price level. If SOL manages to remain above the $38 mark for a substantial amount of time then $44 could be possible on the chart. If Solana fails to hold itself near its $34 support line, it could drag itself down to $26 in just a matter of sometime. The amount of the altcoin traded was in the red indicating bearishness and increased ...
---
Ruble Hits 7-Year High, Bukele, O'Leary Unfazed by Crypto Downturn...


As sanctioned Russia's fiat currency soars in value against the U.S. dollar, and crypto markets remain unpredictable, economists and crypto enthusiasts continue to puzzle and debate over what the next market move will be. In spite of this, several influential voices remain unperturbed when it comes to the future of decentralized digital assets, with Salvadoran president Nayib Bukele, Tesla and Spacex CEO Elon Musk, and Shark Tank's Kevin O'Leary all recently reaffirming their faith in the cryptocurrency ecosystem in one way or another. This is the Bitcoin.com News Week in Review. Russian Ruble Taps 7-Year High Against the US Dollar - Economist Says 'Don't Ignore the Exchange Rate' Recent news reports have detailed that Russia's fiat currency, the ruble, was the best performing currency worldwide and the articles explained that American economists were perplexed by the trend. On Monday, the Russian ruble rose to 55.47 per dollar, which was the highest increase since 2015. While many have dismissed the ruble's exchange rate, Charles Lichfield, the Atlantic Council's Geoeconomics Center deputy director, published an editorial called: 'Don't ignore the exchange rate: How a strong ruble can shield Russia.' Read More Salvadoran President to Bitcoin Investors: Your BTC Investment Is Safe, Will Immensely Grow After Bear Market The president of El Salvador has some advice for bitcoin investors. He believes investments in the largest cryptocurrency are safe and will 'immensely grow' ...
---
Tesla CEO Elon Musk Confirms He'll Keep Buying and Supporting Doge...


Tesla and Spacex CEO Elon Musk has reaffirmed his commitment to dogecoin (DOGE). He confirms that he will keep buying and supporting the meme cryptocurrency. The price of dogecoin climbed following his statements amid a crypto market downturn.Elon Musk Reaffirms Commitment to Dogecoin Tesla CEO Elon Musk reaffirmed his support for the meme cryptocurrency dogecoin a few times this weekend. On Sunday, Musk tweeted that he will keep supporting DOGE. He also indicated that he will keep buying the meme coin. On Saturday, the Tesla boss also mentioned DOGE on Twitter in response to a tweet by Dogecoin co-creator Billy Markus stating his 'desire' for people to use DOGE 'for something beyond pump and dump … so it has a reason to exist.' Musk tweeted that dogecoin can be used to purchase merchandise at his companies, Tesla and Spacex, hinting that more could be offered 'down the road.' Tesla began accepting dogecoin for some merchandise in January. Last month, Musk said Spacex will soon accept DOGE for merchandise and Starlink subscriptions could soon follow suit. At the time of writing, DOGE is trading at $0.062662, up 25% in the past 24 hours but down 30% over the last 30 days. Musk has long been a supporter of dogecoin. He is known in the crypto community as the Dogefather. He believes that DOGE is the people's crypto and has potential as a currency. In contrast, he said bitcoin is more suitable as a store of value. The Tesla chief also previously revealed that he persona...
---
Elon Musk: I Will Keep Supporting Dogecoin Despite The $258 Billion Laws...


Elon Musk, the world's richest man and self-proclaimed Doge Father, has declared his unwavering support for the leading meme cryptocurrency, Dogecoin. Elon Musk to Keep Supporting Dogecoin The Tesla CEO posted on Twitter earlier today: 'I will keep supporting Dogecoin.' He also revealed in response to a user that he is still buying the memecoin. As usual, DOGE reacted to the billionaire's tweet, and the price surged by 11% from $0.052 to $0.058 despite the bearish market. Musk's declaration of his continued support for Dogecoin comes a few days after an American investor filed a $258 billion lawsuit against him and two of his companies, Tesla and SpaceX, for allegedly promoting DOGE and manipulating the price of the cryptocurrency. I will keep supporting Dogecoin — Elon Musk (@elonmusk) June 19, 2022 As reported, the plaintiff, Keith Johnson, described Dogecoin as a 'crypto pyramid scheme' and alleged that Musk and his companies deliberately promoted it as a legitimate investment. The plaintiff argued that the billionaire's endorsement of Dogecoin led many people to invest in the cryptocurrency, which is currently down by more than 90% from its 2021 all-time high of $0.73. Johnson is seeking $86 billion in damages from the billionaire and $172 billion for losses incurred from DOGE trades since 2019. He also wants Musk to stop promoting or endorsing the cryptocurrency. Elon Musk: Dogecoin Rulz Although Elon Musk wasn't fully active in the crypto space until 2021, his f...
---
TA: Bitcoin Bears Keep Pushing, Why BTC Could Still Nosedive


Bitcoin is moving lower towards the key $29,500 support against the US Dollar. BTC must stay above $29,500 to avoid a major downside break. Bitcoin is struggling to stay above the $29,500 support zone. The price is now trading below the $30,500 level and the 100 hourly simple moving average. There is a key contracting triangle forming with resistance near $31,050 on the hourly chart of the BTC/USD pair (data feed from Kraken). The pair could start a major decline if there is a break below the $29,500 support. Bitcoin Price Is Showing Bearish Signs Bitcoin price failed to gain strength above the $31,200 and $31,500 resistance levels. However, there was no clear move, and the price started a fresh decline below $31,000. There was a move below the $30,850 and $30,500 support levels. The price even spiked below the $30,000 level and settled below the 100 hourly simple moving average. It traded close to the $29,500 support zone and formed a low at $29,561. Bitcoin is now consolidating losses and trading above the $29,800 level. An immediate resistance on the upside is near the $30,030 level. It is near the 23.6% Fib retracement level of the recent decline from the $31,550 swing high to $29,561 low. The first major resistance is near the $30,500 level and the 100 hourly SMA. It is near the 50% Fib retracement level of the recent decline from the $31,550 swing high to $29,561 low. Source: BTCUSD on TradingView.com The main resistance is near the $31,000 level. There is also a key ...
---
More Keep Network (

#KEEP

) News