| | | |
| --- | --- | --- |
| | ICON | #ICX |
---
| | | | | |
| --- | --- | --- | --- | --- |
| ICX Price: | $0.17 | | Volume: | $2.3 M |
| All Time High: | $12.43 | | Market Cap: | $0.2 B |
---
---
| | | | | |
| --- | --- | --- | --- | --- |
| Circulating Supply: | 900,272,439 | | Exchanges: | 17 |
| Total Supply: | 953,824,150 | | Markets: | 34 |
| Max Supply: | — | | Pairs: | 47 |
---
---
---
The price of #ICX today is $0.17 USD.

The lowest ICX price for this period was $0, the highest was $0.172, and the current live price for one ICX coin is $0.17177.

The all-time high ICX coin price was $12.43.

Use our custom price calculator to see the hypothetical price of ICX with market cap of ETH or other crypto coins.
---
---
The code for ICON is #ICX.

ICON is 5.9 years old.
---
---
The current market capitalization for ICON is $154,641,540.

ICON is ranked #149, by market cap (and other factors).
---
---
There is a big volume of trading today on #ICX.

Today's 24-hour trading volume across all exchanges for ICON is $2,341,399.
---
---
The circulating supply of ICX is 900,272,439 coins, which is 94% of the total coin supply.
---
---
ICX is the native coin for the Icon blockchain.

View the full list of Icon blockchain tokens.
---
---
---
---
---
---

Migration from Medium to icon.community


We are excited to announce the migration of our official blog from Medium to the new icon.community website. Our existing content on Medium has been moved to icon.community, and new posts will only be published on icon.community. The migration from Medium to the icon.community website provides us with several advantages including:The freedom to create custom landing pages about core ICON products and services.The ability to create unique layouts for different kinds of content (e.g. blog posts, learn articles, development tutorials, podcasts, videos, etc.).More flexibility for SEO and analytics. If you have any questions or comments about the new ICON community website, join us on Discord and start a discussion. Migration from Medium to icon.community was originally published in Hello ICON World on Medium, where people are continuing the conversation by highlighting and responding to this story.


---

Ukraine's Ministry of Digital Transformation, FTX, and Everstake Launch Crypto Fundraising Site Aid…


Ukraine's Ministry of Digital Transformation, FTX, and Everstake Launch Crypto Fundraising Site Aid For Ukraine — ICON (ICX) added as donation currency. Read the official announcement below.. — Official announcement: MARCH 14, 2022, KYIV, UKRAINE — The official website for Aid For Ukraine, an initiative that raises funds from the crypto community for the benefit of Ukraine's military and humanitarian needs, has officially launched. The initiative is powered by the Ministry of Digital Transformation of Ukraine, FTX, and Everstake. This is the first instance of a cryptocurrency exchange providing a conduit for crypto donations to a public financial institution. The launch of an official website enables users from around the world to have a simple way to make cryptocurrency donations to Ukraine. Anyone is now able to select the desirable amount in selected cryptocurrencies to donate, connect a wallet, and confirm a transaction within the same user-friendly interface. The fundraising process will be traceable in real-time on the website. The overall amount of donations will be summed up and tentatively expressed in USD at the Coingecko rate. The website also makes it possible to add more cryptocurrencies to the initiative thanks to the involvement of Everstake, the biggest decentralized staking provider in the industry. The company's officers are in direct contact with the community representatives willing...
---

ICON to Conform to Industry Standard Methodology for Calculating Circulating Supply


Recently, some in the community may have noticed a big increase (by ~10 million ICX) to ICX circulating supply. The supply increase was related to the previous announcement regarding ICONFi's support for ERC20 ICX: "To kick off this offering, the ICON Foundation has partnered with ICONFi to mint the first 50 million ERC20-based ICX tokens (which can be found here). This 50 million ERC20 ICX is fully collateralized by the same amount of ICX locked here." In the coming weeks, ICX circulating supply will increase further, however, as we adopt a methodology that is increasingly being used by exchanges and crypto projects as the standard methodology of circulating supply: tokens that are "circulating in the market" and "in the public hands" Historically, the ICON Foundation has adopted a more conservative methodology of circulating supply used in the equities market that excludes unlocked/vested supply held by insiders. In other words, circulating supply did not include unlocked tokens internally controlled by the ICON Foundation. Though we believe that this methodology, based on the free-float methodology used in the equities market to calculate publicly traded shares, provides a more accurate representation of circulating supply, we have decided to adopt the crypto industry standard methodology of circulating supply to comply with exchanges and to avoid confusion within the community. Over the next few weeks, ICO...
---

Python SCORE to be deprecated by the end of 2022


Please migrate dApps to Java as soon as possible.. — By the end of 2022, exactly one year after the succesful Java SCORE activation, support for running Python SCORE will come to an end. This includes the removal of the iconee source code from the goloop repository completely. We encourage all DApp owners to migrate their dApp to Java by the end of this year (2022). However, practically, dApp owners should migrate their dApp to Java as soon as possible. Please note: The more Python code you add, the more difficult it becomes to migrate to Java. Further, we'd like to emphasize that the current audit process for the existing Python SCORE is actually not meant for big upgrades, rather it is meant for small maintenance updates to earn time until the later Java migration. Python SCORE to be deprecated by the end of 2022 was originally published in Hello ICON World on Medium, where people are continuing the conversation by highlighting and responding to this story.


---

ICON Development Roadmap Update —February 2022


Check out the latest updates on ICON 2.0 and BTP development. — — ICON 2.0. — As part of January's development roadmap update, we mentioned some ICON 2.0 revisions and upgrades that were progressing through the Berlin and Lisbon testnets. We are excited to announce that this process is complete; by the middle of February, the updated version of ICON 2.0 had been deployed to the Berlin, Lisbon, and Sejong testnets. In some cases, bugs and other issues were detected but ultimately resolved. The latest package (v1.2.3) has been released to the ICON MainNet, and all main P-Reps completed their node update, along with the Top 10 sub P-Reps. The formal P-rep vote for Revision 17 has been passed and approved. This means that ICON 2.2 will be close to being implemented and complete. Two more steps need to occur before ICON 2.2 can be considered finalized:Review & Debugging Governance SCORE 2.0 Java versionChange owner from built in owner to Gov SCORE itself Here is a partial list of the features that Revision 17 will implement and enable:Expand the number of P-Reps from 22 to 25Allow change of ownership of an existing SCORE Once the final changes get implemented to finalize ICON 2.2, these additional features of Revision 17 will be available:Network SCORE management: This means P-Reps will own the Network Score, rather than an individual address. This group-owned Score will distribute rewards related to C...
---

Introducing ICON Bridge


The first step in a two-phase BTP launch strategy. — In the BTP section of our most recent Development Roadmap Update, we shared that we had come across an unforeseen obstacle: unsustainably high gas consumption fees incurred when executing BMV contracts. Since first encountering this challenge, we have explored various alternative design solutions and have expanded the BTP development team to tackle this issue head on. In addition, we have decided to implement a phased approach to interoperability by introducing ICON Bridge–an early iteration of BTP that maintains most of BTP's key technical features–as an interim bridging solution as BTP development continues in the background. We are looking to have all internal testing of ICON Bridge done by the end of March. We will be following up with regular roadmap updates outlining any changes. — The Gas Consumption Issue. — The BTP Message Verifier Contract (BMV) is the most revolutionary aspect of BTP's technology. It is the mechanism that allows smart contracts–rather than trusted validators–to verify cross-chain transactions. The BMV is essentially a live, miniature copy of the source blockchain that exists on the destination blockchain. For example, the BMV on Moonriver is a live copy of the ICON blockchain, and vice versa. The Relays are responsible for updating these copy blockchains, to ensure they are up to date and mirror the original chain....
---

Token Swap for ERC20 ICO Tokens Coming to an End in 2022


December 31st, 2022 will be the last day you can swap your ERC20 ICO tokens to native ICX tokens on ICONFi.. — All ICO participants still holding the ERC20 ICO tokens will have until the end of this year to complete the swap to native ICX tokens. Please make sure to swap your tokens before this service is no longer provided. ICONFi currently runs two very similar token swap services, which may cause confusion. What will be ending on December 31st, 2022 is the token swap from ERC20 ICO tokens to native ICX tokens (read more here). Users will still be able to wrap native ICX tokens to ERC20 ICX tokens and vice versa to make cross-chain token transfers, amongst other use cases for wrapped assets (read more here and here). Summary:ENDING: Token swap from ERC20 ICO tokens to native ICX tokens. Please swap your ICO tokens before December 31st, 2022.CONTINUING: Token swap between ERC20 ICX tokens and native ICX tokens (for explanation on how to wrap your native ICX token to ERC20 ICX token and vice versa, read here). Token Swap for ERC20 ICO Tokens Coming to an End in 2022 was originally published in Hello ICON World on Medium, where people are continuing the conversation by highlighting and responding to this story.


---

New Year, New Tracker — Geometry Labs Rolls Out Updates for ICON Blockchain Tracker


New Year, New Tracker — Geometry Labs Rolls Out Updates for ICON Blockchain TrackerNew ICON Tracker with improvements to responsiveness, new streaming APIs, and an open backend. The ICON Foundation is proud to announce that Geometry Labs has soft launched a new version of the ICON tracker. Upgrades to the tracker include improvements to responsiveness, new streaming APIs, and an open backend that can be used or extended by other projects across the ICON community. The tracker was also rebuilt to accommodate new ICON 2.0 features along with changes to the governance that came with IISS 3.1. Development was supported primarily through a grant from the Foundation along with CPS grants focused on DevOps improvements. While the new tracker is completely functional and ready to use, the old tracker will still be kept active as Geometry Labs starts the transition to the new tracker. Keep reading below for more technical details; otherwise, bookmark the new tracker and feel free to provide feedback on Github.General Architecture and Design The new tracker was built based on a microservice architecture with domains split across blocks, transactions, logs, addresses, governance, and contracts. Services were primarily written in Go along with Python, and are all fed by an indexer and backed by PostgreSQL. This design splits the types of queries that are being served to their respective domains so that query parameters can be ex...
---

ICON Development Roadmap Update — January 2022


ICON Development Roadmap Update — January 2022 — Including changes to ICON 2.0, CPS and BTP Roadmap communication. — ICON Development Roadmap Update — January 2022 — ICON 2.0. — There are a number of ICON 2.0 upgrades and revisions that are in the pipeline and have been making their way through the Berlin and Lisbon testnets. Following the completion of testing, they will be pushed to ICON 2.0 Mainnet. Among the changes include:Increasing the main P-Rep count from 22 to 25Funding the Contribution Proposal System (CPS) via ICX inflation, in accordance with IISS 3.1Implementing the penalty for missing a Network Proposal vote To see the complete list of changes, and to track the progress of the upgrade progress, please click here. We encourage all P-Reps and developers to utilize this chart to understand upgrade timelines and deployments.A snapshot of the published ICON 2.0 Roadmap Once these upgrades are live and the upgrades to ICON 2.0 have been implemented, internal resources will shift from ICON 2.0 to the development of future iterations of Blockchain Transmission Protocol (BTP) architecture. — BTP. — We recognize that the community is eagerly anticipating the launch of BTP, and we'll be striving to provide as much transparency as possible into the process.As part of this approach, we also intend to release a detailed BTP roadmap in the near future, similar to the roa...
---

ICON (ICX) Tokenomics


ICON (ICX) Tokenomics have been improved with IISS 3.1 Recently, ICON P-Reps unanimously passed Network Proposal #14, which implemented IISS 3.1, a new and more sustainable tokenomic framework for the ICX token and ecosystem. Let's take a look at some of the changes implemented as part of IISS 3.1 and how they compare to the old model. — Inflation. — Previously, inflation was set not by design but by the combination of the amount of rewards issued to those staking ICX and the rewards issued to block producers (P-Reps). There was no hard cap on inflation rate, and it would fluctuate based on the variables that influenced the formula that calculated P-Rep and staker rewards. Under the new IISS 3.1, inflation is hard set at only 3.99% annually. There are four categories that can claim a share of that inflation: voters (those who stake ICX), block producers (P-Reps), the CPS Fund, and Relays (to be implemented with the launch of BTP). — Staking Rewards. — Similar to the prior versions of IISS, each user's share of the ICX staking rewards was calculated based on the overall percentage of the network that was staked. This same model exists; however, the total amount of ICX available for rewards is now lower (in order to reduce inflation). Typically, the reward rate for ICX stakers was in the range of 10–12% per year. Under the new model, the annual reward rate is currently around 6–7%. If 100% of...
---
---
---
Pop Icon Taylor Swift Signed $100M Deal With Crypto Exchange FTX, New Re...


Taylor Swift, a pop icon and 12-time Grammy Award winner, did sign an agreement with bankrupt cryptocurrency exchange FTX, new reports claim. However, FTX executives reportedly convinced former FTX CEO Sam Bankman-Fried (SBF) to reconsider and abandon the $100-million deal with Swift.Taylor Swift Reportedly Signed Agreement With FTX Taylor Swift, a famous singer-songwriter who has won 12 Grammy Awards from 46 nominations, reportedly signed a deal with the now-defunct cryptocurrency exchange FTX, contrary to previous reports. The Financial Times reported that the size of the deal was approximately $100 million. Adam Moskowitz, one of the attorneys spearheading a $5 million class-action lawsuit against 16 celebrity endorsers of FTX, disclosed on the Block's Scoop podcast in April that Swift sought legal advice when approached by former FTX CEO Sam Bankman-Fried (SBF). According to him, the famous singer inquired: 'Can you assure me that these assets are not unregistered securities?' Moskowitz's comment led to headlines that Swift subsequently decided to withdraw from the deal. However, the New York Times confirmed Thursday that Moskowitz said he had no inside information about the talks between FTX and Swift. Citing three people with knowledge of the deal, the news outlet detailed that in reality, Swift signed a tour sponsorship agreement with FTX after more than six months of discussions while turning down some promotion options. In addition, the people told the publicat...
---
NBA Icon Shaquille O'Neal Describes his FTX Summons as 'Inadequate,' See...


The lawyers of the American basketball legend - Shaquille O'Neal - reportedly asked a federal court to block a recent summons served regarding his interaction with FTX. They claimed the documents were 'tossed' at the front of his moving car: an entirely different version than the one presented by attorney Adam M. Moskowitz who supposedly served the sportsman in his home. Failed investors have claimed that O'Neal and many other celebrities used their popularity to promote the now-bankrupt exchange, triggering severe losses to inexperienced clients. 'Inadequate' Summons or Twisting the Facts? As reported by Bloomberg, the attorneys of the former NBA star argued that the papers notifying a presence in court were 'tossed' at O'Neal's moving vehicle, and eventually, they 'landed' on the road. As such, they requested a dismissal of the legal process against him, labeling the summons 'inadequate.' Shaquille O'Neal, Source: CNN The assertion disassociates with Adam Moskowitz's thesis. The lawyer leading the lawsuit against O'Neal said he served the athlete at his home in mid-April. He also claimed the whole process happened in front of security cameras: 'The good news is his home video cameras recorded our service, and we have made it very clear he is not to destroy and/or erase any of these security tapes because they must be preserved for our lawsuit.' The class-action lawsuit does not include only the basketball legend. Failed investors at FTX also blamed Tom Bra...
---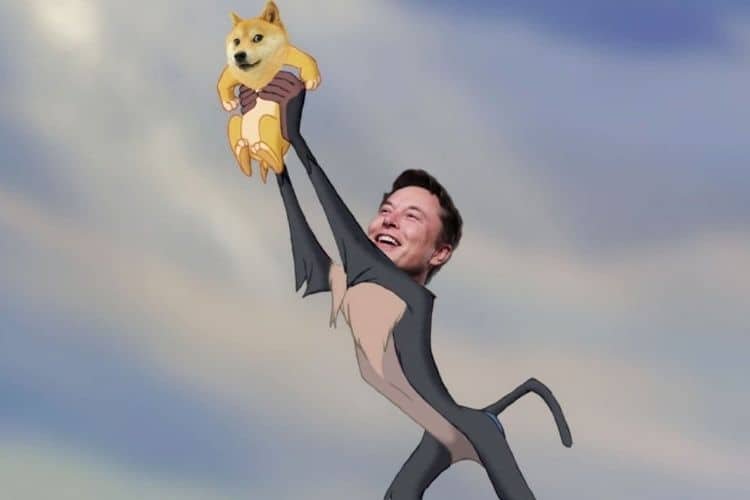 Dogecoin Explodes 25% After Elon Musk Changes Twitter Icon to Doge Meme


Twitter's main logo abruptly changed on Monday into a picture of the infamous "Doge" meme – a Dogecoin (DOGE) predictably pumped as a result. The cryptocurrency is up 25% in the past hour, now trading for $0.1. Elon Pumps Doge (Again) When logging into Twitter, the bluebird that once appeared on Twitter's loading page has now been replaced by an icon of Doge. Meanwhile, the similar icon used to return to one's homepage Twitter feed in the upper left corner of the desktop browser has also been replaced by the notorious dog meme. The login page is different too, with a massive picture of Doge now covering the blue bird that used to appear when creating an account. Dogecoin traded for just $0.076 at 13:05 UST on Monday, before skyrocketing after Twitter's sudden change. On Monday, Musk simply followed the change to Twitter's logo by publishing a meme: pic.twitter.com/wmN5WxUhfQ — Elon Musk (@elonmusk) April 3, 2023 Elon Musk, who became CEO of Twitter last year, is a longtime Dogecoin fan, and was primarily responsible for briefly bringing the asset into crypto's top 3 coins in 2021 through a series of bullish tweets. The billionaire has since exhibited a strong ability to affect Dogecoin's price, briefly pumping the coin whenever he gives it his occasional good word. For example, the meme coin soared 15% in May of last year after he confirmed that SpaceX would soon start accepting DOGE f...
---
Beetlejuice Gets 1-of-1 NFT: Exclusive One-and-Only NFT of Pop Culture I...


PRESS RELEASE. Lester Green, known to millions of fans as Beetlejuice, has been a pop-culture icon through four decades. Having initially conquered radio, television, and movies, Beetlejuice has continuously evolved and is now also a social media superstar with over 2 million Instagram followers and featured on some of today's most popular memes. 'There has never been anybody like Beetle and there will never be again,' said Bobby Rooney, Beetlejuice's longtime friend and manager. 'Beetle is a true innovator, with a passionate following from all walks of life.' Dave Amerman, Auction Director at Goldin, noted, 'Beetlejuice is universally loved around the world. His millions of social media followers are vehement fans. Beetlejuice's legend has continued to grow and resonate with people of all ages and backgrounds. Goldin is excited to be presenting his One-and-Only NFT'. For the first time in five years, Beetlejuice returned to the Howard Stern Show on December 13, 2021, to break the news that his only official NFT will be minted in 2022. This news created a viral moment and has fans clamoring to this one-of-a-kind piece of pop-culture history. The Beetlejuice One-and-Only NFT is an original work of art based on the historic T206 baseball card design and highlights some of the greatest milestones in his life. Included with the Beetlejuice One-and-Only NFT is his 1-of-1 Autographed Rookie Card and the Exclusive Life Story Video of Beetlejuice, as told by Beetlejuice. In 2022, Bee...
---
ICON to begin work on interchain NFT game platform 'SPERA' w...


South Korean blockchain corporation ICONLOOP, announced today it has signed a strategic partnership with the ICON Foundation and 2bytes to establish 'SPERA', the blockchain-based interchain NFT game platform, and has released a teaser site showcasing the new platform. 'SPERA', which is planned to be fully set up within the year, is an interchain NFT game platform that connects NFTs issued on various blockchain networks and platforms, making them interoperable. Currently, the vast majority of NFTs issued and distributed on various existing blockchain platforms do not have much use beyond ownership. Likewise, NFTs found in play-to-earn titles are currently limited in that they can only be used within the same game and platform. The new platform will use the interchain BTP (Blockchain Transmission Protocol) technology to connect various NFTs from different blockchain ecosystems and make them operable by allowing them to be used within games on the SPERA platform, and plans to support P2E (Play-to-Earn) features as well. BTP is a trademarked technology developed by the global interchain ICON project which connects various blockchains to make them interoperable. BTP technology differs from typically centralized cross-chain technologies in that its architecture is decentralized, providing high security and versatility. Within the newly announced partnership, ICONLOOP will develop and support the establishment of the platform based on its technological expert...
---
Martial Arts Icon and Philosopher Bruce Lee Commemorated in NFT Collecti...


While many celebrities have launched non-fungible token (NFT) collections, a number of NFT compilations have featured luminaries who have passed away. Legends such as Jerry Garcia, Kurt Cobain, Muhammad Ali, Elvis, Tupac, and more have been featured in NFT collections. This Saturday, Ethernity and Bruce Lee's family will be dropping the renowned martial artist's first NFT collection dubbed 'The Formless Form.' 'Be Like Water Making Its Way Through Cracks' The Hong Kong and American martial artist, martial arts instructor, film star, and philosopher, Bruce Lee, is an extremely popular pop-culture icon. Lee is famous worldwide for his martial arts style and roles in a number of feature-length martial arts movies filmed in the early 1970s. On January 8, 2022, the Bruce Lee Family Company and the NFT protocol Ethernity, will be dropping Lee's first NFT collection. Lee's NFT compilation aims to 'commemorate the life and legacy of the martial arts pioneer, philosopher, and global action film star,' Ethernity's press statement explains. According to the announcement, the NFT collection was ' inspired by Bruce Lee's philosophy and teachings.' Furthermore, the artwork stems from artists such as Bosslogic, Raf Grassetti, and Anthony Francisco. 'My father believed in honest self expression,' Shannon Lee, the chairwoman and CEO of the Bruce Lee Family Company and the One Family Foundation said. Lee's daughter continued: We're honored for the opportunity to collaborate with these extreme...
---
More ICON (

#ICX

) News