| | | |
| --- | --- | --- |
| | Dogelon Mars | #ELON |
---
| | | | | |
| --- | --- | --- | --- | --- |
| ELON Price: | $0.000000198 | | Volume: | $1.1 M |
| All Time High: | $0.00000262 | | Market Cap: | $0.2 B |
---
---
| | | | | |
| --- | --- | --- | --- | --- |
| Circulating Supply: | 973,414,204,068,308 | | Exchanges: | 26 |
| Total Supply: | 1,000,000,000,000,000 | | Markets: | 30 |
| Max Supply: | — | | Pairs: | 21 |
---
---
---
The price of #ELON today is $0.000000198 USD.

The lowest ELON price for this period was $0, the highest was $0.000000198, and the current live price for one ELON coin is $0.00000019779.

The all-time high ELON coin price was $0.00000262.

Use our custom price calculator to see the hypothetical price of ELON with market cap of ETH and how the supply affects the price of ELON at different market capitalizations.
---
---
The code for Dogelon Mars is #ELON.

Dogelon Mars is 2.1 years old.
---
---
The current market capitalization for Dogelon Mars is $192,527,243.

Dogelon Mars is ranked #143 out of all coins, by market cap (and other factors).
---
---
There is a big volume of trading today on #ELON.

Today's 24-hour trading volume across all exchanges for Dogelon Mars is $1,146,568.
---
---
The circulating supply of ELON is 973,414,204,068,308 coins, which is 97% of the total coin supply.

Dogelon Mars has a relatively large supply of coins, 8,007,697 times larger than Ethereum's supply, as an example.
---
---
---
---
---
---
Note that there are multiple coins that share the code #ELON, and you can view them on our ELON disambiguation page.
---
---
---
---
PEPE Whales Selling at Huge Losses as Meme Coins Continue Bleeding


PEPE coin whales have seen better days as the cryptocurrency loses another 9% in the past 24 hours. Some of the larger investors are calling it quits and are selling at a considerable loss. Data from the popular on-chain analytics resource Lookonchain revealed that at least two whales are realizing considerable losses. One of them is an address ending at 0x4614, which sold a total of 375.8 billion PEPE at a loss of $142,000 (worth some 76 ETH) today. Another whale sold around 257 billion PEPE (worth $306K) at a loss of about $35,000. Whales/SmartMoneys are selling $PEPE. A whale deposited 649B $PEPE($761K) 1 hr ago. 0x4614 who made 1,182 $ETH($2.2M) on $PEPE sold 375.8B $PEPE($306K) at a loss of 76 $ETH($142K) 1 hr ago. 0x6544 who made $352K on $PEPE sold 257.9B $PEPE($306K) at a loss of $35K 4 hrs ago. pic.twitter.com/w8crgva6S0 — Lookonchain (@lookonchain) June 5, 2023 The broader market for meme coins continues bleeding out. Data from CoinMarketCap shows that almost all of the larger meme coins are trading at considerable losses. For the past seven days, DOGE is down 2.5%, SHIB - 4.2%, PEPE - 20%, FLOKI - 7.83%, BONE - 13.3%, ELON - 4.2%, and so forth. The post PEPE Whales Selling at Huge Losses as Meme Coins Continue Bleeding appeared first on CryptoPotato.
---
4 Meme Coins to Watch as PEPE Coin Mania Winds Down


Meme coins have had a long-lasting impact on the cryptocurrency market as they've been cemented into the crypto culture and become an inseparable part of the industry. It all seemingly started with the pioneer Dogecoin (DOGE) back in 2013 when Jackson Palmer and Billy Marcus launched the protocol, giving birth to a subsection of crypto that would be amongst the most explosive ones. PEPE coin seems to be the latest considerable iteration of the meme coin trend, and it also took the market by storm. The cryptocurrency went from virtually zero to obtaining close to a $2 billion market cap in less than a few weeks, printing numerous millionaires. But now, the mania seems to be winding down. The meme coin is down 70% from its all-time high achieved 30 days ago, and has also lost some 26% in the past week alone. Source: CoingeGecko By all means, it appears that the euphoria that spread across the market like wildfire a few weeks back is now gone. But this doesn't mean that meme coins are dead. Here are four meme coins to watch as the PEPE coin mania winds down. Four Meme Coins to Watch The following meme coins are amongst the largest by means of total market capitalization and have established liquidity across both centralized and decentralized exchanges. Dogecoin (DOGE) DOGE needs little introduction as it's the dominant king of the meme coin market. It's the largest meme coin by means of total market capitalization and the one with the most established market. It's traded across ...
---
Speculation Runs Wild: Why Did CZ Unfollow Elon Musk on Twitter?


Binance CEO Changpeng Zhao (CZ) recently unfollowed Tesla and SpaceX chief Elon Musk after what seemed like a long and friendly history between the two parties. Though neither executive has left any explicit clues, crypto Twitter has some theories about what may be driving tension between the tech billionaires. Did Twitter Shun Binance? Twitter account @BigCryptoAlert called attention to the turn of events on Saturday, noting that CZ – whose account follows over 1600 users – no longer counts Musk's profile among them. One Twitter user named Lucra speculated that CZ may be distancing himself from Elon ever since Twitter invited eToroUS – a social investments company for crypto, and other financial instruments – to be the social network's partner crypto exchange, rather than Binance. Because Elon invited @eToroUS to be Twitter's crypto exchange instead of Binance, even though it was CZ who helped fund his acquisition of Twitter. — Lucra (@lucrafund) May 14, 2023 The partnership enabled users to easily access stocks and crypto from Twitter in April, letting them view market charts for such assets and buy/ sell them through eToro. Though the platform doesn't support nearly as many crypto assets or crypto volume as Binance, it's been subject to far less regulatory and jurisdictional criticism than the latter – and supports a wider range of financial assets in general. That said, Binance was ...
---
Twitter Chief Elon Musk to Pass on Mantle to New CEO, Takes CTO Role


Elon Musk announced that he has found a new leader for Twitter and will shift into a new role as chief technologist. While Musk is yet to name his successor, reports suggest that NBC Universal executive Linda Yaccarino could potentially replace him as the new leader of the microblogging platform. In a tweet on May 11th, Musk said the company's new CEO will start in about six weeks. 'Excited to announce that I've a new CEO for X/Twitter. She will be starting in ~6 weeks! My role will transition to being exec chair & CTO, overseeing product, software & sysops.' Other rumors suggest that former Meta COO Sheryl Sandberg could also lead the firm. Since the controversial takeover of Twitter in a $44 billion deal last year, Musk carried out several changes to the platform, including announcing the end of the old verified program and instead introducing a new paid version. The buyout of Twitter was expected to be instrumental for the digital asset industry with integrations of crypto and blockchain features into the social media platform. However, not much has transpired in the last six months since the acquisition. Musk's decision to file for Twitter to become a financial services company did spark speculation of crypto payment integration. However, these efforts appeared to have taken a backseat. In April, Twitter briefly changed its iconic bluebird logo to the Shiba Inu mascot used by Dogecoin (DOGE), which Musk has been vocal about supporting. Twitter was also reportedly...
---
The Elon Musk Effect: Cult DAO (CULT) Spikes 70% Following Tesla's CEO T...


CULT - the native token of the blockchain project Cult DAO - soared by over 70% shortly after Elon Musk dropped a mysterious tweet containing the same name. The CEO of Twitter, Tesla, and SpaceX is known as one of the most influential individuals in the world of crypto. His previous comments have caused price swings in other digital assets in the past few years, including Dogecoin (DOGE), Floki Inu (FLOKI), and others. Musk has proven once again that even a short tweet posted by him could trigger a significant price increase of a certain token. His most recent post on the social media platform contained the words 'cult' and 'culture.' Despite not revealing what stands behind that phrase, Twitter's CEO caused a price spike of CULT (the native token of Cult DAO), which spiked by more than 70% in a matter of hours. CULT price, Source: CoinGecko Musk's previous influence in the crypto market is well-known and typically involves his favorite memecoin Dogecoin, as well as Floki Inu DOGE's valuation has gone north multiple times following announcements by the South African billionaire. Most recently, he changed Twitter's main logo into a picture of the infamous 'Doge' meme Twitter's main logo, propelling a 25% price increase for the asset. FLOKI has also soared due to Musk's interactions. The entrepreneur uploaded a sarcastic photo on Twitter in February, depicting his dog as the new boss of the social media giant. Considering that the pet's name is Floki, it is no wonder ...
---
Economist Warns of 'Catastrophic' Fall in American Living Standard &mdas...


Economist Peter St Onge has warned that U.S. dollar weaponization will lead to 'soaring inflation, a catastrophic fallen American standard of living, and a U.S. that falls off the world stage.' Commenting on the economist's warnings, Tesla and Twitter CEO Elon Musk weighed in on de-dollarization.De-Dollarization Happening Faster Than People Realize, Says Economist Economist Peter St Onge warned about the dire consequences of weaponizing the U.S. dollar in a video he posted on Twitter Monday. St Onge is a Research Fellow and the Mark A. Kolokotrones Fellow in Economic Freedom at the Heritage Foundation. Before joining the Heritage Foundation, he was a Fellow at the Mises Institute, a Senior Fellow at the Montreal Economic Institute, and an Assistant Professor of International Trade and of Marketing at Taiwan's Feng Chia University. Citing a former Morgan Stanley analyst, Stephen Jen, stating that the U.S. dollar has already suffered a "stunning collapse" and is losing its reserve currency status at an "alarming pace," St Onge stressed: De-dollarization is happening faster than people realize. "The dollar share went from 73% in 2001 to 55% in 2021, at which point it fell off a cliff, losing market share 10 times faster," the economist detailed. "The dollar plunged 8 percentage points in share in a single year to just 47% so we lost about double the entire share of the Chinese yuan. And at that pace, the U.S. dollar would be ...
---
SpaceX Starship Test Flight Coming on DOGE Day? Elon Musk Teases Incomin...


SpaceX CEO and Dogecoin enthusiast Elon Musk announced on Tuesday that the company is targeting April 20 for a test flight of its Starship rocket. As it happens, April 20 (4/20) is celebrated by the Dogecoin community as "Doge Day." April 20 was declared Doge Day by the Doge community back in 2021 with an aim of pushing the coin's value to new highs. April 2021 was when Doge rocketed to new highs around $0.30, before soaring to $0.70 in early May. "The team is working around the clock on many issues. Maybe 4/20, maybe not," tweeted Musk about the launch on Tuesday. The launch was originally scheduled for April 17 before Musk tweeted about a "pressurant valve" being frozen, delaying the takeoff. Some in the Dogecoin community, however, think this is part of Musk's "masterful plan" to launch a rocket on Doge Day. HOLD YOUR DOGE Starship launch has been moved to April 20th, Doge Day! @dogecoin Rumor has it that it's all part of @elonmusk 's masterful plan.Is this his way of celebrating? How will this momentous event impact the markets?#dogeday420 #bitgetdogeday pic.twitter.com/7tkK0HjON9 — Bitget (@bitgetglobal) April 19, 2023 "The launch of the biggest rocket on the planet, delayed for the sake of memes, tweeted Dogecoin graphic designer DogeDesigner on Monday "All hail the meme-lord.' Dogecoin Foundation member Marshall Hayner also posted a simple "420" possibl...
---
DOGE Jumps 6% Following Elon Musk's 1M Dogecoin Offer


Elon Musk is now offering 1 million DOGE as a reward to anyone who can locate the whereabouts of the mine and provide proof of its existence. To set the record straight, a designer at Dogecoin, who goes by the Twitter handle 'DogeDesigner,' offered 69,420 DOGE to any media outlet that can prove the existence of the mine in question. Musk, then, went on to up the value to 1 million DOGE. Shortly after, the memecoin went up by almost 8% at one point. The rumors about Musk's family owning an emerald mine in Zambia have been circulating on the internet since at least 2018. However, in a 2014 Forbes interview conducted by freelancer Jim Clash, Musk claimed to have shared an off-handed anecdote about his now-estranged father, Errol Musk's alleged mine. While the article has been since removed from the Forbes website, it is still available on Internet Archive. The rumors gained fresh traction after his takeover of the social media giant Twitter. A few months later, a video was posted by Robert Reich, Berkeley professor and Former United States Secretary of Labor, arguing that several billionaires actually had privileged upbringings despite being described as 'self-made.' The video cited the example of Musk's family owning an emerald mine in Apartheid South Africa and that it was this seed money that made it possible for him to become the American billionaire he is today. These claims drew a sharp backlash from the Twitter chief, who called the American professor an 'idiot and...
---
US Bank Lending Drops by Record $105 Billion in Two Weeks, Trillions Mov...


The banking industry in the United States is still struggling after the collapse of three major banks. According to statistics, bank lending in the U.S. has dropped by close to $105 billion in the last two weeks of March, which is the largest decline on record. Additionally, Elon Musk, a Tesla executive and owner of Twitter, recently commented on trillions of dollars being withdrawn from banks into money market funds, and he insists that the "trend will accelerate.'Statistics Still Show Glaring Signs of U.S. Bank Weaknesses; Musk Issues Warning There are still plenty of signs showing that the U.S. banking system is feeling the aftermath of several high-profile bank collapses. During the first week of March, Silvergate Bank, Silicon Valley Bank (SVB), and Signature Bank (SBNY) closed down operations. Both SVB and SBNY were placed under government control. The U.S. Federal Reserve, Treasury, and Federal Deposit Insurance Corporation (FDIC) bailed out SBNY and SVB's uninsured depositors and made all depositors whole. Since then, the banking contagion has spread across the United States and internationally, with financial institutions like SVB UK and Credit Suisse faltering. According to a recent report published by Bloomberg, the last two weeks of March saw the largest contraction in lending on record after the collapses. The Federal Reserve's data on the subject only goes back to 1973, and in the last two weeks of March 2023, almost $105 billion was erased. Alexandre Tan...
---
The $258 Billion Dogecoin Lawsuit Against Elon Musk: Dissecting The Plai...


If some angry investors had it their way, the world's most successful tech startup founder and CEO would meanwhile lose his fortune. The cohort of people bringing 'Johnson v Musk et al' in U.S. federal court, Southern District of New York, are suing him for $258 billion. Elon Musk's attorneys wrote in a memo to the court: 'The Complaint is a fanciful work of fiction that fails to state any actionable claim against Defendants Elon Musk and Tesla and must be dismissed in its entirety with prejudice.' Here are the reasons why this lawsuit is frivolous. Elon Musk Dogecoin Lawsuit The litigants think they should be rewarded by U.S. courts for making unprofitable speculative investments. Furthermore, they want this colossal sum to be taken from the most profitable risk-taking business magnate in history. The litigants feel entitled to squeeze Elon Musk because he supports the technology they hurt themselves on with poor investing decisions. It's as if, from their point of view, Mr. Musk himself reached through the phone screen. It's not like Musk twisted their arm to make them buy Dogecoin at the top of a multi-year market cycle. In his characteristically defiant and cheeky way, Mr. Musk ordered the Twitter logo reset to the famous Doge meme graphic Monday. Dogecoin price exploded 25% in a day over the incredibly lucrative placement. The case against Elon Musk and Dogecoin is a loosely cobbled-together monstrosity. Moreover, it's built wholly out of flimsy pretenses and false state...
---
1.4B DOGE Dumped by 2 Whales After Elon Musk Changed the Twitter Logo to...


The speculations about whether Elon Musk purposefully inflated Dogecoin's price by changing Twitter's logo so that he can dispose of his holdings continue on social media. According to data from Lookonchain, two of the five largest DOGE whales sold over $120 million worth of the memecoin amid its massive price rally this week. Twitter's new owner is known as a keen proponent of the original memecoin, having pushed its price higher numerous times in the past through various engagements. The latest example came earlier this week when he changed the Bluebird Twitter logo to the dog picture of Dogecoin. Expectedly, the asset's price exploded by 25% in minutes and over 30% within the next day. It soared above $0.1 for the first time in months. The Bluebird logo has returned since then, and DOGE has retraced notably. Data from the on-chain analytics platform - Lookonchain - informed that two of the five largest Dogecoin whales sold 1.4B DOGE amid the price surge (worth about $121 million). Whale 'DDuX' (the 5th holder) reduced 1.1B $DOGE($95.2M).https://t.co/n6R2L7HKN7 Whale 'D8ZE' (the 3rd holder) reduced 300M $DOGE($28.6M).https://t.co/nHLHf8pk60 Could these two addresses be related to @elonmusk? pic.twitter.com/Z9ku8O9MZK — Lookonchain (@lookonchain) April 7, 2023 It's worth noting that the Lookonchain team is not the only one questioning whether it was Musk who sold off a massive portion of his holdings. He has admitted in the past to owning DOGE but has never openly...
---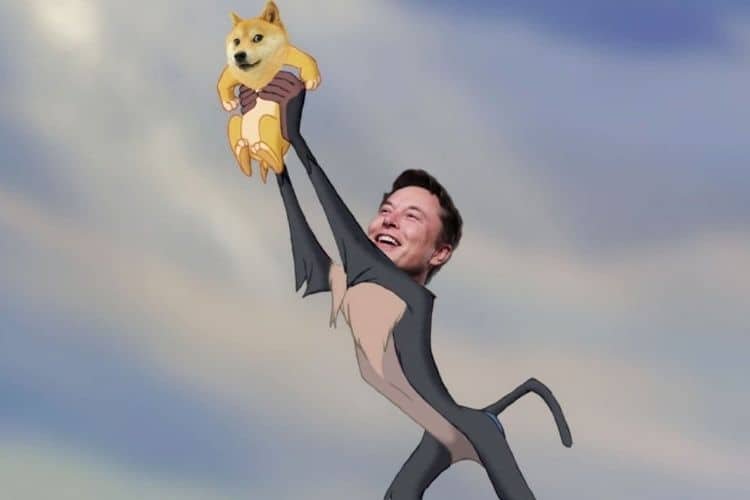 Dogecoin Explodes 25% After Elon Musk Changes Twitter Icon to Doge Meme


Twitter's main logo abruptly changed on Monday into a picture of the infamous "Doge" meme – a Dogecoin (DOGE) predictably pumped as a result. The cryptocurrency is up 25% in the past hour, now trading for $0.1. Elon Pumps Doge (Again) When logging into Twitter, the bluebird that once appeared on Twitter's loading page has now been replaced by an icon of Doge. Meanwhile, the similar icon used to return to one's homepage Twitter feed in the upper left corner of the desktop browser has also been replaced by the notorious dog meme. The login page is different too, with a massive picture of Doge now covering the blue bird that used to appear when creating an account. Dogecoin traded for just $0.076 at 13:05 UST on Monday, before skyrocketing after Twitter's sudden change. On Monday, Musk simply followed the change to Twitter's logo by publishing a meme: pic.twitter.com/wmN5WxUhfQ — Elon Musk (@elonmusk) April 3, 2023 Elon Musk, who became CEO of Twitter last year, is a longtime Dogecoin fan, and was primarily responsible for briefly bringing the asset into crypto's top 3 coins in 2021 through a series of bullish tweets. The billionaire has since exhibited a strong ability to affect Dogecoin's price, briefly pumping the coin whenever he gives it his occasional good word. For example, the meme coin soared 15% in May of last year after he confirmed that SpaceX would soon start accepting DOGE f...
---
Biggest Movers: DOGE, SHIB Surge as Elon Musk Tweets Dog CEO Pictures


Dogecoin rallied on Feb. 15, as Elon Musk tweeted a picture of a Shiba Inu dog, with the caption: "The new CEO of Twitter is amazing.' Following this tweet, both dogecoin and shiba inu surged, extending recent gains. Overall, the global cryptocurrency market cap is 2.42% higher as of writing. Dogecoin (DOGE) Dogecoin (DOGE) rose by as much as 6% on Wednesday, as markets reacted to tweets from Tesla CEO Elon Musk. DOGE/USD surged to an intraday high of $0.08707 earlier in today's session, which comes a day after trading at a bottom of $0.08141. Today's move saw the meme coin climb for a second straight session, breaking out of a resistance level at $0.0840 in the process. Upside momentum comes as the 14-day relative strength index (RSI) surged, and as of writing it is tracking at 50.81 Price strength has now risen to its highest point in nearly a week, and is fast approaching a ceiling at 52.00. As a result of this, earlier gains have somewhat eased, with dogecoin now trading at $0.08656. Shiba Inu (SHIB) Shiba inu (SHIB) also rose for a second consecutive day, breaking out of a resistance level of its own. Following a low of $0.00001222 on Tuesday, SHIB/USD raced to an intraday high of $0.00001313 earlier in the day. Like with dogecoin, today's rally saw the meme coin race past a ceiling at $0.00001285, climbing by nearly 6% in the process. As can be seen from the chart, there was also a breakout on the RSI indicator, which moved beyond a ceiling at...
---
FLOKI Soars Over 40% After an Elon Musk Joke


The popular meme-inspired cryptocurrency - FLOKI - spiked around 41% after Elon Musk uploaded a photo of his dog dressed as the new Chief Executive Officer of Twitter. Other memecoins, including DOGE, SHIB, and BABYDOGE, also headed north albeit in a more modest fashion. Tesla's CEO and one of the wealthiest people on the planet - Elon Musk - knows how to flirt with memecoins. In his latest tweet, he displayed his pet signing documents that he is the new boss of Twitter. The new CEO of Twitter is amazing pic.twitter.com/yBqWFUDIQH — Elon Musk (@elonmusk) February 15, 2023 He later put glasses on his dog, adding it 'has style' and is 'great with numbers.' Keeping in mind that the Shiba Inu breed is named Floki, it is no wonder why the price of the dog-themed digital asset - FLOKI - skyrocketed. Currently, it trades at $0.00002959, representing a 41% increase compared to yesterday's figures. Musk previously vowed to appoint a new CEO of Twitter as the main condition for the upcoming leader is to be 'foolish enough.' The crypto community was quick to react, saying his pet could perfectly fill the position. Other tokens, such as Dogecoin (DOGE) and Shiba Inu (SHIB), also climbed following Musk's actions. The former is up nearly 6%, while the latter rose 5%. This is not the first time the South African billionaire has prompted a price expansion of memecoins. He dressed his dog in a Santa Claus outfit on Christmas 2021, while community members used the opportunity to in...
---
Report: Elon Musk's Payments Vision for Twitter Takes Shape, Small Team ...


Seven months ago, current Twitter owner Elon Musk said, prior to acquiring the social media giant, he would integrate cryptocurrency payments. According to sources, a team is working on the infrastructure for a payment platform, and Twitter is proceeding with regulatory approvals and registrations.Elon Musk's Plan for Twitter Payment System Advances, Adding Cryptocurrency Later Elon Musk appears to be proceeding with plans to integrate a payment system into Twitter. According to sources cited by the Financial Times (FT), Elon's lieutenant, Esther Crawford, is working on logistics and has formed a small team. Musk has previously stated his intention to create a payment system, and in mid-June 2022, the current Twitter owner mentioned the integration of cryptocurrencies. "I think it would make sense to integrate payments into Twitter so that it's easy to send money back and forth, and fiat currency as well as crypto — essentially, whatever somebody would find useful," Musk detailed during the first all-hands meeting with Twitter's staff. Sources quoted by the FT on Jan. 30, 2023, say Twitter is also seeking regulatory registrations and state licenses. Those familiar with the subject said Twitter has started applying for financial licenses in several states. The FT publication also reports that Musk appointed Crawford to the position of CEO of Twitter Payments. According to the FT sources, the payment system will initially handle fiat currencies, wi...
---
Dogecoin Surges 6% After Elon Musk Unveils Crypto Payment Master Plan


Per a report from the Financial Times (FT), Twitter has been trying to find new sources of revenue, and crypto and Dogecoin (DOGE) could be part of a new strategy to achieve this objective. The company has submitted petitions for regulatory licenses in the United States to "turnaround the business." Last year, Musk acquired Twitter in a multi-billion-dollar deal. Since then, many advertisers have left the platform, negatively impacting the company's revenue stream. The new CEO launched a subscription service and continues to seek an alternative to mitigate the company's financial problems. In that sense, the social network is focused on enabling payments on its platform under the leadership of Esther Crawford, the Financial Times claims. These efforts are a "critical" element of a larger strategy to bolster the company's revenue streams. Peer-To-Peer Payments With Dogecoin? The report claims that Elon Musk has publicly revealed his plans to roll out peer-to-peer transactions with bank accounts and debit cards on the network. These features are part of a "master plan" to build the "everything app," as the report calls it. Like other social networks where users can message their contacts, shop, and make payments, Twitter would expand beyond its current services. In this context, cryptocurrencies could play a big role. Elon Musk is a big Dogecoin proponent, and any plans to incorporate payments ...
---
Dogecoin: Can Elon Musk's McDonald's Offer Give DOGE A 'Happy' Price?


Dogecoin, the original memecoin, is currently showing a solid performance, retesting its current resistance which is at $0.09370. According to Coinhecko, the token is still up in all time frames with the biggest gains being made in the monthly time frame at 27%. This bullish continuation is the result of Elon Musk's recent mentions of the coin. Musk tweeted back on January 25 last year about how he will eat a McDonald's happy meal if the fastfood company accepts Dogecoin as a mode of payment. Since then, the DOGE community has been putting pressure on the company as they show support for Elon's proposal. If McDonald's ever implements DOGE as a mode of payment, the coin would have access to 40,031 restaurants while simultaneously adding a big name in the already large number of merchants that accept the coin as payment method. Is this offer still open? pic.twitter.com/lTE4wdl0jf — DogeDesigner (@cb_doge) January 27, 2023 Elon's Influence On Dogecoin Remains Elon Musk's effect on the price action is certainly evident on the coin. Following that tweet, DOGE started a rally after it slumped by 34% in under a week. Now that Musk renewed his offer to McDonald's, it remains to be seen if the company even accepts the offer. Obviously, the DOGE community has been very optimistic about the acceptance of the coin as a mode of payment. Matt Wallace, a huge crypto influencer, replied to Musk showing his support for ...
---
Hal Finney's Wife Fran Activates Her Husband's Twitter Account to Protec...


Roughly seven days ago the owner of Twitter, Elon Musk, disclosed that the social media platform planned to purge 1.5 billion Twitter names if they were inactive or the accounts haven't logged in for years. After the statement, bitcoiners grew concerned that the now-deceased computer scientist Hal Finney's Twitter account would be terminated. It seems that since then, Finney's wife Fran Finney has taken over Hal's social media account in hopes Musk won't purge her husbands account.Fran Finney Has Control of Hal's Twitter Account - Says She Activated It to Protect the Account From Elon Musk's Inactive Twitter Account Purge On Dec. 16, 2022, the bitcoin supporter Jameson Lopp tweeted an alert letting people know that Hal Finney's Twitter account - @halfin - was now active. 'ALERT,' Lopp said. 'Someone has taken control of Hal's Twitter account. Consider that we don't know the intentions of the new owner; it could be compromised.' Lopp's tweet got a reply from the @halfin Twitter account, which disclosed why Finney's account was now active again. 'This is @franfinney. I am tweeting for Hal (as @pavlenex thought) to avoid his account being purged by Elon,' Finney's account tweeted in response to Lopp's tweet on Friday. Fran Finney, Hal's wife, also confirmed from her personal account that she was the one behind activating the account after it wasn't used since 2010. 'I appreciate how people monitor Hal's account. Thank you,' Fran Finney's account said to Lopp. The news follows E...
---
While Elon Musk Plans to Purge 1.5 Billion Inactive Twitter Names, Bitco...


On Dec. 9, 2022, Twitter's owner Elon Musk told the public that the social media company plans to purge 1.5 billion accounts. Musk further added that the deletions would be obvious accounts that have no tweets or they haven't logged in for years. However, after Musk announced this plan, a great number of cryptocurrency proponents have grown concerned that Hal Finney's account would be among the purged names. Finney, who passed away in Aug. 2014, was the first to mention bitcoin in a tweet on the public forum.Bitcoiners Ask Twitter's Elon Musk to Preserve Computer Scientist Hal Finney's Twitter Account Cryptocurrency supporters have been worried that computer scientist Hal Finney's Twitter account will get deleted. The reason people have been fretful about the deletion of Finney's account is because Elon Musk said Twitter plans to delete 1.5 billion inactive accounts. 'Twitter will soon start freeing the name space of 1.5 billion accounts,' Musk wrote on Dec. 9, 2022. 'These are obvious account deletions with no tweets [and] no log-in for years,' Musk added. Running bitcoin - halfin (@halfin) January 11, 2009 One account that has not tweeted in years and has likely not logged in for years, unless a family member or friend still has access, is the early bitcoiner Hal Finney's Twitter account - @halfin. Finney was a computer scientist who was well known for being one of the first people to run the Bitcoin software (besides Satoshi), and the recipient of the first BTC transacti...
---
Meme Coin Economy Heals After the FTX Fiasco Swelling by $1.4 Billion in...


The meme coin economy has seen its value increase 7.77% against the U.S. dollar during the last month, as the meme token market leader dogecoin jumped 29.4% higher in 30 days. Dogecoin has also managed to move from the ninth-largest market cap position to the eighth-largest crypto market valuation this past month. Shiba inu, on the other hand, dropped from the thirteenth largest market cap to the fourteenth spot.Meme Tokens Gained Over 7% Against the Greenback Over the Past Month Amid the craziness with FTX and before the bankruptcy filing, meme coins took a hit when the crypto economy experienced significant fluctuations in value. On Nov. 9, two days before FTX filed for Chapter 11 bankruptcy protection, the meme token economy was valued at $18 billion. Dogecoin (DOGE) suffered a big loss that day dropping 16.5% against the U.S. dollar, according to an archive.org snapshot of coingecko.com stats on Nov. 9, 2022. The second largest meme coin in terms of market capitalization size, shiba inu (SHIB), shed 10.8% in value that day. The third-largest meme token (at the time), baby doge coin (BABYDOGE), lost 14.2% in value 30 days ago on Nov. 9. The meme coin economy has healed in recent times, as the entire lot of meme token assets listed on coingecko.com is approximately $19.4 billion on Dec. 9, 2022. This means that the meme coin economy swelled by $1.4 billion during the past 30 days or recorded an increase of 7.77% against the U.S. dollar. DOGE had a good month against the g...
---
'I Wanted to Punch Kanye'— Free Speech Waffler Elon Musk's Nonsens...


"Vox Populi, Vox Dei, man." So says self-proclaimed Chief Twit Elon Musk from a private jet flying high above the world during a Twitter Spaces appearance on Sunday, Dec. 4 (JST). It does sound nice to say, but the voice of the mob should never be the voice of 'God.' The reasons are myriad. Suffice it to say that in the same way failed crypto-exchange CEO Sam Bankman-Fried supposedly set off Musk's BS detector, so should Musk be setting off our own alarm bells. His actions simply don't match his nice-sounding words, and anyone who refuses to understand free speech is also going to miss the boat on crypto and economic freedom. God Save the 'Technoking,' the People Are Disposable Tesla CEO and self-proclaimed 'free speech absolutist' Elon Musk recently ended a massively-tuned-into Dec. 4 Twitter Space hosted by Mario Nawfal, by noting that we live in a time which, different from times past, doesn't involve "some king or whatever [that would] just by default suppress" free speech. This is interesting, given this seems to be exactly the role self-labeled 'Technoking' Musk is filling via his newly acquired social media platform, by arbitrarily and single-handedly deciding who gets to stay and what they can or cannot say. Musk acts, as billionaire entrepreneur and crypto advocate Mark Cuban has recently noted, like a one-man 'judge and jury.' Cuban tweeted to Musk on Nov. 29: We have no idea what Free Speech on Twitter is because you are judge an...
---
EU Chief Fires Another Warning Shot at Elon Musk Over Twitter's Content ...


New Twitter boss Elon Musk continues to spark controversies, from firing most of the company's employees to dabbling with key features and restoring banned accounts. Now, the billionaire is up against regulators in the European Union (EU). Musk has, time and again, said that his mission at Twitter is to maximize free speech. He appears to be looking for new solutions to very old problems by changing almost everything that goes on behind the scenes. This has put the EU industry chief in the crosshairs with him. Bloc's Second Warning During a video meeting, EU industry chief Thierry Breton threatened the social media platform with a ban unless Musk complies with its strict rules on content moderation. According to a report by FT, Breton told Musk to abandon an 'arbitrary' approach to restoring banned users and adhere to an 'extensive independent audit' of the platform by next year. Following the meeting, Breton said he welcomes Musk's statements of intent to get Twitter 2.0 ready for the DSA, but he believes the platform has 'massive work ahead' to meet its commitments under Digital Services Act - which happens to be Europe's new platform regulation. 'But let's also be clear that there is still huge work ahead, as Twitter will have to implement transparent user policies, significantly reinforce content moderation and protect freedom of speech, tackle disinformation with resolve, and limit targeted advertising.' Notably, this isn't Breton's first warning shot at Musk over ...
---
Hundreds of Twitter Employees Want to Resign After Elon Musk's Ultimatum...


Just three weeks after acquiring social media giant Twitter, Elon Musk has triggered a mass exit at the company. Within the first week, the billionaire fired top executives, including the CEO and CFO, and eliminated over 3,500 job positions. He has now given an ultimatum for the remaining employees to sign up for 'long hours at high intensity' or leave. According to Reuters, hundreds of Twitter workers plan to walk away from the company. Hundreds to Leave Twitter 'Going forward, to build a breakthrough Twitter 2.0 and succeed in an increasingly competitive world, we will need to be extremely hardcore,' Musk told Twitter employees in an email on Wednesday, asking them to click 'yes' if they choose to stay. Employees who failed to respond by 5 pm ET on Thursday would be considered to have quit and given a severance package. A poll on the workplace app Blind asked workers to estimate the percentage of staffers that would leave based on their perception, and over half of the respondents replied 50%. Blind verifies staffers through their work email addresses and enables them to engage anonymously. In another poll, 42% out of 180 respondents chose the 'Taking exit option, I'm free!' answer; a quarter chose to stay 'reluctantly,' while only 7% said they clicked 'yes to stay, I'm hardcore.' A former employee noted that in a private chat on messaging app Signal, about 40 workers out of 50 staff said they chose to leave. Another private Slack group for Twitter's...
---
Bitcoin, Ethereum Technical Analysis: BTC Rebounds Following Bullish Com...


Bitcoin started the week trading below $17,000, as volatility in the cryptocurrency space continued to intensify. Following last week's collapse of FTX, account withdrawals have increased, with several customers opting to remove their tokens from exchanges. However, strong comments from Twitter CEO Elon Musk have helped boost prices. Ethereum remained below $1,300 on Monday.Bitcoin Bitcoin (BTC) started the week trading below $17,000, as market volatility remained high, following last week's collapse of FTX. Since FTX's bankruptcy, the market has struggled to attempt to find support, with BTC trading near this point in today's session. BTC fell to a low of $15,872.94 earlier in today's session, before rallying and reaching a high of $16,864.76. The move away from its current support of $15,800 came as Twitter CEO Elon Musk gave his view on the token. In a response to a tweet from Jason Calacanis, Musk tweeted, 'BTC will make it, but might be a long winter.' As can be seen from the chart above, price strength has also rebounded since this tweet, with the 14-day relative strength index (RSI) now moving higher, towards a ceiling of 39.00. Ethereum Ethereum (ETH) was trading below $1,300 for a third straight day, which comes following recent uncertainty in the marketplace. Despite starting the day, and week, trading at a bottom of $1,178.43, ETH/USD marginally rebounded, climbing above $1,200. The world's second largest cryptocurrency surged to an intraday peak of $1,267.48, wh...
---
Bitcoin Will Make It But There's a Catch, Says Elon Musk


The world's richest man has once again shared his thoughts on the primary cryptocurrency by means of total market capitalization. Tesla's CEO, as well as Twitter's new owner, reiterated his stance that Bitcoin will make it. Bitcoin will make it, but it might be a long winter. That's what Elon Musk had to say about the primary cryptocurrency in the context of what's going on right now. BTC will make it, but might be a long winter — Elon Musk (@elonmusk) November 14, 2022 This came as a response to the question of where BTC will be in another year, given that in November 2021, it was trading at its all-time high of $69K. Winter is a popular reference in the finance world, describing a prolonged period of time where market prices are depreciating. The latest tweet by Musk is no surprise. As CryptoPotato reported recently, he joined a discussion on Twitter with more than 60,000 listeners to talk about the FTX fallout. Back then, he said: I think there probably is a future for Bitcoin, Ethereum, and DOGE. I can't really speak to the others. But if you've got one of those three in a cold wallet and off an exchange, I think my guess is it works out well. The post Bitcoin Will Make It But There's a Catch, Says Elon Musk appeared first on CryptoPotato.
---
Ark Invest CEO Warns Fed's Actions Could Lead to 1929-Like Great Depress...


The CEO of investment management firm Ark Invest has warned that if the Federal Reserve does not pivot, the current economic setup will be similar to 1929 when the Great Depression started. Tesla CEO and Twitter chief Elon Musk agreed.The Fed, Inflation, and the Great Depression Ark Invest CEO Cathie Wood, who is also the investment management firm's founder and CIO, shared her thoughts about inflation and how the Federal Reserve could push the global economy into a 1929-like depression in a series of tweets Saturday. She explained that the Federal Reserve raised interest rates 'to squelch financial speculation' in 1929, followed by Congress passing the Smoot-Hawley Tariff Act in 1930, which put more than 50% tariffs on over 20,000 goods and pushed the global economy into the Great Depression. 'If the Fed does not pivot, the setup will be more like 1929,' she warned. Tesla, Spacex, and Twitter boss Elon Musk concurred. Wood pointed out that 'If inflation is unwinding, as we believe, then we could be heading back to the future, the Roaring Twenties,' emphasizing: The setup is remarkably similar! The Ark Invest executive noted that the world was at war prior to the Roaring Twenties, citing WWI and the Spanish Flu pandemic. Inflation soared during that time, peaking at 24% in June 1920, she continued, adding that the Federal Reserve responded by raising interest rates less than two-fold from 4.6% to 7% in 1919-1920. Inflation then dropped 'precipitously in one year to negative ...
---
Biggest Movers: DOGE Surges Following Elon Musk Comments on the Meme Coi...


Dogecoin was one of the only crypto tokens to trade higher on Saturday, as comments from Elon Musk boosted prices. Speaking in a Twitter Spaces centered around the FTX collapse, Musk was heard saying: "Doge to the moon.' Solana on the other hand extended its declines, falling by over 15%. Dogecoin (DOGE) Dogecoin (DOGE) was one of today's only gainers, as the token was boosted by comments from Tesla and Twitter CEO Elon Musk. Following a low of $0.0793 on Friday, DOGE/USD rose to a peak of $0.09399 earlier in today's session. This surge saw the token climb by as much as 6%, breaking out of a key resistance level of $0.08900 in the process. Speaking in a Twitter Spaces conversation hosted by Mario Nawfal, Musk added, "I think so, don't bet the farm on DOGE, but I'm working hard on the DOGE.' As can be seen from the chart, today's spike has helped push the relative strength index (RSI) of 14 days above a key ceiling of 49.30. Currently, the index is tracking at 50.87, with the next visible point of resistance at the 53.00 mark. Solana (SOL) Solana (SOL) on the other hand was trading significantly lower, as prices of the token dropped for a second straight session. After climbing to a high of $18.68 earlier in Friday's session, SOL/USD sank to a bottom of $14.92 to start the weekend. Overall, solana is now trading by nearly 60% lower in the past seven days, with some expecting further upcoming declines. Looking at the chart, the downw...
---
Twitter Files for Payment Business — Elon Musk Says Platform Could...


Twitter has filed paperwork with the U.S. Financial Crimes Enforcement Network (FinCEN) to start a payment business. Tesla CEO and Twitter chief Elon Musk explained the social media platform could offer 'an extremely compelling money market account' in addition to 'debit cards, checks, and whatnot.'Elon Musk Shares Ideas for Twitter's Payment System Twitter Inc. filed registration paperwork with the Treasury Department's Financial Crimes Enforcement Network (FinCEN) to allow it to process payments, The New York Times reported Wednesday, noting that it has seen the filing. During a Twitter Spaces audio podcast on Wednesday, Tesla CEO and the new Twitter boss outlined a comprehensive overview of Twitter's business. During the broadcast, he described how the social media company plans to 'enable monetization for creators.' Musk then shared his ideas of how verified users who pay an $8 monthly subscription to Twitter will be 'authenticated by the payment system,' elaborating: Now we can say like, ok, you've got a balance on your account, do you want to send money to someone else within Twitter? … And maybe we pre-populate their account with and say, ok, we're gonna give you 10 bucks, and you can send it anywhere within Twitter. Users with authenticated bank accounts attached to their Twitter accounts will be able to 'exit out of the system' and transfer their Twitter balance out of the platform, Musk explained, adding: Then the next step would be to offer an extremely com...
---
Biden Accuses Twitter of Spewing Lies Across the World as Elon Musk Roll...


Elon Musk has started rolling out a $7.99-a-month Twitter Blue subscription service. U.S. President Joe Biden, however, is concerned that the billionaire has bought a social media platform 'that spews lies all across the world.' Stating that there are 'no editors anymore in America,' Biden stressed: 'How do we expect kids to be able to understand what is at stake?'Twitter Rolls Out $7.99/Month Blue Subscription Tesla CEO and Twitter boss Elon Musk has begun rolling out the Twitter Blue subscription service. Users on the social media platform began noticing Friday that they could now sign up for the Twitter Blue verification for $7.99 a month. 'Starting today, we're adding great new features to Twitter Blue,' a notice on Twitter reads. The service is currently available in the U.S., Canada, Australia, New Zealand, and the U.K. The notice lists three features that are 'coming soon' for Twitter Blue subscribers. Firstly, the company explained that Blue subscribers will only see 'half the ads' and they will be 'much better ones.' The social media giant detailed: 'Since you're supporting Twitter in the battle against the bots, we're going to reward you with half the ads and make them twice as relevant.' In addition, Blue subscribers can 'post longer videos' and they will have 'Priority ranking for quality content.' Twitter elaborated: Your content will get priority ranking in replies, mentions and search. This helps lower the visibility of scams, spam, and bots. A user asked Musk ...
---
Twitter Begins Mass Layoffs — Elon Musk Says 'No Choice' Citing $4...


Tesla CEO and Twitter chief Elon Musk has begun massive layoffs at the social media company. The billionaire explained that there is no choice since Twitter is losing over $4 million a day. 'Twitter has had a massive drop in revenue, due to activist groups pressuring advertisers, even though nothing has changed with content moderation and we did everything we could to appease the activists,' he explained.Mass Layoffs at Twitter Twitter's new boss, Elon Musk, has laid off about 50% of employees at the social media company. The billionaire sent an email to all Twitter employees Thursday evening informing them whether their employment has been terminated. 'In an effort to place Twitter on a healthy path, we will go through the difficult process of reducing our global workforce on Friday,' the letter states. 'This action is unfortunately necessary to ensure the company's success moving forward.' The letter adds that by 9 a.m. PST on Friday, Nov. 4, 'everyone will receive an individual email with the subject line: Your Role at Twitter … If your employment is not impacted, you will receive a notification via your Twitter email. If your employment is impacted, you will receive a notification with next steps via your personal email.' The letter continues: To help ensure the safety of each employee as well as Twitter systems and customer data, our offices will be temporarily closed and all badge access will be suspended. If you are in an office or on your way to an office, plea...
---
More Dogelon Mars (

#ELON

) News