| | | |
| --- | --- | --- |
| | COVER Protocol | #COVER |
---
| | | | | |
| --- | --- | --- | --- | --- |
| COVER Price: | $6.19 | | Volume: | $19.2 K |
| All Time High: | $1,717 | | Market Cap: | $489.9 K |
---
---
| | | | | |
| --- | --- | --- | --- | --- |
| Circulating Supply: | 79,180 | | Exchanges: | 3+ |
| Total Supply: | 82,000 | | Markets: | 4+ |
| Max Supply: | — | | Pairs: | 6 |
---
---
---
The price of #COVER today is $6.19 USD.

The lowest COVER price for this period was $0, the highest was $6.19, and the exact current price of one COVER crypto coin is $6.18701.

The all-time high COVER coin price was $1,717.

Use our custom price calculator to see the hypothetical price of COVER with market cap of BTC or other crypto coins.
---
---
The code for COVER Protocol crypto currency is #COVER.

COVER Protocol is 3 years old.
---
---
The current market capitalization for COVER Protocol is $489,888.

COVER Protocol is ranking downwards to #925 out of all coins, by market cap (and other factors).
---
---
The trading volume is modest during the past 24 hours for #COVER.

Today's 24-hour trading volume across all exchanges for COVER Protocol is $19,198.
---
---
The circulating supply of COVER is 79,180 coins, which is 97% of the total coin supply.

A highlight of COVER Protocol is it's exceptionally low supply of coins, as this tends to support higher prices due to supply and demand in the market.
---
---
---
---
---
---
---
---

Transition of Infrastructure & Downtime


Cover Community, Thank you for the messages of support during this time of transition; they are greatly appreciated. Over the next week, we will work to secure and transfer ownership of infrastructure, including Cover Protocol websites and apps. As part of this transition, all UIs will be unavailable for approximately 7-days. We understand this may cause a feeling of uncertainty for some, which is why we are providing a 48-hour advance notice for those to collect any rewards. Downtime will start 09/03/21 at 12:30 PM EST. We want to emphasize that at this time, all funds are SAFU. Deposited xCOVER will remain staked, and any rewards unclaimed prior to this downtime will be claimable upon the website/app (including CoverRules order book website). All contracts can still be interacted with via Etherscan once this downtime starts. We appreciate your patience and understanding as we navigate this process. Thank you, Cover Protocol Website | App | Docs | Twitter | Discord | Telegram | GitHub | YouTube


---

Structure and Personnel Changes


Cover Protocol would like to announce the departure of CryptoPumpkin, Alan, and KryptoCucumber, who are leaving due to increasing personal commitments. We are working with them to return vested tokens and contract control to the treasury. As we look ahead, the remaining team members are committed to the Cover Protocol community. We will work with the Cover Protocol community to craft a clear roadmap for the future of this protocol. We appreciate your continued support and we will move forward together, stronger. Thank you, Cover Protocol Website | App | Docs | Twitter | Discord | Telegram | GitHub | YouTube


---

Cover Protocol V2: New Coverages & Liquidity Mining Program


New Coverage Pool We are excited to announce that a new "Blue Pool" has been added to Cover Protocol. You can now provide and buy coverage for the following blue-chip protocols through the CoverRules order books.CURVEYEARNBANCORAAVECOMPOUNDBALANCERUNISWAP DAI will be used as the collateral token to mint coverage and as the payout token in the event of an accepted claim.Coverage ProvidersMint the coverages in the Cover app.Sell coverage (CLAIM tokens) on CoverRules order books to leverage your returns and control the risks. You can redeem back with all the CLAIM and NOCLAIM tokens with a 0 redeem/unwrap fee for this pool.Coverage Buyers As a coverage buyer, all you need to do is buy coverage (CLAIM tokens) on the CoverRules order books. Note: there needs to be liquidity before you can buy coverage on a certain risk.How to Use Cover Protocol Read the documentation carefully to understand how Cover Protocol worksMining Program This "Blue Pool" is the first to participate in the Liquidity Mining program. You will be able to earn rewards by providing liquidity on the order books for the trading of the following pairs on CoverRules.C_CURVE/DAI — Rewards: 5 COVER per weekC_YEARN/DAI — Rewards: 5 COVER per weekC_BANCOR/DAI — Rewards: 5 COVER per weekC_AAVE/DAI — Rewards: 5 COVER per weekC_COMPOUND/DAI — Rewards: 5 COVER per weekC_BALANCER/DAI — Rewards: 5 COVER per weekC_UNIS...
---

Minting Tokens for Liquidity Mining & Ending Migration


All of the actions below are in reference to the "Minting Tokens To Continue Shield Mining" proposal, which was voted on and passed by the Cover Protocol Community. The proposal enacted can be found here. The additional supply of 14,489.751566617860993128 tokens was minted to dev multi-sig. These tokens will be strictly be used for liquidity mining. This transaction can be found here. The max supply prior to this proposal being enacted would have been 70,200 tokens. The total circulating supply at the time of ending migration was 67,510. A total of 2,690 tokens went un-migrated. The minter of the COVER token is set to the 0x address with this transaction. The wETH distributor was also terminated after 6 months. Any unclaimed wETH from the compensation plan was sent to the 0x address. Migration has officially ended and the new max supply of COVER is set at 82,000 tokens. The team is very excited to start this new chapter of Cover Protocol! Thank you to the community for coming together to vote on this important proposal! More details on liquidity mining will come in the next week.


---

Cover V2 is Live on Mainnet


ETH Mainnet — Live URL: https://app.coverprotocol.com. We have deployed one Cover pool for now and will continue to deploy more as gas prices are more reasonable. Follow the user guide here to learn how to provide and purchase coverages. Note: Cover V1 can now be accessed at https://v1.coverprotocol.com.BSC Mainnet — Partially Live URL: https://bsc.coverprotocol.com. One pool is deployed on BSC where you can start to mint covTokens. Unfortunately, orderbook trading of the covTokens is currently not supported on BSC due to the lack of support of orderbooks from 0x. We have been in contact with the team; the timeline to support BSC is undetermined. As the team is looking for an alternative, we encourage all our community members to share any ideas and suggestions of an alternative trading solution for coverages (cTokens). At the same time, you can OTC trade the covTokens. To facilitate OTC deals, we have created a Discord OTC channel: https://discord.gg/RNXN2QXp.


---

Cover Protocol V2 Mainnet & BSC Dual Launch


Hope you all enjoyed the Ropsten testing and were able to get used to how Cover V2 works. Tomorrow, May 11th afternoon EST timeline, we will be launching Cover V2 on the ETH and BSC mainnet.Note: If gas prices remain at these elevated levels we may scale down the scope of the mainnet launch until gas prices drop with 1 pool deployed.Cover Pools Four pools will be launched on ETH Mainnet.1 Ruler CDS pools for selected Ruler Pairs1 BoringDAO pool for its products1 YearnV2 pool for some of its larger vaults1 stablecoin pool for popular stablecoins One pool will be launched on BSC Mainnet with coverage expiration on May 31st. Read our claims guidelines here to understand what is Covered. All pools will be launched with Dai as the collateral/payout. For the YearnV2 pool, the coverage will be expanded to the underlying projects the strategy invests in. For example, if the DAI vault is invested in Curve, and Curve gets hacked and causes loss on the Dai vault, you will be covered.Rewards for Cover V2 There will be airdrop rewards for liquidity providers of certain Cover Pools via partner incentives. The rewards will be based on the amount of liquidity a user provides in the orderbook scaled by how far away from the market price the order is and weighted by time the order is open. The rewards will be claimable on the order books app when they are ready (will be announced with user guide).How to Make a Return As a Provider As...
---

Cover V2 is Here


Today, we are excited to announce the launch of Cover V2 on Ropsten Testnet. Mainnet launch will be in ~1 week.How does it work? CLAIM tokens are coverages, meaning you can redeem them for collateral when an accepted exploit happens on an underlying riskThese risks are fully customizable, for example, allowing coverages for a single asset in a pool (USDT), or covering the entire pool (GUSD3crv pool).Each risk will have its own payout percentage in the event of an exploit, some may fully payout, partially payout, or even not payout at all. NOCLAIM tokens represent the right to redeem collateral after the expiration date.If no risks are exploited, NOCLAIM is fully redeemableIf exploited risks fully payout, NOCLAIM is not redeemableIf exploited risks partially payout, NOCLAIM is partially redeemable As a Coverage Provider, you make a return by selling CLAIM tokens.Mint both CLAIM and NOCLAIM tokensSell CLAIM tokens on the orderbooks with a limit or market orderKeep the NOCLAIM tokens As a Coverage Seeker, your goal is to get covered on the risks you are exposed to somewhere else.Go to the Cover Pool and find the risks you are exposedBuy CLAIM tokens on the orderbooks with a limit or market order To access testnet Cover V2, go to https://ropsten.coverprotocol.comUser GuideGet Rospten tokens guideCover V2 user guideCover V2 appCover Beta https://beta.coverprotocol.com will be deprecated. Remaining funds can be redeemed ...
---

Cover Update — March, 2021


Cover Update — March, 2021 Hi y'all, hope everyone had another awesome weekend.xCOVER is successfully launched with over 8000 COVER deposited. The fee receiving contract has received a little over 4,400 DAI in the past 3 days.The Cover team is eagerly awaiting the return of the COVER v2 audit from Quantstamp so that we can release our hard work and showcase some of the improvements v2 will offer. Notably it is a significant increase in capital efficiency, with the new model allowing for effectively a 10x leveraged position for pooled risk. An update on the release date for v2 should be announced as soon as we hear back from the auditors and an April launch is still on the table currently.The new v2 UI work is led by our newest team member Niicoder. The UI looks a lot cleaner and more user friendly. Currently, we are focusing on integrating the UI with on-chain data through a The Graph subgraph.We have also been busy building the order books and the matching engine that has been built on top of 0x Protocol. We expect this to add a new dynamic to the way coverage providers will be able to set a return at a desired amount while large purchasers of coverage can do so with minimal slippage. It will soon be deployed on Kovan for testing.We are currently iterating and largely simplifying the Cover Reserve contracts for the Cover Protocol Money Market which will be the foundation for our streamed opt in coverage for smart ...
---

Launch of Credit Default Swaps


Cover Protocol is pleased to announce the official launch of Credit Default Swaps (CDS), the first of its kind in the DeFi space! For the first venture into CDS, we will be partnering with Ruler Protocol. You can read more about CDS on Cover from our previous article. Lenders on Ruler Protocol now have the option of hedging the default risk from the borrower side. As a result, insolvency risk will be minimized even in the absence of liquidations. In order to attract liquidity to the pools offering this coverage, Ruler will incentivize these Cover pools using RULER tokens. We will also list Ruler Protocol for platform coverage options as well. An allocation of ~20,000 $RULER tokens will be spread across Ruler Pairs in the next 3 months. The first batch consists of 3 CDS pools and a Ruler Protocol coverage pool. Please see the below chart for a breakdown of information.Farming/Rewards Mining as a New Farmer If you are new to Cover, be sure to read our documentation before anything. To farm the new pools:Mint coverage on the above CDS options and or protocol. Make sure expiry lines up with your choice (please select the correct params).Add NOCLAIM token liquidity into the [50% NOCLAIM / 50% DAI] Balancer pool for the corresponding CDS and or protocol with the correct expiration.You can choose to sell (as a coverage provider) or hold (as a market maker) CLAIM tokens. Read more here about the impact of your options.Deposit th...
---

Introduce Credit Default Swaps


Introducing Cover Protocol Credit Default Swaps (CDS), a new DeFi coverage product that will expand on the smart contract coverage offering already available through Cover. This new product is the first of what will be a series of coverage products that we will provide to support a future undercollateralized DeFi ecosystem.What is a Credit Default Swap? As you may be aware, the Credit Default Swap is the financial tool Michael Burry used to short the mortgage CDOs in 2007, made famous by the movie "The Big Short". In essence, a CDS is a contract that gives the holder the right to a payment if a debtor does not have the ability to repay a loan within the set guidelines of the credit that is provided. Globally the CDS market is around $4 trillion annually."A credit default swap (CDS) is a financial swap agreement that the seller of the CDS will compensate the buyer in the event of a debt default (by the debtor) or other credit event." — WikipediaWhy Credit Default Swaps? In recent weeks we saw Alpha Homora exploited for $37 million via a lending contract of undercollateralized credit from the Iron Bank. Given that the Alpha team has a large treasury and the ability to honor the loss this will work itself out. However, if Alpha were not able to pay, then the Iron Bank would have been at a loss. This is where a CDS market comes in, to protect lenders like the Iron Bank against default on under-collateralized loans....
---
---
---
Circle Issues Update Amid Stablecoin Volatility; Firm Is Prepared to 'St...


On Saturday, March 11, 2023, Circle Financial updated the public about its stablecoin, USDC, and noted that the stablecoin's liquidity operations will resume normally on Monday morning in the United States. Circle said that the company's teams would be ready on Monday to 'handle significant volume' and that the firm will "stand behind USDC and cover any shortfall using corporate resources, involving external capital if necessary."Circle Financial Confident in USDC Stability Despite SVB Failure Circle, the issuer of the second-largest stablecoin by market capitalization, usd coin (USDC), addressed the public on Saturday, noting that the firm will be ready on Monday to 'handle significant volume.' The company discussed the failure of Silicon Valley Bank (SVB) and also emphasized the USDC's 'strong liquidity and reserve assets.' On Monday, the stablecoin issuer noted, 'USDC will remain redeemable 1-for-1 with the U.S. dollar.' While usd coin (USDC) is a crypto asset that operates 24/7 on various blockchains, Circle emphasized that 'issuance and redemption is constrained by the working hours of the U.S. banking system.' Circle's stablecoin USDC dropped to a low of $0.877 per unit on Saturday, March 11, 2023, at 3:02 a.m. ET. Following the announcement from Circle, USDC managed to rise 10% higher, and at 4:15 p.m., the stablecoin was swapping for $0.971 per coin. In addition to USDC, five other stablecoin assets deviated from their $1 parity on Saturday. USDCUSD chart...
---
SEC Chairman Proposes Amending Federal Custody Rules to Cover 'All Crypt...


U.S. Securities and Exchange Commission (SEC) Chairman Gary Gensler has proposed amending federal custody rules to cover 'all crypto assets.' The SEC chief said: 'Though some crypto trading and lending platforms may claim to custody investors' crypto, that does not mean they are qualified custodians.'Gary Gensler Proposes Including Crypto in Expanded Custody Rules The chairman of the U.S. Securities and Exchange Commission (SEC), Gary Gensler, announced Wednesday that he has proposed changes to federal regulations 'to expand and enhance the role of qualified custodians.' All asset classes, including crypto, would be included in the expanded custody rules under his proposal, and companies offering crypto custody services to their clients will be required to obtain registration. Gensler emphasized: Today's proposal, in covering all asset classes, would cover all crypto assets. The SEC chairman proceeded to highlight four key proposed changes to the existing regulations. Firstly, the proposal will help ensure that customer assets 'are properly segregated,' he said. Secondly, for the first time, advisers and qualified custodians will be required to 'enter into written agreements with each other that help guarantee the custodian's protections,' Gensler explained, adding that they include requiring custodians to undergo annual evaluations from public accountants, provide account statements, and provide records upon request. The proposal would also 'make explicit that the custody ru...
---
Chiliz (CHZ) Finds Cover At This Level For Some Temporary Relief


Chiliz (CHZ) looks bearish as it shaved off as much as 64% in 50 days. This entertainment- and sport-based blockchain platform is built on Socios and allows fans to interact with sporting brands and teams. Here's a quick glance at how the crypto is performing so far: Chiliz plunges by 0.70% Sellers are seen to dominate the bearish market CHZ has trimmed down as much as 64% in just 50 days With that said, users can fully take advantage of the platform to stake and dish out exclusive information and news tidbits from their favorite sporting teams, plus also freely share their opinions on the latest news. The 2022 FIFA World Cup gave Chiliz a boost as it pumped up the orders. However, Chiliz can't seem to keep up with the rest of the cryptocurrencies and has been lagging behind or going downward spiral. CHZ Currently Trades At $0.1085 According to CoinMarketCap, CHZ is down by 0.70% or trading at $0.1085 as of this writing. With this scenario, the sellers clearly have the upper hand while the buyers need to hang on and wait for the market to switch to bullish and stabilize in terms of demand before placing any bids. Chiliz is a crypto exchange with the CHZ token explicitly designed for buying fan tokens that give users the ability to decide and govern regarding certain policies, stadium names, team lineups, franchises, and selection of players. In addition, the CHZ token also functions similarly to BEP2 on Binance and ERC20 token on Ethereum. Hitting The Oversold Zone...
---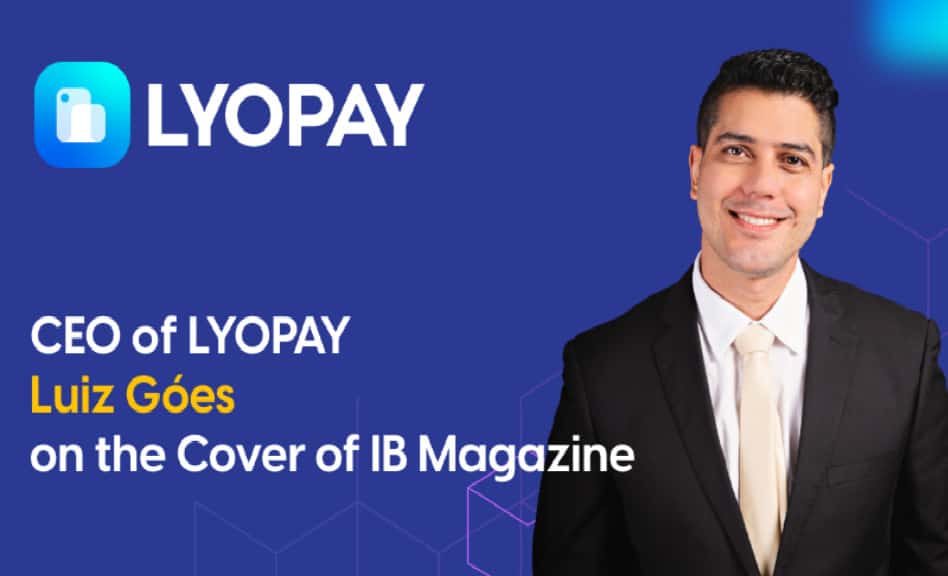 CEO of LYOPAY Luiz Góes on the Cover of IB Magazine


[PRESS RELEASE - Please Read Disclaimer]Who is the Brazilian Entrepreneur Luiz Góes Luiz Góes is a business executive with a specialization in process management, leadership, and business implementation. He has worked in fintech management and has promoted several digital business consultancies. He graduated with a bachelor's degree in military science from Academia Militar das Agulhas Negras in 2008, and holds an MBA in public management. He also holds a Medal of Military Merit for excellent services rendered to the Brazilian Army. In 2018, Luiz became a financial advisor for a fintech group in Dubai. In 2020, he founded LGbank, a cryptocurrency escrow platform. He developed and designed business tokenization projects with an emphasis on project implementation and profit-sharing, and based on crowdfunding models. In Brazil, he leads a group with 8,000 clients that participate in business under his recommendation. He has also provided consultancy for altcoins and token projects. Luiz Góes is the CEO of LYOPAY, a project in the fintech and cryptocurrency industry. What is LYOPAY Company LYOPAY is a brand of DIGILYO APP LTD, a company based in London, UK. There are other registered entities as it is a project that operates on a global scale, so as to be compliant with the regulations of each country. The LYOPAY vision is a world in which cryptocurrencies are used as our primary money. Today, to make purchases or transactions, especially for businesses, conv...
---
Insurance Company Sued for Refusing to Cover $7.5 Million Bitcoin Ransom...


A British jeweler has sued its insurance company for refusing to cover a bitcoin ransom payment of $7.5 million. The jeweler paid the hackers to prevent sensitive customer data from being published.Insurance Company Faces Lawsuit for Refusing to Cover Bitcoin Ransom Payment A luxury British Jeweler, Graff, has sued its insurer, The Travelers Companies, for refusing to cover a ransom bitcoin payment, Bloomberg reported last week. The jeweler paid a bitcoin ransom of $7.5 million to the Russian hacking gang Conti after the group threatened to leak data of the company's big clients, including Middle East royalty. Graff negotiated the ransom payment amount with the hackers and managed to reduce it from $15 million. Conti attacked Graff in September last year and leaked data about the royal families from Saudi Arabia, the United Arab Emirates (UAE), and Qatar. The hackers apologized to the families but said that they may need to leak more of Graff's data. 'Our goal is to publish as much of Graff's information as possible regarding the financial declarations made by the US-UK-EU neo-liberal plutocracy, which engages in obnoxiously expensive purchases when their nations are crumbling under economic duress,' the hacking group reportedly said. While authorities have discouraged individuals and businesses from making ransom payments, there are circumstances where paying them is beneficial, particularly when the damage inflicted by a cyber attack is greater than the cost of the ransom. ...
---
UK Jeweler Sues Insurer Over Failure to Cover $7.5M Bitcoin Ransomware L...


British multinational jeweler Graff Diamonds Corp. has filed a lawsuit against its insurer, The Travelers Companies, Inc. (Travelers), for failing to provide indemnity after it paid $7.5 million in Bitcoin to ransomware hackers. Graff Sues Insurer Over $7.5M BTC Ransom Loss According to a Bloomberg report on Wednesday, Graff's security systems were exploited by the notorious Russian hacking gang Conti in September 2021. The breach allowed the group to access data belonging to 'high-end' customers, including U.S. former President Donald Trump and the royal families in Saudi Arabia, UAE, and Qatar. After the attack, Conti published 69,000 documents containing the private information of Graff's clients while threatening to release more if the billion-dollar jewelry brand did not pay $15 million in Bitcoin. In November 2021, Graff paid the gang 118 BTC (worth $7.5 million at the time), half of the amount initially requested. The company said it had to pay the ransom to protect its customers. 'The criminals threatened targeted publication of our customers' private purchases. We were determined to take all possible steps to protect their interests and so negotiated a payment which successfully neutralized that threat,' a Graff spokesperson said. After the incident, the company expected its insurer to cover the losses it incurred from the attack because it was an 'insured risk.' However, Graff is yet to receive indemnity from Travelers. 'We are extremely frustrated and disappointed ...
---
Trudeau Invokes Emergencies Act to End Freedom Convoy Protests — C...


The Canadian government has invoked the Emergencies Act to deal with the Freedom Convoy protests, said Prime Minister Justin Trudeau. The scope of Canada's anti-money laundering and terrorist financing rules is also broadened to cover crowdfunding platforms and 'all forms of transactions, including digital assets such as cryptocurrencies.' Canadian Government Invokes Emergencies Act Canadian Prime Minister Justin Trudeau announced Monday that 'the federal government has invoked the Emergencies Act to supplement provincial and territorial capacity to address the blockades and occupations.' This rarely-used act, which Trudeau is the first prime minister to invoke, gives the government temporary powers it does not normally have. Trudeau said the new measures would be 'geographically specific and targeted only to where they are needed.' They will also be 'time-limited.' The prime minister explained that he invoked the Emergency Act to deal with the Freedom Convoy protests, which started on Jan. 28 by Canadian truckers opposing a vaccinate or quarantine mandate. The protests have shut some border crossings and paralyzed downtown Ottawa. Chrystia Freeland, Canada's deputy prime minister and the minister of finance, detailed that one of the measures enables banks to freeze accounts, stating: As of today, a bank or other financial service provider will be able to immediately freeze or suspend the account of an individual or business affiliated with these illegal blockades without a c...
---
More COVER Protocol (

#COVER

) News