| | | |
| --- | --- | --- |
| | Alpha Venture DAO | #ALPHA |
---
| | | | | |
| --- | --- | --- | --- | --- |
| ALPHA Price: | $0.10 | | Volume: | $6.5 M |
| All Time High: | $2.92 | | Market Cap: | $82.6 M |
---
---
| | | | | |
| --- | --- | --- | --- | --- |
| Circulating Supply: | 846,000,000 | | Exchanges: | 24 |
| Total Supply: | 1,000,000,000 | | Markets: | 32 |
| Max Supply: | 1,000,000,000 | | Pairs: | 30 |
---
---
---
The price of #ALPHA today is $0.10 USD.

The lowest ALPHA price for this period was $0, the highest was $0.098, and the exact current price of one ALPHA crypto coin is $0.09762.

The all-time high ALPHA coin price was $2.92.

Use our custom price calculator to see the hypothetical price of ALPHA with market cap of BTC or other crypto coins.
---
---
The code for Alpha Venture DAO is #ALPHA.

Alpha Venture DAO is 5.6 years old.
---
---
The current market capitalization for Alpha Venture DAO is $82,582,535.

Alpha Venture DAO is ranking downwards to #267 out of all coins, by market cap (and other factors).
---
---
The trading volume is big today for #ALPHA.

Today's 24-hour trading volume across all exchanges for Alpha Venture DAO is $6,533,262.
---
---
The circulating supply of ALPHA is 846,000,000 coins, which is 85% of the maximum coin supply.
---
---
---
---
---
---
Note that there are multiple coins that share the code #ALPHA, and you can view them on our ALPHA disambiguation page.
---
---
---
---
Bitcoin Bull Market Patterns Start to Appear: Bitfinex Alpha


2The crypto market has showcased an impressive run surpassing traditional in terms of growth as well as resilience. Bitcoin's price trajectory, for one, offered a compelling glimpse into its robust health. Over the past year, the flagship crypto has [posted over 65% gains. Despite this, the long-term Bitcoin holders (LTHs) are yet to capitulate. Long-Term Bitcoin Holders Stand Firm According to the latest report from Bitfinex Alpha, the diminishing Coin Days Destroyed (CDD) metric offers a unique perspective on the current market conditions. It indicates that, despite the significant excitement surrounding this asset, long-term holders (LTHs) have not yielded to market forces. Coin Days Destroyed (CDD) essentially serves as a metric that gauges the level of economic activity within the Bitcoin network. It aims to offer a more intricate perspective compared to merely examining transaction volume in isolation. Such a trend is indicative of investors' belief in the value proposition and future potential of Bitcoin, the report explained. Meaning - that even the ongoing rally might not be sufficient to entice the most steadfast supporters to part with their holdings. 'Such conviction is indicative of the underlying strength and resilience of the Bitcoin market.' Low Sell-Side Liquidity Bitfinex Alpha also pointed out that the current market is seeing low sell-side liquidity which is supported by the fact that large Bitcoin holders are refraining from selling. This indicates that t...
---
Stablecoins Built on Bitcoin — Lightning Labs Launches Taproot Ass...


Lightning Labs has released the mainnet alpha of its Taproot Assets daemon, advancing the project that seeks to enable stablecoins and other token assets on the Bitcoin blockchain. The software provides developers with tools to begin issuing and managing assets on Bitcoin and integrating them with the layer-two (L2) network.Lightning Labs Wants to 'Bitcoinize the Dollar' Although Taproot took some time to gain momentum, its use cases have continued to grow since the integration of Bitcoin-based Ordinal inscriptions and its November 2021 implementation with Bitcoin. The Lightning Labs team has utilized Taproot to develop token assets transferable via Lightning Network payment channels. Taproot is a Bitcoin protocol upgrade that introduced Schnorr signatures and a new scripting language, Tapscript. These advancements allow for the creation of intricate smart contracts and digital assets on Bitcoin, while also preserving user privacy. The Taproot Assets daemon utilizes Taproot technology to facilitate the issuance of stablecoins and other assets on Bitcoin. Ordinal inscriptions and BRC20 tokens also employ Taproot for asset creation on Bitcoin. With the mainnet alpha launch, the Taproot Assets protocol will feature full functionality for onchain issuance, redemption, and transfer of BTC-based assets. Developers have the capability to mint new assets, destroy assets they have in custody, and develop apps for end users to send and receive assets using Bitcoin's blockch...
---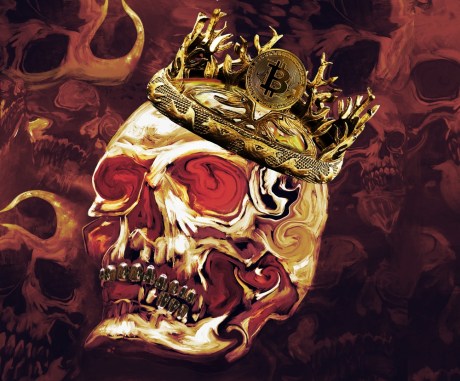 The Great Bitcoin Comeback: Will Alpha Coin Retake $28,000 Before August...


Bitcoin (BTC) is currently marked by cautious sentiments as the Crypto Fear and Greed Index holds steady within the fear zone, scoring 39 out of 100 and showing a slight increase from the previous day. This sentiment reflects the prevailing uncertainty in the cryptocurrency realm. Amidst this backdrop, Bitcoin's price trend takes center stage, influenced by the evolving dynamics of the market. Zooming in on the price action reveals a distinct pattern on the 4-hour timeframe. Bitcoin's price, guided by a falling channel pattern, traces a consistent downtrend, oscillating between two parallel trendlines. This price movement hints at the formation of a well-recognized bullish reversal pattern, known as the falling parallel channel. At its current valuation of $25,877 according to CoinGecko, Bitcoin experienced a minor 0.6% dip in the last 24 hours and a marginal 0.3% decline over the past week. Despite these fluctuations, the price behavior strikingly emulates the falling parallel channel, suggesting the potential for a shift in momentum. Deciphering Bitcoin Falling Parallel Channel The falling parallel channel is a technical pattern often observed during a downtrend. It features two parallel trendlines encompassing the price action within a defined range. The lower trendline provides a support level, while the upper trendline acts as resistance. This pattern typically indicates a possible trend reversal, with a breakout above the upper trendline indicating an imminent bul...
---
MetaCene Revolutionizes Blockchain Gaming with Successful MMORPG Alpha T...


[Press Release - Singapore, Singapore, August 9th, 2023] The blockchain gaming industry is undergoing a transformation and leading this charge is MetaCene, a pioneering AAA-inspired next-gen MMORPG incubated and published by MixMarvel. Building on its foundational strengths—dynamic gameplay, blockchain integration, and deep community engagement—MetaCene has wrapped up its immersive Alpha Test. A post-apocalyptic society, where survivors leverage diverse NFTs to craft a new civilization, emerged as the testing ground for innovative game dynamics and community-driven experiences. As players embarked on this journey from July 31st to August 7th, 2023, the gaming community awaited feedback and insights on this groundbreaking experience. Diving into the MetaCene Universe The Alpha Test's landscapes, namely the Origins of Clouds, Birdcry Town, and Sky Metropolis, unveiled a tapestry of lore, challenges, and technological wonders. Each zone, rich in narrative and design, presented players with unique opportunities for exploration, interaction, and accomplishment. The Origins of Clouds, for instance, offered a visually stunning entry into MetaCene's universe, while Sky Metropolis stood as a beacon of future digital societies. Participants were met with a potent blend of Player vs. Environment (PVE) and PVP interactions as prominent features during the Alpha phase. The test emphasized the weight of each player's choices and their ripple effect throughout the game's e...
---
Exciting Adventure Awaits as My Neighbor Alice Unveils Alpha Season 3: E...


[Press Release - Stockholm, Sweden, June 21st, 2023] My Neighbor Alice unveils crafting features, Elle Collaboration, and free trials in the upcoming ALPHA Season 3. My Neighbor Alice, the innovative fully-decentralized open-world game, is thrilled to announce its latest crafting features in its immersive gameplay in Alpha Season 3, launching on June 27, 2023. The Alpha Season 3 brings gaming to a new level with an exclusive collaboration with the legendary fashion and lifestyle brand ELLE. The exclusive relationship with ELLE bridges the gap that combines fashion, lifestyle, and gaming to bring an immersive experience for players. This new season includes novel features such as Townhubs, free renting, and a simple Crafting system to improve the gameplay experience and inspire innovation. Keeping with the team's dedication to inclusivity and accessibility, My Neighbor Alice will be offering a limited-time Free Trial, allowing more players to enjoy the world of My Neighbor Alice. The Free Trial for My Neighbor Alice Season 3 offers two distinct options: Share Land Plots with Friends: This feature enables players to jointly own a part of the My Neighbor Alice universe, fostering a sense of community and collaboration. Free Trial for New Users: Newcomers to the game have the opportunity to access a plot of land for a limited period. As new players, they will enjoy an equal and immersive experience akin to that of conventional landowners. To sign up for the Free Trial, inte...
---
Community Update: Chain Of Alliance Alpha 1.0 Is Live, Roadmap and More


[PRESS RELEASE - Stockholm, Sweden, May 24th, 2023] Chain of Alliance Launches Public Alpha 1.0 on Chromia Testnet Sigma, Paving the Way to Become the Premier Turn-Based, Party-Builder RPG Multiverse Chain of Alliance is thrilled to unveil the next phase of its remarkable journey as it solidifies its position as the leading turn-based, party-builder RPG multiverse, catering to both Web3 and traditional players. This momentous milestone marks the beginning of an extraordinary adventure for Chain of Alliance as it sets its sights on redefining the landscape of turn-based RPG gaming. The company is committed to fostering a vibrant and inclusive community driven by a shared passion for the genre. Building upon a foundation of innovation and community engagement, Chain of Alliance has implemented strategic structural adjustments and bolstered its team to propel the project forward. With a clear and attainable roadmap for the remainder of the year, the company is proud to announce the official launch of its highly anticipated Public Alpha 1.0, now available on the Chromia Testnet Sigma. Experience the game firsthand by visiting the official website. Chain of Alliance invites players to immerse themselves in a captivating world of strategic combat. The game's innovative features and engaging gameplay mechanics aim to captivate both Web3 enthusiasts and traditional gamers. The team is extending its gratitude to its esteemed badge holders, who have been granted an exclusive prev...
---
Looking Glass Labs Sets Launch Date for Alpha Release of Pocket Dimensio...


[PRESS RELEASE - Vancouver, British Columbia, 20th October 2022] Holders Will Gain Access to the Alpha Release on November 1, 2022, Which is Being Designed to Provide the Highest Resolution and Most Realistic Metaverse Experience Technically Possible Today Looking Glass Labs Ltd. ("LGL" or the "Company") (NEO: NFTX) (OTC: LGSLF) (FRA: H1N), a leading Web3 platform specializing in non-fungible token ("NFT") architecture, immersive metaverse environments, play-to-earn tokenization and virtual asset royalty streams, announces that its flagship studio, House of Kibaa ("HoK") has set the launch date for the next step in the staged release (the "Alpha Release") of its Pocket Dimension metaverse assets for November 1, 2022. The Company's metaverse is being designed to provide the highest resolution and most realistic experience technically possible today. HoK has been steadily developing its metaverse assets in order to meet the significant expected demand for them over the next decade. As recently reported in the Wall Street Journal, annual global spending by businesses and consumers related to the metaverse could reach $5trillion by 2030, according to a new report from consulting firm McKinsey & Co. E-commerce in the metaverse will comprise $2.0-2.6 trillion of the total, while virtual advertising endeavors will make up another $144-206 billion. The Alpha Release will introduce holders to HoK's overall metaver...
---
Lightning Labs Aims to Bitcoinize the Dollar With Taro's Alpha Release


Lightning Labs, the firm behind the Lightning Network, announced the release of the alpha release of the Taro daemon that will enable Bitcoin devs to mint, send, and receive assets on the blockchain. Taro, the Taproot-powered protocol, was first unveiled by the firm in April to issue a high volume of assets that can be transferred over Bitcoin instantly with low-fee transactions. The release is touted as the first step in the process of 'Bitcoinizing the dollar' by allowing the issuance of assets, like stablecoins, on Bitcoin while simultaneously enabling users to transact those assets on Lightning. New Lightning Capabilities Lightning Labs revealed that additional enhanced features will be implemented to the Taro daemon, including universe functionality to enable users and asset issuers to offer proofs about asset provenance and supply issuance. Functionality to allow easy interaction with Taro asset data will also be added. Upon the completion of on-chain functionality, the firm plans to work towards integrating the Taro protocol into LN, thereby ushering Taro assets to the second-layer payment protocol. The company stated, 'We're releasing this initial version of the daemon to continue to solicit feedback from the community and build this open source protocol in public. Given the alpha, testnet-only nature of the daemon, we encourage developers to explore how Taro will fit into their products, understanding that it will continue to be revised and improved as we progress to...
---
Lightning Speed: Taro Is Here! Lightning Labs Releases The Code's Alpha ...


The controversial Taro protocol is ready for testing. The initial version of the code is available on GitHub, and it enables "developers to mint, send, and receive assets on the bitcoin blockchain." Notice that the company isn't talking about the Lightning Network yet. In a blog post announcing the Taro launch, Lightning Labs promised, "Once the on-chain functionality is complete, we'll work towards integrating the Taro protocol into lnd, bringing Taro assets to the Lightning Network." This is the first step of many and it's mainly aimed at developers. According to Lightning Labs, "this initial release is only designed for testnet usage as a way for developers to start using the code." That means, no real value is flowing through Taro at the moment. But… what is Taro anyway. The blog post defines it as a "Taproot-powered protocol for issuing assets that can be transferred over bitcoin and in the future, the Lightning Network for instant, high volume, low fee transactions." Taro Will Enable Stablecoins To Travel Through Lightning This is a multifaceted protocol that allows many things, but the feature everyone is excited about is the fusion of stablecoins with the Lightning Network. It's controversial because you have to trust the issuer of stablecoins, which means they come with counterparty risk. Bitcoin doesn't have that problem. In any case, in the subsection titled "The First Step To...
---
Geopoly Launches Alpha Version Of Blockchain-Based Game


PRESS RELEASE. Geopoly has announced the launch of a blockchain-based alpha version of the game, which will be playable via desktops. This is a game in which players can interact with the blockchain along with their respective Geopoly non-fungible tokens while simultaneously enjoying the gameplay and earning an income at the same time. Moreover, NFT holders who are actively playing the desktop game are also entitled to receive $GEO tokens on a weekly basis as compensation for their time and efforts. In addition, Geopoly also has a mobile and freemium version which enable users to play the game for free. Afterwards, if the players wish to do so, they can even 'win and earn' by shifting to the blockchain version with the same credentials which will allow them to pick up right where they left off in the desktop version. In terms of what it is, Geopoly may hence best be understood as an economic simulator which enables people to rent, purchase, improve, and actually sell estate as well as business assets based on their geolocation. Geopoly has been constructed through a system which relies on both off-chain and on-chain layers which are then utilized to provide users with a real-world-oriented dynamic, immersive and memorable gaming experience. What else is there to know about Geopoly? Beginning in July, the 'Geopoly Auctions' market shall open, allowing players to sell their NFTs at a price they choose while others can bid on them for a minimum of 24 hour...
---
Alpha Venture DAO introduces the first DEX to bring expirable futures to...


Alpha Venture DAO (previously Alpha Finance Lab), a multi-chain dApp ecosystem with in-house and incubated projects, today announced the latest project launch from Alpha Incubate called Contango, a decentralized exchange that brings expirable futures to DeFi without order books or liquidity pools. Traders can directly access linear and inverse contracts with expiry dates and leverage. Traders no longer experience unpredictable funding rates as the final price is paid upfront, providing full cost control. With the maturity date, the close price can be pre-calculated allowing traders to estimate profits with certainty thus eliminating risks associated with index price manipulation. The protocol utilizes deep liquidity pools on underlying DeFi protocols rather than having its own liquidity pools to ensure minimal price impact for any trade size. Not only that, every position that is opened will be tokenized as an NFT, enabling other projects to easily build on top of Contango. Learn more about Contango in the official documentation.'We have been working closely with the Contango team since summer of 2021. The team has demonstrated extensive knowledge in DeFi, particularly an understanding of the futures market from the inside out. This makes us confident that they are well-equipped to succeed and overcome the challenges that they will face from being the first mover to bring expirable futures to DeFi.' - The Alpha Venture DAO Team How It Works Contango allows traders to ope...
---
Join The Gensokishi Online Closed Alpha For Massive Rewards


Gensokishi Online, the metaverse version of the 3D MMORPG game, "Elemental Knights", is giving NFT investors the chance to earn massive rewards. Elemental Knights which has been in existence for more than 13 years has amassed a community of more than 8 million players and is now bringing this massive game to the metaverse. Users have a chance to be a part of Gensokishi Online by registering for its closed alpha. Maxi Kuan, CEO of GensoKishi Online, says 'In the closed alpha, NPCs, background models, equipment, Monsters etc. will also be renewed, and the graphics will be improved to be suitable for the latest games. We are already working on resources to improve the graphics, but it will take dedicated converter development to incorporate them into the actual game, so we cannot yet show you the improved graphics in the alpha version, but we plan to release them in the beta version. We hope that everyone will take this opportunity to experience the Metaverse GameFi project as never before.' This closed alpha will see a select few get the chance to be a part of the testing period that will end with limited edition NFTs being awarded to the participants. Applications for joining the closed alpha have been announced. It will take place in a lottery-style system where users sign up for the Closed Alpha Bronze Tickets. Winners of this lottery will be provided exclusive access to the Gensokishi Online Closed Alpha Test. At the end of the testing period, players will be ra...
---
Metaverse Project GensoKishi Online Announces a Closed Alpha Ticket (Bro...


PRESS RELEASE. GensoKishi Online -Meta World- is developed under the license of the well-known Japanese 3D MMO title 'Elemental Knights Online.' The iconic game has a 14-year history and has accumulated 8 million downloads worldwide. It already has a 3D MMORPG game with active users, with a fully-functioning 3D metaverse that simultaneously connects users worldwide, be it smartphones, PCs, or video game consoles. The game recently announced its collaboration with gaming legend Yoshitaka Amano to design its NFT collection. Since the release of the GensoKishi website and various social media channels on December 2, 2021, GensoKishi has achieved several records to date. The governance token of the GensoKishi is currently more than 50 times higher than the initial listing price of Bybit, the first exchange to list MV token. GensoKishi Online has opened up applications to enter the Closed Alpha Bronze Tickets lottery. Winners of the lottery will be provided exclusive access to GensoKishi's Closed Alpha Test. Click here to read details about Closed Alpha Test. Click here to visit the GensoKishi Online Metaworld Official Website. Campaign details regarding the Closed Alpha Testing Period All participants of the Closed Alpha will receive a limited edition NFT to commemorate their participation in the Testing Period. During the Closed Alpha Testing Period, the 'Alpha Hunter's Certificate' item will drop at a specific probability rate when players defeat monsters during gameplay. Eac...
---
After 3 Years of Development, Farsite Alpha to Go Live on June 21


[PRESS RELEASE - Please Read Disclaimer] Ever since the inception of bitcoin over a decade ago, the subsequent entire crypto industry has incurred numerous changes, developments, and ultimately, growth and expansion. The way that it is set up right now is significantly different from what it was at the start of the previous decade. The decentralization that came with blockchain technology, however, went several steps further as it allowed other niches to go through massive changes as well. Gaming is among those, as the birth of play-to-earn altered players' expectations. This led to the emergence of new projects trying to capitalize on this trend but what most of them lack is substantial research and development procedures. In contrast, Farsite has been in production for over three years, but the team behind the project announced that the real deal will come on June 21. Farsite Alpha on the Horizon Thousands of users have already taken advantage of the Farsite universe. The project operates as a decentralized MMO in a post-apocalyptic future where our race is in search of new planets and scarce resources. Farsite has successfully conducted an early pre-order of extremely limited Crates containing unique Ships. The most valuable were sold out within hours, appearing on OpenSea shortly after for twice the price. With all that out of the way, the project announced that its Alpha version will arrive on June 21, which will change the game completely. The development page inf...
---
TiTi Protocol Join Alpha Venture DAO to Initiate a Brand-new Era for Alg...


[PRESS RELEASE - Singapore, April 14, 2022] TiTi announced another solid step towards building the future of web3, joining Alpha Venture DAO and becoming the first algorithmic stablecoin project in Alpha ecosystem. By establishing a strategic relationship with Alpha Venture DAO and Alpha Ecosystem partners, TiTi can better contribute to the development and improvement of DeFi and Web3. TiTi gains momentum towards a new era of Algorithmic Stablecoin TiTi Protocol is a fully decentralized, multi-asset reserve-backed, use-to-earn algorithmic stablecoin that aims to provide diversified and decentralized financial services based on the crypto-native stablecoin system and autonomous monetary policy. Alpha Venture DAO as well as the whole universe are a perfect pitch for TiTi to make a real difference. The cooperation will be carried out in various aspects such as community, products, technology, security and tokenomics. TiTi Protocol's use-to-earn token economic design will maximize the benefits of defi users and streamline the interoperability among Alpha ecosystem projects. How will Alpha Venture DAO power TiTi Protocol? Alpha Venture DAO disrupts the way Web3 projects are being funded. It is a decentralized venture capital fund with its community as its paycheck. Community members can offer expertise and skills to incubated projects and become owners of high-quality ventures before the project launch and ahead of anyone else, creating a strong incentive for Web3 users to contrib...
---
Alpha of EIP-4337 standard crypto wallet Stackup now available


Stackup, a smart crypto wallet created by a team of crypto evangelists and technology veterans, is now available in its alpha version. The wallet incorporates interoperability, bundled transactions, a social recovery mechanism, and gas-free USD-nominated transactions into an EIP-4337 standard wallet. From investing in Avalanche protocol and exchanging tokens at Uniswap to acquiring NFTs on Opensea, Stackup facilitates transactions through a single wallet. A feature that benefits Stackup users is its social recovery tool. Stackup enables users to add guardians to their wallets. A guardian could be a friend, family member, institution, or even a smart contract. While users can choose their guardians, the individual guardians won't have any control over the wallet. This way it will be impossible for any individual guardian to exploit their privilege, but collectively, they will serve as a bulletproof layer of security for the wallet owner. The post Alpha of EIP-4337 standard crypto wallet Stackup now available appeared first on CryptoNinjas.
---
Alpha Finance Lab Launches Alpha Venture DAO Helping Builders Tap the Be...


[PRESS RELEASE - Bangkok, Thailand, 31st March 2022] Alpha Finance Lab is launching Alpha Venture DAO, a Builders' DAO, where builders and Web3 users meet to build and incubate cutting-edge Web3 innovation. Builders will receive support and mentorship from Terraform Labs, which is a partner of Alpha Venture DAO, and Alpha Network, a group of more than 50 thought leaders, influencers, and leading investors in Web3. Incubated projects can also tap Alpha's community of 100,000 Web3 users. Alpha Venture DAO disrupts the way Web3 projects are being funded. It is a decentralized venture capital fund with its community as its paycheck. Community members can offer expertise and skills to incubated projects and become owners of high-quality ventures before the project launch and ahead of anyone else, creating a strong incentive for Web3 users to contribute to projects. In essence, Alpha Venture DAO changes the way Web3 projects are funded, making ownership of projects more accessible for the community. Alpha Venture DAO brings more than 50 thought leaders and top minds in Web3. Founders will get unique access to hands-on mentorship from Alpha Network, including AVA Labs, The Spartan Group, Multicoin Capital, SCB10X, AlphaLab Capital, Jason Choi, Darryl Wang, and individuals from Coinbase, Bitmex, Crypto.com Capital, SIG, 1kx, Band Protocol, Acala Network and many more. Incubated projects will also receive technical and infrastructure support from Terraform Labs. "Sin...
---
Alpha Venture DAO Transforms Web3 Project Incubation Through Community F...


The whole world eagerly awaits the advent of Web3, a digital world where users control their data. That world will also provide access to finance opportunities, games, and more. Alpha Venture DAO positions itself as a beacon for builders and developers to secure project funding and the necessary incubation expertise for future success. Building The Web3 Infrastructure As more people show an interest in Web3 development, overall excitement rises. First, however, everyone must acknowledge that Web3 is a concept and not an existing product or service. Therefore, the necessary infrastructure needs to be developed first and foremost. Alpha Venture DAO, established by Alpha Finance Lab, aims to play a role in those proceedings by connecting builders, operators, and users to innovate in the Web3 environment. Builders can tap into vast resources, support, and mentorship under the Alpha Venture DAO banner. Together with partners Alpha Network - spanning several dozen thought leaders, influencers, and investors - and Terraform Labs, the DAO aims to bring exciting projects to fruition. Moreover, incubated projects can bring their infrastructure to over 100,000 Web3 users under the Alpha Finance Lab banner. Terraform Labs Head of Ecosystem Development Natalie Luu comments: 'Terraform Labs is proud to be Alpha Venture DAO's partner and provide support to founders building on the Terra ecosystem. We welcome builders who want to join Terra's fast-growing ecosystem to create new use cases le...
---
Strategy and Space Gamers Get Their Own Play-to-Earn Metaverse Full of C...


Space, the final frontier. The long and exciting journey through vast, dark, deep space with a fleet of your own. The release of the alpha version of the play-to-earn metaverse game DEEPSPACE (DPS) opens up a brand new chapter of the metaverse world for all those who love space exploration, fleet building and formation, and peer-to-peer battles. Introduction: DEEPSPACE (DPS) is a Play-to-Earn space multiverse exploration strategy game on the Binance Smart Chain (BSC). Earn passive income from holding $DPS, trading NFTs, and taking risks as you explore DEEPSPACE with your fleet of ships. Prepare to explore, harvest, and fight your way through the DEEPSPACE (DPS) universe. Join the community on Twitter, Telegram, Discord, Reddit, YouTube, and Instagram. Building Your Own Fleet to Launch Into Space As the metaverse gaming world becomes more thriving and diverse, space exploration and battles fans finally welcome the Alpha release of the space-themed, play-to-earn game with a strong emphasis on fleets. Even the name of this metaverse space game sounds profoundly familiar - The Star Trek Deep Space Nine series, which was aired between 1993 and 1999, has become the classic collective memory of many hardcore science fiction and space fans. Even though as gamers we will not witness the witty and funny day-to-day conversations among the DS9 space station crew, there is the real fun of building a fleet of your own ships to explore the vast, dark universe in a strikingly realistic expe...
---
Floki Launches Valhalla Alpha Battle Arena Testnet


[PRESS RELEASE - Please Read Disclaimer] The Floki team is excited to announce the launch of the playable Valhalla Alpha Battle Arena Testnet this Monday the 28th of February. You can find in-depth details about this major development, along with information about how to prepare to play, in the Medium article here. Timing Is Everything This launch of the first playable version of Floki's flagship Valhalla play-to-earn (P2E) Metaverse game coincides with a major international television campaign, a partnership with Formula 1 racing legends Alfa Romeo, and numerous other collaborations and initiatives that signal Floki's push to make Floki a household name in 2022 and beyond. Floki believes the combination of meme power, community, charity, crypto and gaming has world-changing potential, and Valhalla is at the heart of all of this. P2E gaming has already proven to be resilient to bear markets, with the potential of staggering returns for early investors and income for day-to-day players. Floki Valhalla, P2E & the Future of Gaming Early P2E crypto Metaverse games Axie and Decentraland have already proven the model Floki intends to take further: "... Axie's AXS cryptocurrency gained an eye-watering 18,000% over the course of 2021, while Decentraland's mana token rose by 4,000%, ranking the two of them among the best performers overall last year from the crypto space, all thanks to the popularity of play-to-earn games and the metaverse." - Business Insider ...
---
More Alpha Venture DAO (

#ALPHA

) News